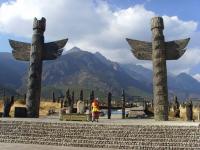 Dongba Museum, also called Dongba Culture Museum, located nearby Yuquan Garden in Lijiang City, Yunnan, is a museum which was designed to display the splendid Dongba culture of the Naxi (Nakhi) people.
The Dongba culture, mainly referring to the language and scriptures, is a special culture term because the people of Naxi are less modernized and the people developed a writing system, a music style, and a religion different than the majority of Chinese. In 2003, the Dongba classical literature was accepted as a written world heritage by UNESCO, which is by now the only living hieroglyph in the world and is regarded as a precious cultural relic of mankind.
Dongba Museum was built at the Black Dragon Pool of Lijiang in 1984 for better protection, research and development of the Dongba Culture. It is built rationally according to the site topography and landforms, forming the ancient architectural complex with the colonial courtyard as the major building area. Buildings in the museum follow the layout of Naxi folk house in different historical periods, taking advantage of the natural landscape of Yuquan Spring and Elephant Mountain. Holding more than 10000 remarkable collections of Naxi relics and cultural display covering the branches of astronomy, geography, literature, art, history, religions, etc, Dongba Museum is a great place to admire the famous hieroglyphs and other ritual articles of Naxi. Visitors will have an opportunity to explore the rich Naxi minority culture, learn more about the ancient but almost extinct Naxi culture, writing system and belief system that is called Dongba from the old teachers or the other people there.
More Attractions in Lijiang
Recommended China Tours Including Dongba Museum Lijiang