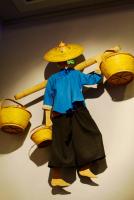 Macau Maritime Museum is housed on a three story building located near the shores where the Portuguese voyages emerged in 1553. It is also close to the late 15th century A-Ma Temple, a place dedicated especially to the Taoist goddess "A-Ma." Occupying an area of 800 square meters, the building of the museum architected in the shape of a boat in full sail.
The Maritime Museum of Macau was built to commemorate "the sailors, pioneers in the friendship between the people of the Earth". It showcases the deep connection of Macau with the surrounding sea geographically and historically.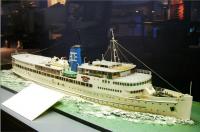 The three-storey white building is divided into five sections. The exhibits on the first floor portray traditions and techniques of the fishermen in Macau. On the right side, there is a mini-theater place called "Little A-Ma Theatre" where you could listen to the legend of the goddess A-Ma in joyful tones and beautiful presentation. Also on the ground floor are the traditions of the people who lived in fishing villages in Macau and South China, as well as their various ways and sources of living. Besides, there is also a place where a typical family that living in these villages is portrayed through life-sized string puppets. When you go up to the second floor, various replicas of ships of all kinds and sizes can be seen on the wall. These ships are accurate reproductions of the real ones. There are also some notes on their origin and functions on display.
If you go further, you'll see yourself in a place where many gadgets and instruments used in a ship can be found. Included in this collection are some instruments that were used by the Portuguese colonizers such as the cross-staff, dial and astrolabe while other instruments that can be seen were invented by the Chinese like the balanced ship's wheel, side bulkheads, and most importantly, the compass. Furthermore, what can be found on this floor are gadgets and instruments, not just for the ships at sea, but also relevant information for the development of Maritime Technology and Transport. The top floor exhibits on marine technology and transport, dredging and navigation. The exhibits here include Guia Lighthouse, various kinds of ropes, and a three-dimensional model of Macau as well as a variety of boat models.
More Attractions in Macau
Recommended China Tours Including Maritime Museum Macau