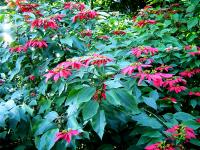 Being a Buddhist landmark in Xishuangbanna, the Octagonal Pavilion at Jinzheng locates on the hill of Jingzhen village, Mengzhe area, which is about 87 kilometers away from the city of Jinghong. Jingzhen Octagonal Pavilion is the commandment hall of Zhatan Temple, a local Hinayana temple. It showcases the superb craftsmanship of the Dai Minority in both decoration and construction.
The octagonal pavilion is a place where the senior Buddhist monks giving sutra, repenting, holding meetings and memorizing Buddha. Jingzhen Octagonal Pavilion was constructed in 1701 during the Qing Dynasty. At the beginning, some Buddhists of "Han" the majority tribe designed the building to commemorate the founder of Buddhism named Sakyamuni. Jingzhen Octagonal Pavilion was originally built in a local Hinayana temple. The original structure of it was severely damaged during the Cultural Revolution but renovated in 1978 and the ornate decoration is still impressive.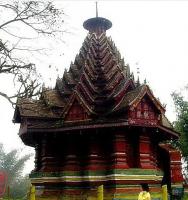 The Jingzhen Octagonal Pavilion is 15.4meters high and consists of a Sumeru base, a body, a roof and a mast. The pavilion was built with bricks, four doors, eight-sides and many angles. Its base is two meters high and 8.6 meters wide, and its body, which is 5 meters high, has 31 sides and 32 angles on its surface. Inside it are 24 walls with an area of 36 square meters and a copper statue of Sakyamuni.
The multiangular walls were built with layered bricks that make up the body, with 16 columns standing at each angle. With doors on all four sides, the walls are covered with light red clay and are decorated with pieces of colored glass and shiny patterns of flowers, animals and figures made from gold and silver powders. The roof is decorated with brakebar-like ornaments and silver chips with flower designs. It comprises ten layers of eaves ranging in descending sizes from the bottom up. At the pinnacle, the roof covers a baldachin in the shape of lotus, and a long mast with lots of wind-bells stands high on it. The mast is 16 meters high and is decorated with flower patterns made of flasks of silver.
With a history of more than 300 years, the Octagonal Pavilion has undergone several renovations, still stands firmly with great elegance and grace. It truly represents the symbol of cultural exchange between Dai and Han.
More Attractions in Xishuangbanna
Recommended China Tours Including Jingzhen Octagonal Pavilion Xishuangbanna