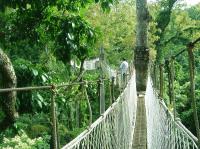 Located in China's Sanchahe Nature Reserve in Mengla County, Air Corridor is the highest green corridor in the world. This tropical rain forest corridor stretches from China into neighboring Burma and Laos, and belongs to the well-known Xishuangbanna Dai Autonomous Prefecture.
Sanchahe Nature Reserve is famous for its biodiversity and undisturbed habitats for both animals and plants. Air Corridor was an integral part of the eco-tourism plans of Sanchahe Nature Reserve. It offers visitors an open-air museum and helps to raise awareness of the plight of the tropical rain forest. Besides, it provides income to the local population, thus obviating the need to exploit the rain forest for the purpose of a livelihood.
Walking along the Air Corridor, a 2.5-kilometer-long aerial walkway, you can enjoy the exotic scenery of tropical rain forest with broad vision. High looking at the sky on the tree of 40- 70 meters, the Air Corridor joins the virgin forest in both sides of the highway. Hundreds of Parashorea trees grow thick and fast among the virgin forest, make up of mysterious natural landscape. Along the murmuring brook in the thick forest, you will have a taste of the strange scene of the tropical rain forest on the broad visual field heartily. You can view the tropical plant community in different poses and with different expressions when you get into the deep and serene ditch valley.
More Attractions in Xishuangbanna
Recommended China Tours Including Air Corridor Xishuangbanna