Mausoleum of Qian Ling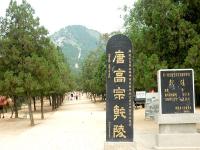 Located in Qian County and 80 kilometers from Xi'an city, the Mausoleum of Qian Ling is the tomb of the third Tang emperor, Li Zhi, and China's first and only governing Empress Wu Zetian. It is the most typical and best preserved of all the eighteen Tang mausoleums.
Situated on Mount Liang, north of the Wei River, and 1,049 m (3,442 ft) above sea level, Qianling Mausoleum was flanked by Leopard Valley to the east and Sand Canyon on the west. The tomb chambers of Emperor Gaozong and Empress Wu Zetian are located deep within Mount Liang. Unlike many other Tang Dynasty tombs, is notable as the only mausoleum to escape the unwelcome attention of tomb robbers as "the tomb chamber of Qianling was closed up with a stone gate sealed with iron to make it secure" according to the records. Inside the mausoleum stood 378 buildings that included the Sacrifice Hall, a Pavilion, a Hall of Ministers and numerous corridors. The inner wall which is 2.4 meters thick, enclosed 240,000 square meters with four sides in a trapezoidal shape, the north and south segments were each 1,450 meters long.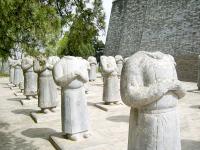 The mausoleum is famous for its many Tang Dynasty stone statues located above ground and the mural paintings adorning the subterranean walls of the tombs. Exquisite and elegant stone statues include horses, winged horses, lions, ostriches, officials, and foreign envoys have stood upright on top of Liangshan Mountain for over 1,200 years. Most of these stone pieces line along the sides of the spirit path, from outside Rosefinch Gate to the north.
Besides the main tumulus mound and underground tomb of Gaozong and Wu Zetian, there is a total of 17 smaller attendant tombs with only five of them have been excavated by archaeologists.
More Attractions in Xian
Recommended China Tours Including Mausoleum of Qian Ling Xian
Golden Triangle Tours is including most famous cities in China, namely Beijing, Xi'an and Shanghai, which are perfect ...

This 12-day itinerary insure you a perfect China tour by starting from Shenzhen and Zhangjiajie endowed with the most ...

The 13-day discovery trip are the right china tours for vegetarians and vegans! Enjoy the splendid culture, amazing hi ...
Google Search
Find something useful to you at Easy Tour China website.