1. Overview
Xi'an, once the capital cities of 13 dynasties with a history of over 2,000 years in China, is the home of the Eighth wonder -2200 year-old Qin Terracotta Warriors & Horses; it is also known as the eastern end of the Silk Road, a city opening to the west 2100 years ago.
If your interests lie in history, myth and wonders, Xian is definitely one of the best destinations in China. It is world-renowned for the numerous cultural and historical sites around the city. In 1974, the Terra-cotta warriors were unearthed accidentally when a few villagers digging a well. Millions of tourists home and abroad have come to see this great pottery army, and they could also visit the historical sites of the neolithic age, Han and tang Dynasty, tasting and even learning to make the delicious Jiaozi - Chinese dumplings.
Take a Xi'an Tour with us to witness the 2500-years-old history of China! We ensure you a once-in-a-life travel experience to discover the enchanting culture and history of China from the reserved relics, ancient city wall, old secret corners, museum, temples and religious architectures or even mountains. For foodies, there are lots of unique food to eat here!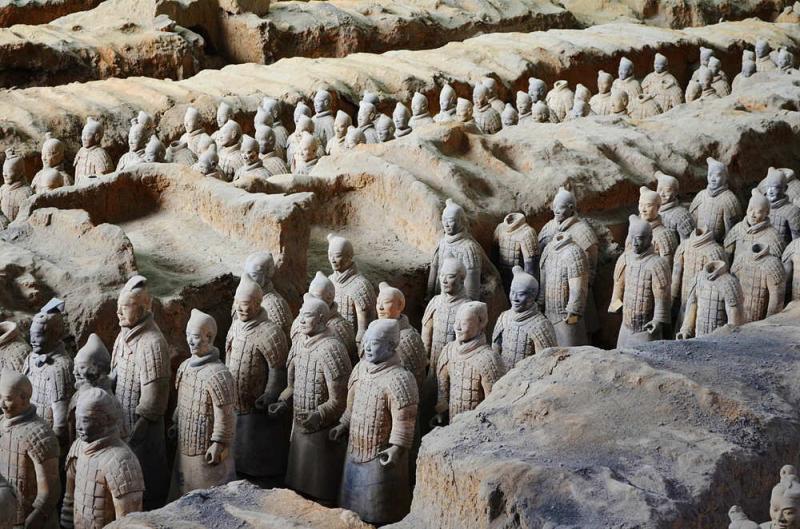 2. Where is Xian
Previously known as Chang'an in history, Xi'an (meaning "Western Peace" in Chinese) is located in central Shaanxi. With a population over 10 million,Xi'an is the first Chinese city opening to the outside world 2100 years ago as the starting point of the Silk Road. Over a period of more than 2000 years, Xi'an was the capital of China for 13 dynasties and home of 73 emperors.As the most important city in northwest China, Xi'an attracts millions of visitors from all over the world with its historical relics, unique landscapes as well as its unique local cuisine.
3. Top things to Do
The Terra Cotta Warriors and Horses are the most significant archaeological excavations of the 20th century.The Terra Cotta Warriors is only a part of the Qin emperor's tomb complex. They may have remained forgotten had it not been for the fortuitous discovery by local peasants drilling a well in 1974.
In a vault of approximately 12,000m2 and 5m underground lay some 8,000 terracotta infantry soldiers ,archers, cavalrymen and chariots arranged in battle formation, ready to defend their emperor's immortal soul.The terracotta sculptures show a high level of artistry with individualized facial expressions, hairstyles and clothing and were once brightly painted with black armor, colorful red scarves and green pants, though the colors have long faded. As warriors, they each held weapon, bronze swords, spears, axes and halberds-which were still sharp when discovered, and longbows and crossbows.
There is a display hall with two bronze chariots unearthed near the base of the emperor's tomb. These elaborate half-sized chariots are intricately detailed with drivers and horses.
The Big Wild Goose Pagoda is regarded by many as a symbol of the city. It has a 5m-high square base and reaches 64.5m in height. It was built to house and protect Buddhist scriptures collected by Chinese monk, Xuan Zang, who spent an epic 17 years traveling to India and back for their collection and an equal mount of time doing translating them. His journey has been immortalized in the novel Journey to the West, one of China's most important literary works.
The Wild Goose Pagoda was finished in 652 A.D. The storyed pagoda was an architectural marvel, is indeed a good example of ancient people's wisdom and talent.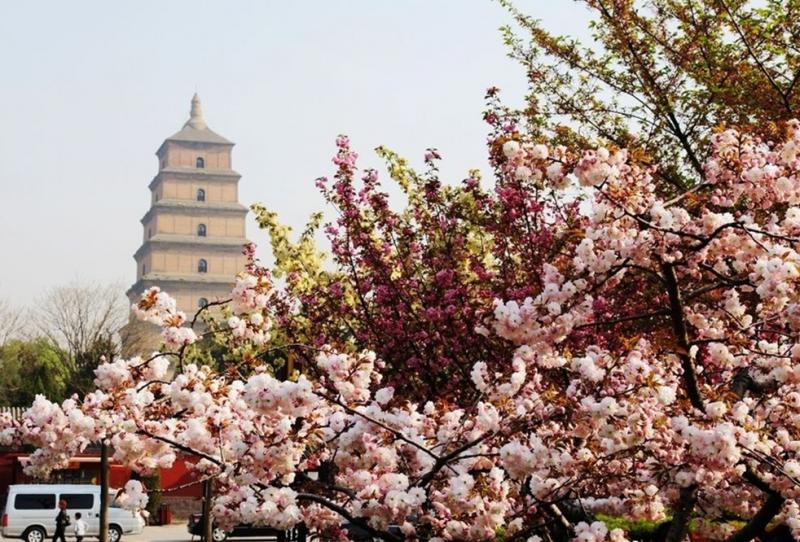 It's amazing how Xi'an history envelops you, when biking atop the old City Wall and enjoying a great view of the city. The massive walls measure 12m high and 16m wide at the base, tapering to 12m to 14m and is 13.74km in circumference.
To the south of the City Walls, northwest of the Big Wild Goose Pagoda, is the Shaanxi History Museum which opened in 1991, is the largest comprehensive museum in the province. The museum exhibits over 3,000 historical relics, a small fraction of their collection, ranging from 115,000-year-old prehistoric artifacts to items from the Opium Wars of the 1840's.
The Great Mosque of Xi'an, located near the Drum Tower on 30 Huajue Lane of Xi'an, Shaanxi province, China, is one of the oldest and most renowned mosques in the country.
It was first built in the Tang Dynasty (reign of Emperor Xuanzong, 685-762), and renovated in later periods (especially during the reign of Emperor Hongwu of the Ming Dynasty). It remains a popular tourist site of Xi'an, and is still used by Chinese Muslims (mainly the Hui people) today as a place of worship. Unlike most mosques in Middle Eastern or Arab countries, the Great Mosque of Xi'an is completely Chinese in its construction and architectural style, except for some Arabic lettering and decorations, for the mosque has neither domes nor traditional-style minarets
Occupying an area of over 12,000 square meters, the Great Mosque is divided into four courtyards, 250 meters long and 47 meters wide with a well-arranged layout. Landscaped with gardens, the further one strolls into its interior, the more serene one feels.
The Drum Tower of Xi'an, located in the heart of Xi'an in Shaanxi province of China, along with the Bell Tower it is a symbol of the city. Erected in 1380 during the early Ming Dynasty, it stand towering above the city center and offers incredible view of Xi'an.The Drum Tower got its name from the huge drum located within the building. In contrast to the Bell Tower, where bell was stricken at dawn, drum was beat at sunset to indicate the end of the day.
Standing at the crossing of the East, West, South, and North avenues in city proper, the Bell Tower has been a symbol of Xi' an. It was build in 1384, at first it lies in the center of Xi'an City. The tower base is square and it covers an area of 1,377 square meters. It is 8.6 meters high and 35.5 meters wide and built completely with green bricks. The tower is a brick and timber structure and 36 meters high.
Tang Paradise (大唐芙蓉园)
Near the Big Wild Goose Pagoda , Tang Paradise is located in the Qujiang Resort, southeast of the Xi'an City. Tang Paradise covers a total area of 1000 mu (about 165 acres) and of which 300 mu (about 49 acres) is water. This tourist attraction not only claims to be the biggest cultural theme park in the northwest region of China but also the first royal-garden-like park to give a full display of the Tang Dynasty's (618-907) culture. Altogether, twelve scenic regions are distributed throughout Tang Paradise to provide visitors with the enjoyment of twelve cultural themes and a perfect exhibition of the grandness, prosperity and brilliance of the culture of the Tang Dynasty.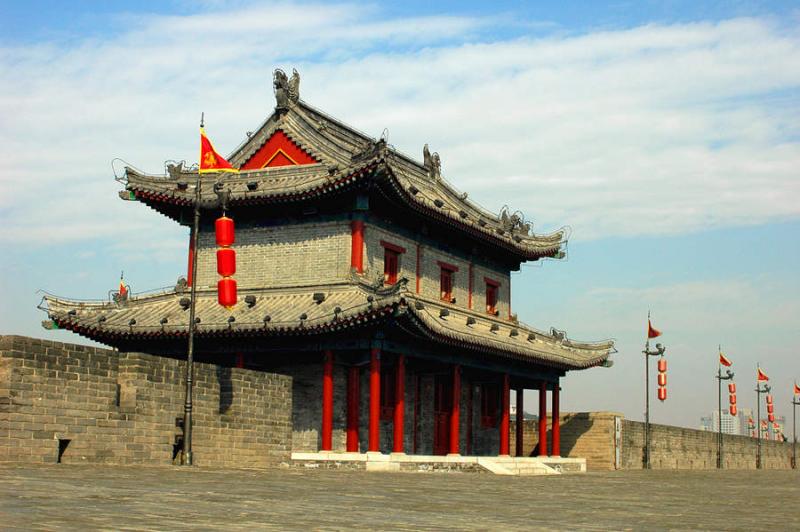 In China, many temples house treasures and artifacts, but the sheer quantity and quality of treasures in the Famen Temple is rare. Situated in Famen Town of Fufeng County, about 120 kilometers (about 74.57 miles) west of Xi'an, Famen Temple is renowned for storing the veritable Finger Bone of the Sakyamuni Buddha.Famen Temple was established in the Eastern Han Dynasty (25--220), for carrying forward Buddhism. The most representative structures in the temple are the Famen Temple Pagoda and Famen Temple Museum.
4. How to get to Xian
By air
Xi'an Xianyang International Airport is the major airport serving the city and is the largest airport in the northwest region of China. The airport is located to the northwest of the city, between Xi'an and Xianyang. There are direct flights from Xi'an to many major cities in China.
There are shuttle buses between the airport and the urban area.
By Train or bullet train
With a reputation as 'the Gateway to the West', Xi'an Railway Station is one of the most pivotal terminals of the domestic railway system. You can take a direct train to Xi'an from almost cities in China.
5. 72-hour visa free transit
Since Sep. 01 of the year 2013, passport holders from 51 countries can enjoy 72-hour visa-free to transit via CTU, Chengdu Shuangliu International Airport. The 72-Hour Visa-Free Permit Policy took effect in Dalian, Shenyang, Xi'an nd Guilin from the year of 2014.
Travelers are taking an international flight transfer via Dalian Zhoushuizi Airport - DLC, Shenyang Taoxian Airport - SHE, Chongqing Jiangbei Airport - CKG, besides Beijing Capital Airport - PEK, Shanghai Pudong Airport - PVG, Shanghai Hongqiao Airport - SHA, Guangzhou Baiyun Airport - CAN, Chengdu Shuangliu Airport - CTU, Xi'an Xianyng Airport - XIY, Guilin Liangjiang Aiport - KWL can be granted the 72 hours visa-free for travel.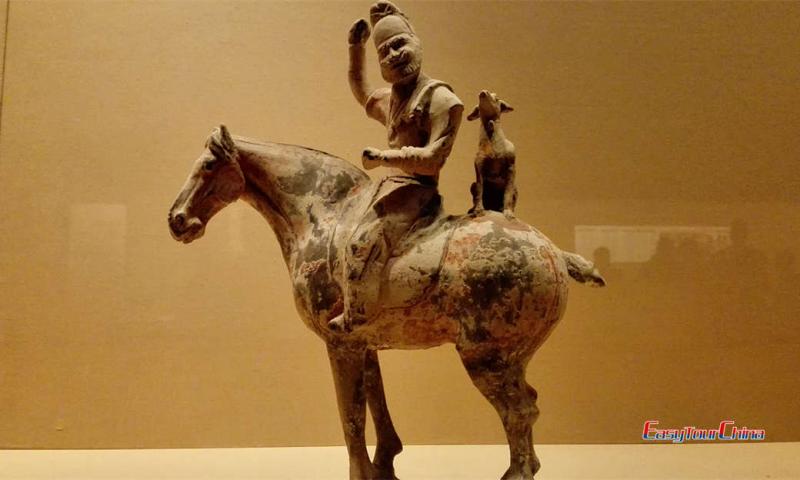 The 51 countries are as follows:
24 European Countries from Schengen Area: Austria, Belgium, Czech Republic, Denmark, Estonia, Finland, France, Germany, Greece, Hungary, Iceland, Italy, Latvia, Lithuania, Luxembourg, Malta, Netherlands, Poland, Portugal, Slovakia, Slovenia, Spain, Sweden, Switzerland
Other 7 European Countries: Russia, U.K, Ireland, Cyprus, Bulgaria, Romania, Ukraine
6 American Countries: U.S.A, Canada, Brazil, Mexico, Argentina, Chile
2 Oceanian Countries: Australia, New Zealand
6 Asian Countries: Republic of Korea, Japan, Singapore, Brunei, U.A.E, Qatar
6 Central and Southeast European Countries: Croatia, Serbia, Montenegro, Macedonia, Bosnia and Herzegovina, Albania
6. Good Times to Visit Xian
Weather in Xi'an - Xian enjoys a sub-humid continental monsoon climate with clear four seasons, warm but uncertain spring, hot and humid summer, cool and rainy autumn and cold and dry winter with occasionally snowy. The highest temperature in Xian is 39 ℃ with the lowest around -4.9℃.
The pleasant April and May as well as the cool September and October are the ideal time to visit Xian. >> Know more about Xian weather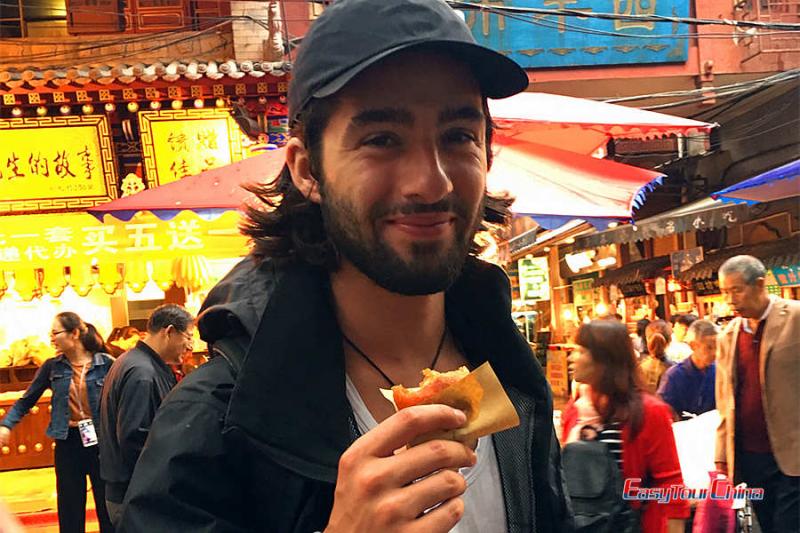 7. Xian Nightlife
Nightlife and entertainment in Xian is considered by many travelers as one of the indispensable part of their Xian travel plans. Xian won't disappoint them in this aspect. Travelers will find their requirements satisfied at Xian numerous bars, Karaoke & night clubs while tourists with delicate hearts can fill their night time seeing some special performances such as the Tang Dynasty Show,
shadow shows
The most popular activities for tourists in Xian is tasting the delicious dumpling dinners and enjoy the exotic & impressive Tang Dynasty Show. There are over a dozen types of dumplings were served for the dinner, some were shaped as little fruit, flowers as well as other expected shapes;The Tang Dynasty Music and Dance Show, a wonderful performance of the ancient music and dance, is a must when you visit Xi'an. The city, which was formerly known as Chang'an has a very long history, and was the imperial capital during 13 dynastic periods. Of these, the Tang Dynasty (618 - 907) was the most prosperous and glorious of all. The Tang Dynasty Music and Dance Show is an outstanding exponent of this ancient stable and prosperous society, keeping alive its splendid culture and providing an insight into the peaceful life style of the period.
8. Shopping in Xian
Xi'an, the gateway from northwest area to central China as well as a famous tourist city, makes it the biggest commercial and trade center in northwest part of China. There are a wide variety of tourist products with local or traditional Chinese flavor. Here are some unique things Easytourchina recommended to buy in Xi'an, Replicas of bronze wares, Qin Dynasty antiques, tri-colored glazed pottery of the Tang Dynasty, works of famous calligraphers in various dynasties, Qin embroidery, artistic porcelain, lacquer wares, jade carvings, cloisonné, paper-cuts, leather-silhouette, replicas of Tang Dynasty murals, and farmers' paintings of Huxian County.The terra-cotta figures show a surprisingly high level in craftsmanship and sculpture, and are now hailed as "the eighth wonder of the world". The artists and craftsmen of Xi'an have made excellent Imitation figures of all sizes. These imitations possess many good points for tourists, such as their convenient shape and portability. They make really fine souvenirs and presents for both friends and relatives.
9. Dining
Xian offers varied food ranged from ethnic cuisines to western food and some famous food in Xi'an like Rou Jia Mo, also called Chinese Hamburger, is very similar to the Western hamburger essentially. "Rou" means beef or mutton, which is stewed for hours in a soup consisting of over 20 kinds of spices and seasonings, while "Mo" is a type of flat bread, which is made of wheat flour. After "Rou" is finely chopped, mixed with coriander and mild peppers, and stuffed into "Mo". It can be found in many street food stalls or restaurants. >> Know more about Xian food and restaurants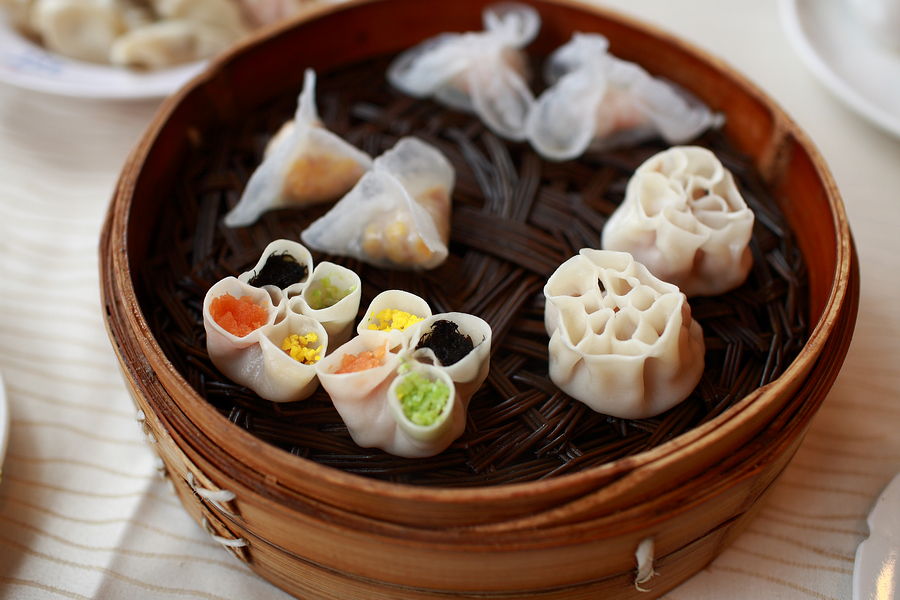 Jiaozi (Dumpling) Feast
One of most visitors ' favorite meals is a Chinese dumpling feast. These dumplings are made in all kinds of shapes such as duck, chicken, rose flower, walnut, and pumpkin. Xi'an, as and ancient city, is regarded as the home if not the birthplace of the great dumpling tradition. There is an old saying, "No visit to Xi'an is complete unless you partake of a Dumpling Dinner."
Liang Pi (Cold Rice Noodles)
Liang Pi is a specialty dish originating from Xi'an and has spread to many other places in China, in particular the northern and central regions. It is like a kind of salad but made of wheat gluten chunks and wheat starch noodles, dressed with cucumber, cilantro, bean sprouts, chili oil and dark vinegar. This would be a perfect appetizer.
Yang Rou Pao Mo, which is a soup dish that involves breaking wheat flour flat bread into a bowl and adding a delicious mutton stock.Yang Rou Pao Mo might not sound as though it could become a favorite with you but if you are seeking to experience something of the local food of the people of western China, this is well worth a try.