Big Wild Goose Pagoda, also called Da Ci'en Temple, was built by monk Xuanzang for collecting precious Buddhist scriptures that he carried from Tienjiku, ancient India, in Tang dynasty when Buddhism is very popular. There are 7 floors with 64.5m for the main building of the pagoda; it is the square-brick tower in pavilion type, by tower base, tower body, tower top composition. The tallest building at that time; from the top of the tower, you can see the beauty of the whole Chang'an (ancient name of Xi'an). Now, it's not just a valuable historical relic for studying Tang's history and Buddism, but a representative architecture of Xi'an city.
Facts
- In Chinese: 大雁塔
- Address: No.1 Ci'en Road, Yanta District, Xi'an
- Opening time: 09:00 – 17:00
- Best time to visit: afternoon
- Entrance fee: RMB50 (from Mar 1st to Oct 31st); RMB40 (for the rest of the year); RMB30 (for ascending the Pagoda)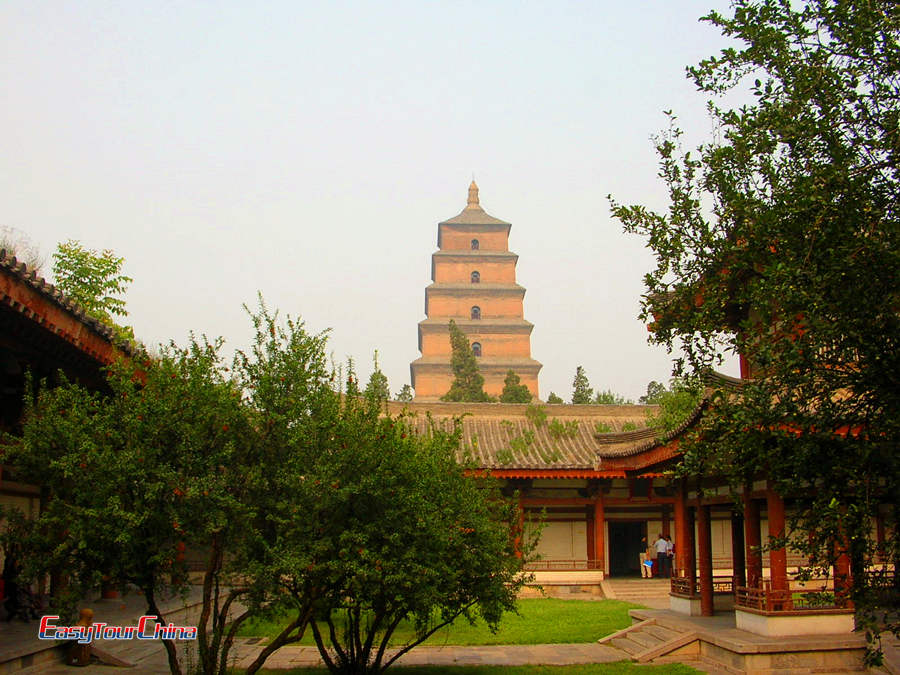 Legends of Its Name
Situated in 4 kilometers south of Xi'an City), it is one of the famous Buddhist pagodas in China. To protect the scriptures and statues brought back from India by Monk Xuan Zang (602-664), he made a proposal to imperial court for building a pagoda inside the temple. The proposal was approved and a pagoda named the Big Wild Goose Pagoda was first established in 652 during Tang Dynasty. The construction of it is the result of the pagoda, the architectural form of ancient Indian Buddhism, being introduced into China with the spread of Buddhism.
A legend tells that one day a group of big wild geese flew over, suddenly one of them dropped from the sky and died on the ground. Monks were at a loss and did not know what to do. They said that the dead wild goose was a Buddha. They buried the goose and a pagoda was erected, hence the name – the Big Wild Goose Pagoda. The Big Wild Goose Pagoda of Xian is a structure of imposing grandeur.
Another legend tells, on the way to Tienjiku, monk Xuanzang was once stuck in the desert without food and water, and he was in a desperate situation at that time. When he was in this dilemma, he was guided by wild geese and finally found water to survive. After returning to Chang'an, Xuanzang prayed and expressed his gratitude by building the Big Wild Goose Pagoda in order to thank the bodhisattva for its enlightenment. And "Ci'en" is kindness in English.
What to See?
Floor 1
It's the south gate of pagoda. When you come into it, there are several famed tablets and steles hanging on the all. In addition, there are also descriptions of Xuanzang's life, as well as other celebrities, stories and history of the Tang dynasty. Next, on the first floor, there is also an exhibition of the common knowledge of ancient pagodas and photos of famous Chinese pagodas, showing the origin and development of pagodas, as well as the structure and classification of them.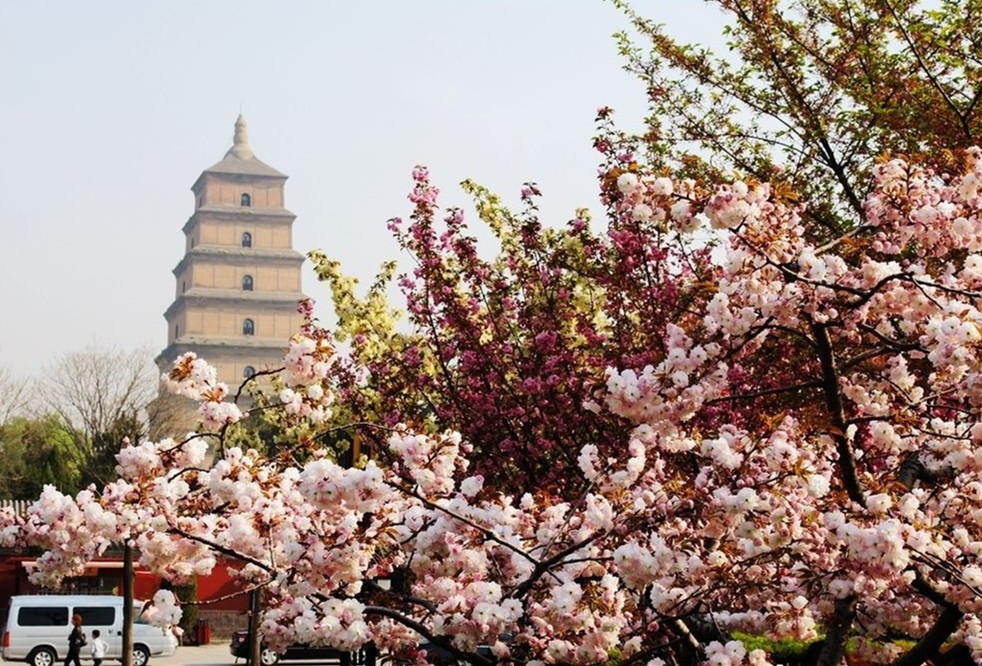 Floor 2
The treasure of Da Ci'en Temple, the statue of Sakyamuni Buddha, is enshrined here, which attract millions of visitors worshiping. On both sides of the wall, there are also poems by famous people in the Tang dynasty.
Floor 3
In the middle of this floor, a wooden base is set laying Buddhist relics and pagoda's model. Visitors can learn something about Buddhism.
Floor 4
Inside the forth story are two sutras about 40 centimeters long and 7 centimeters wide, inscribed in a dense Sanskrit script that is said to be known by fewer than 10 scholars around the world today.
Floor 5
A tablet of Buddha's foot with rich connotation carved by Li Tianzhao, a stonemason at the Yuhua Temple hired by Xuanzang in the late Tang dynasty. Moreover, poems of Xuanzang are collected and presented here.
Floor 6
Masterpieces of 5 famed poets (Du Fu, Cen Sen, Gao Shi, Xue Ju and Chu Guangxi) are displaying on the sixth floor. They made an appointment to ascend the Big Wild Goose Pagoda, where they drank and enjoyed the scenery, and wrote several classic poems.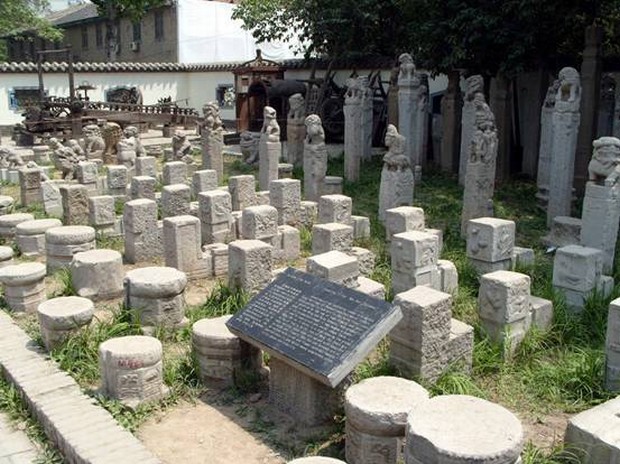 Floor 7
The seventh floor is the highest point of the Giant Wild Goose Pagoda, which can view the city from all sides.
Music Fountain at North Square of Giant Wild Goose Pagoda
It's the most large-scaled music fountain in Asia, seems a representative site of Big Wild Goose Pagoda. The fountain is divided into three areas: 100-meter waterfall pool, eight-level plunge pool and front-end music pool, showing spectacular performance with music, the show at night is one of the must-see highlights of here.
Timetable
Monday, Wednesday, Thursday and Friday: 12:00, 16:00, 19:00, 21:00
Weekends and public holidays: 12:00, 14:00, 16:00, 18:00, 20:00, 21:00, 21:00
Tuesday: 18:00, 20:00, 21:00
How to Get There?
You can take Metro Line 3 to Dayanta (Big Wild Goose Pagoda) Station and walk for 8 minutes to reach the scenic spot.
Bus 5, 21, 22, 27 and 41 run to East Exit of West Yanta Road; you can easily find where it is.
More Attractions in Xi'an
Recommended China Tours Including Big Wild Goose Pagoda (Da Ci'en Temple) Xian