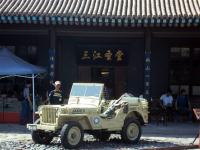 Locate in the 13th Weimin alley, Qinghai Folk Art Museum, also called the "MaBuFang residence", is the most complete construction of the Republican period in Qinghai province. It is also the only residence in our country which is made of jade stone. With the high historical value and the strong local ethnic culture, Qinghai Folk Art Museum was recorded as the provincial key protection units of cultural relics in 1986.
Covering an area of nearly 30,000 square meters and a building area of 6,800 square meters, the museum is composed of 298 houses and 7 independent and relative courtyards, including the front yard, the middle yard, the south yard, the No. 1 west yard, the No. 2 west yard, the No. 3 west yard and the back garden. The design of each yard is exquisite and ingenious. The construction of residence is simple elegant. The whole courtyard is full of murk, solemnity and mystery.
The first yard, also called the front yard, is used for handling the official business and receiving the guests. The front yard has the jade hall, the VIP hall, the east hall and the west hall. There is a small American HUMMER jeep in the middle of the yard. The VIP hall, called Beifang, is a receive place for the national minority guests. Covering an area of 139 square meters, it is consisted of the left wing room and the right wing room. The jade hall is famous for its walls, which were built by laying jade bricks or stones. Within the hall, there are some out of print pictures, including the only photo of Chang Hsueh liang and Chiang Kai-shek. The jade hall is the parlour of residence, which is used for receiving the guests. Stepping into the hall, you can see some old photo hanging on the wall. Also, there are the portrait of Sun Yat-sen and the flag of Kuomintang in the hall.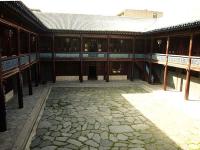 The second yard, also called the main yard, is the place where MaBuFang was living and working. Used to be the political and military center, the main yard contains the habitable room of MaBuFang and his son, as well as a small building of MaBuFang`s wife. Besides, there are also the building of adjutant, the north meeting room and the south reception room.
More Attractions in Xining
Recommended China Tours Including Qinghai Folk Art Museum Xining