Getting to Guangzhou
By Air
As one of China's three major hub airports, Guangzhou Baiyun International Airport has opened 100+ domestic and international scheduled flights, connecting every part of China, and dozens of overseas cities. Location of Guangzhou Baiyun International Airport: Renhe Town, Huadu District, Guangzhou, approximately 30km away from downtown Guangzhou and 45kilometers away from Canton Fair Complex.
>> Contact us for discount flights to Guangzhou
Guangzhou Airport shuttle bus to Canton Fair
There are direct shuttle bus service (with a journey of about 50 minutes) between Canton Fair Complex (Pazhou Complex) and Guangzhou
Baiyun Airport during all 3 Phases of Canton Fair.
Pickup zone: Lane 1, Complex Mid. Road, Area A, Canton Fair Complex;
Service time: 13:00-18:00
Bus departure: about every 30 minutes
Price: RMB 25 Yuan
By Train
Located in the Western Ring Road of Yuexiu District, the 40-year-old Guangzhou Railway station is a transportation hub in South China with Jingguang Railway (Beijing – Guangzhou), Jingjiu Railway (Beijing – Hong Kong), and Guangzhou-Shenzhen Railway running through. Guangzhou Railway Station is approximately 17 kilometers away from Canton Fair Complex, with Metro directly connecting the venues and other parts of the city.
Metro to Canton Fair Complex from Railway Station: Take Metro Line 2 (in the direction of Guangzhou Nan Station) to Changgang Station, then change to Line 8 (in the direction of Wansheng Wei Station), and exit at Xingang Dong Station (for Area A) or Pazhou Station (for Area B or C).
Getting to Guangzhou from Hong Kong
Many business travelers prefer to arrive China via Hong Kong, then take trains to Guangzhou. There are 12 scheduled trains shuttling between the two cities everyday, which are especially designated by Canton Fair. Passengers can take these trains to Canton Fair from Hong Kong at Hung Hom Railway Station in Kowloon and reach Guangzhou at Guangzhou East Railway Station with about 1.5 hours. The train ticket costs 190 HKD for each.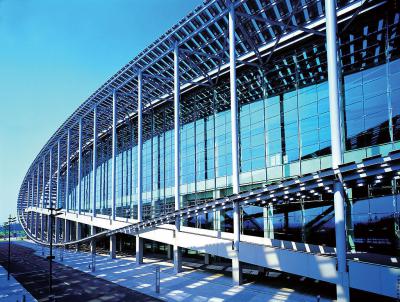 Getting to Canton Fair
By Metro
Our Guangzhou Subway map in English offers the metro system in Guangzhou and shows the way to Canton Fair Complex. Metro Line 8 runs directly to Canton Fair Complex. When taking metro Line 8, you may get off at Exit A of Metro Xingangdong Station for Venue A of the fair complex, or at Exit A or Exit B of Metro Pazhou Station for Venue B, or Exit C of Pazhou Station for Venue C.
By Shuttle Bus
The Canton Fair offers free shuttle bus service for customers from Pazhou Complex (Shuttle Bus Station) to the downtown area. There are Line 1 & Line 2 in Venue A running to Huanshizhong Road(Asia International Hotel)and Liuhua Road (Dongfang Hotel), and Line 3 & Line 4 in Venue B running to Haizhu Plaza (Guangzhou Hotel) and Tianhe Terminal (CITIC Plaza).
By Taxi
Taking taxi is another convenient way to get to Pazhou Complex. Guangzhou taxies follow the principle of "marked prices". The flag-down fare is10 Yuan for 2.5 Km. When exceeding 2.5 km will be charged at 2.6 Yuan per km.
However, during the Canton Fair, taxis can pick up and drop off passengers only at the designated spots during the appointed time.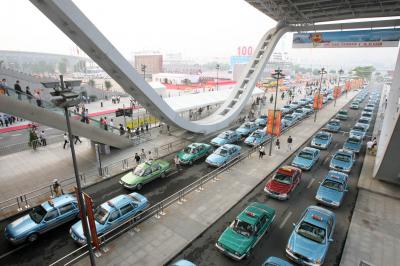 Taxi pickup zone I - The Complex Mid Road between Venue A & Venue B, which will be open at:
Phase 1 18:00pm–19:00pm on October 15-October 18 (April 15-18); 15:00pm-16:00pm On October 19 (April 19)
Phase 2 18:00pm–19:00pm on October 23 - October 26 (April 23-26); 15:00pm-16:00pm On October 27, (April 27).
Phase 3 18:00pm–19:00pm on October 31 - November 3 (May 1, 4); 15:00pm-16:00pm On November4 (May 5).
Taxi pickup zone II - east side of Venue C (the middle section of Exhibition South Road 3, east of Area C) would be open at 15:00-18:00 during the Canton Fair session.
By Hotel Bus
During the Canton Fair secession, most star-rated hotels in Guangzhou offers free shuttle bus to the fair complex. But the bus is scheduled to set off according to the timetable of each hotel. So you need to confirm it with your hotel.
Recommended Guangzhou and China Tours:
★ 5-day Guangzhou Zhangjiajie Tour
★ 5-day Guangzhou Lijiang Tour
★ 5-day Guangzhou Beijing Tour
More Information about Canton Fair
Recommended Canton Fair Tours