Jinli Old Street was built in 2004 to re-create the prosperity of Jinli Street, one of the busiest commercial streets during the Shu Kingdom (221-263). Located to the east of the Wuhou Memorial Temple of Chengdu (the most famous Three Kingdoms period (220 - 280) relic museum in China), Jinli Old Street also benefits from its fame. Jinli Old Street is the representative of Chengdu and reflects the diversity and beauty of Sichuan folk customs and culture. Cramming with numerous teahouses, guesthouses, bars, pubs and outlets selling tasty local delicacies and crafts, Jinli Old Street has been under the spotlight of tourists and locals since its opening.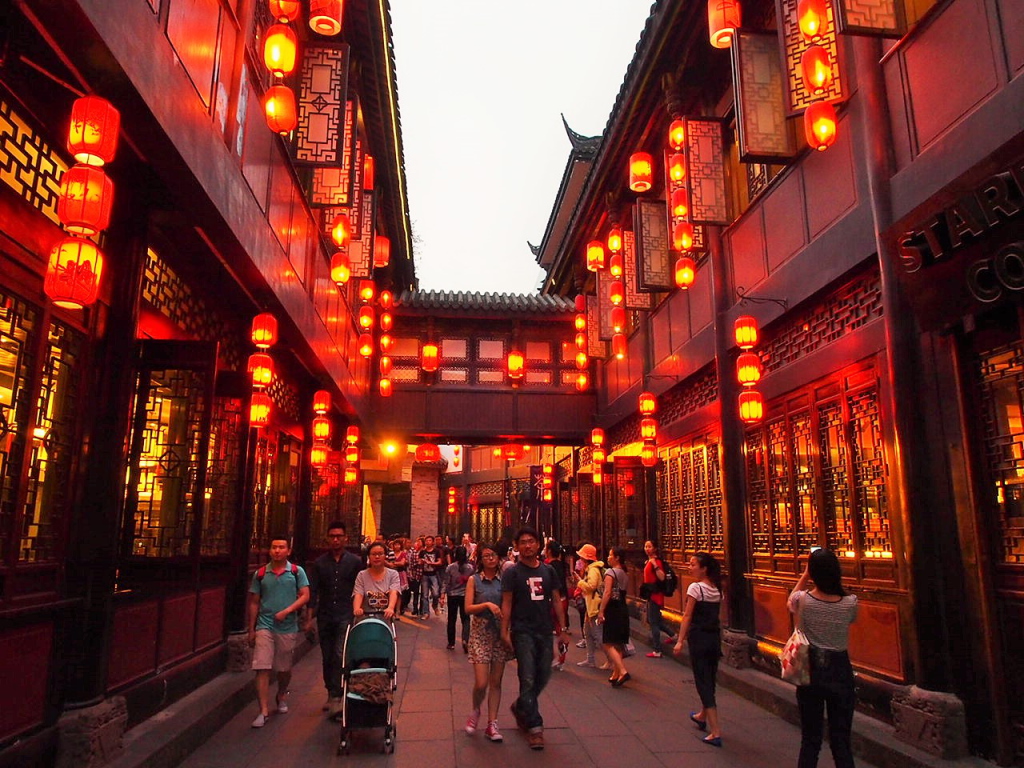 Jinli Old Street Facts
-Chinese name: 成都锦里古街
-Location: No.231 Wuhouci Street, Wuhou District, Chengdu, Sichuan, China
-Total length: 550 meters
-Time needed: 2-3 hours
-Entrance fee: Free
Best Time to Visit Jinli Old Street
As a famous pedestrian street, Jinli Old Street is good place to go all the year around. However, the most comfortable time to visit is from March to June and from September to November every year. These two periods are spring and autumn, and the climate is moderate which is very suitable for traveling in Chengdu. Moreover, the night view of Jinli Ancient Street is much more beautiful than the view of daytime, and you will see red lanterns are lit up everywhere.
What to See at Jinli Old Street
Twisting across Chengdu for a length of 550 meters, the whole street is paved with green flagstones, decorated with wooden steles, brick-walls, and red lanterns, exhibiting an ancient charm. The street showcases the cultures of the Three Kingdoms Period and the folk customs of Sichuan. Buildings on both sides of the street are modeled on the architectural style of a traditional old town in western Sichuan Province from the Qing (1644-1911) Dynasty. Except appreciating the exquisite architectures, there are a lot of things to do here.
Classic plays are performed regularly on the ancient stages, folk artisan performances as shadow puppetry shows or hand puppet shows are put on in the roadside stands, a variety of local delicacies are offered on Jinli Snack Street. The true beauty of Jinli Old Street unveils in dusk and the street starts to wind down after 21:00. Strolling along the street or have a cup of tea here in the night is a quite romantic and enjoyable thing.
Major Jinli Old Street Attractions
Jinli Old Stage
Jinli Old Stage is located in Chengdu Jinli Ancient Street, separated from Wuhou Temple by a wall, it is easy to find when you strolling in Jinli Old Street. Classic Sichuan Opera is often preformed on the stage for tourists, tourists can understand the local culture in the process of traveling. In front of the stage, folk artist performances will be held regularly, such as sugar painting, clay figurine, paper-cut, shadow puppet performance, etc. Visitors can experience the bustling scene of the traditional market, what a great fun!
Jiupin Food Street
It will be a big pity if you don't taste local snacks at Jinli Old Street when you travel in Chengdu. At the end of Jinli Old Street, there is a section of road that sells numerous Chengdu snack, you will always find your favorite here. Many visitors and even local people would like to have some snacks and spend leisure time here. Before you visit Jinli Old Street, make sure you have an empty stomach.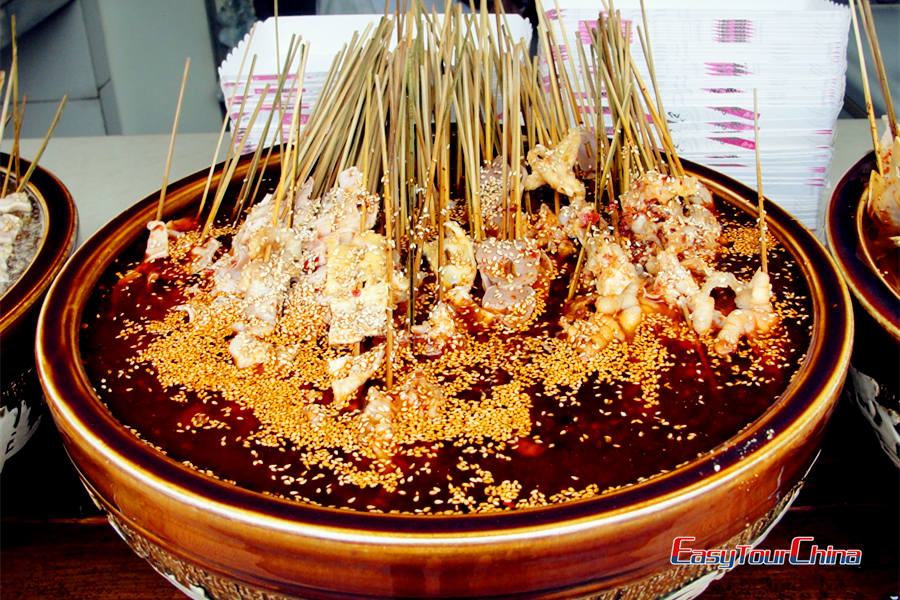 Folk Memory Wall
Near the exit of Jinli Ancient Street, there is a special wall called Folk Memory Wall. Ten representative Western Sichuan folk handicrafts were collected here, such as Sichuan embroidery, lacquer art, bamboo weaving, shadow puppet, etc. Moreover, some folk masters donated their wining works to this wall. The Folk Memory Wall was built on January 23, 2009, and will be opened on the same day a hundred years later. The handicrafts that sealed in the wall will be a gift to the future, and will last a hundred years for traditional folk customs.
How to Get to Jinli Old Street
1. By bus: Take bus 1, 57, 82, 334 or 335, and get off at Wu Hou Ci (Wuhou Temple) Station. Take bus 8, 21 and get off at Wu Hou Ci East Street Station.
2. By Metro: Take Metro Line 3, get off at Gao Sheng Qiao Station, go out through Exit D and walk along the Wu Hou Ci Street for about 1 km.
More Attractions in Chengdu
Recommended China Tours Including Jinli Old Street Chengdu