Jinli Old Street was built in 2004 to re-create the prosperity of Jinli Street, one of the busiest commercial streets during the Shu Kingdom (221-263). Located to the east of the Wuhou Memorial Temple of Chengdu (the most famous Three Kingdoms period (220 - 280) relic museum in China), Jinli Old Street also benefits from its fame. Jinli Old Street is the representative of Chengdu and reflects the diversity and beauty of Sichuan folk customs and culture. Cramming with numerous teahouses, guesthouses, bars, pubs and outlets selling tasty local delicacies and crafts, Jinli Old Street has been under the spotlight of tourists and locals since its opening.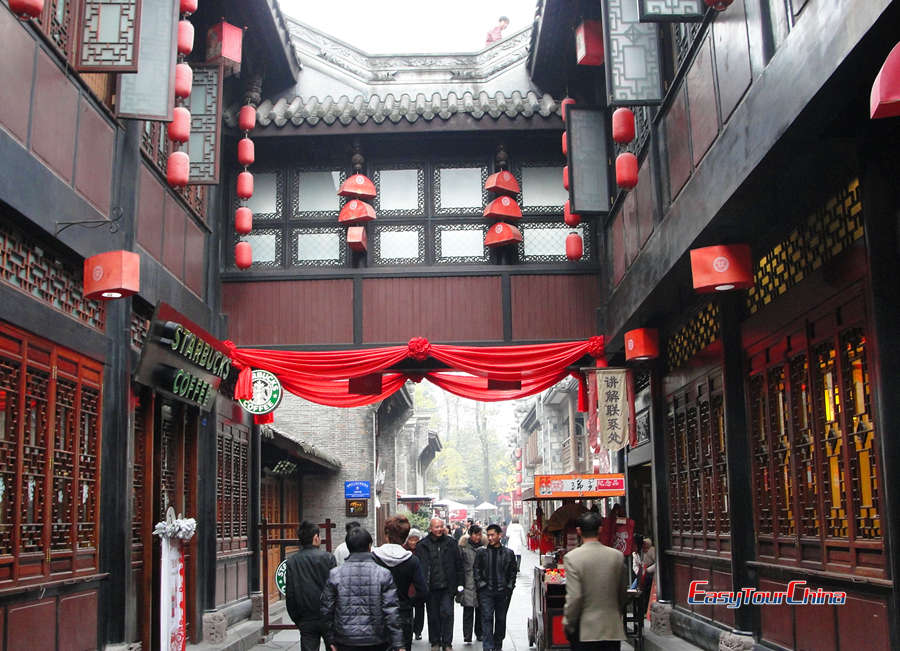 Twisting across Chengdu for a length of 350 meters (382.8 yards), the whole street is paved with green flagstones, decorated with wooden steles, brick-walls, and red lanterns, exhibiting an ancient charm. The street showcases the cultures of the Three Kingdoms Period and the folk customs of Sichuan. Buildings on both sides of the street are modeled on the architectural style of a traditional old town in western Sichuan Province from the Qing (1644-1911) Dynasty. Except appreciating the exquisite architectures, there are a lot of things to do here.
Classic plays are performed regularly on the ancient stages, folk artisan performances as shadow puppetry shows or hand puppet shows are put on in the roadside stands, a variety of local delicacies are offered on Jinli Snack Street. The true beauty of Jinli Old Street unveils in dusk and the street starts to wind down after 21:00. Strolling along the street or have a cup of tea here in the night is a quite romantic and enjoyable thing.
More Attractions in Chengdu
Recommended China Tours Including Jinli Old Street Chengdu