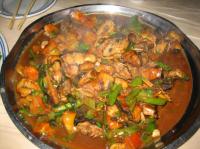 Yangshuo, being famous for its beautiful scenery and exotic West Street (Xijie), has a combination of both western foods and traditional dishes. On Xijie, you can find many western restaurants serving various western foods. While in numerous restaurants, you can enjoy the famous local dishes and delicacies, which include Beer Fish, Rice Noodle, Oil Tea, and Pickled Vegetable, etc.
Beer Fish: The fish is stewed with beer and mixed with other ingredients like tomatoes, garlic, ginger slices and so on. It tastes tender, juicy, fresh and spicy. It has become the No.1 dish in Yangshuo. Every year there is a beer fish contest in town for the best taste prepared by the chefs.
Rice Noodle
: The rice noodle is prepared with gravy, fried peanuts or soybeans, chopped scallions and slices of beef. The rice noodles are round, thin and flexible, the soup fresh and fragrant and the meat very tasty. Rice noodle is the most popular local snack and the residents' favorite.
Oil Tea:
Originated in the areas of ethnic group like Dong and Yao. People there boil the tea with ginger, scallion and serve with fried rice, peanut. Oil tea was first created to ward off the moisture entering people's body and keep warm.
Pickled Vegetable:
Pickles are made of selected vegetable soaked in vinegar and sugar and preserved for a couple of weeks. It tastes sour and sweet and is used to serve with meat dishes. Local people believe the dish can arouse the appetite and help digestion.
Recommended Yangshuo Tours