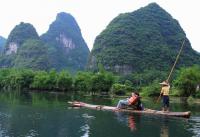 Yangshuo is a small county located 66km down southeast from Guilin, Guangxi Zhuang Autonomous Region. The county borders the Li River on one side, and is situated on a small plain between numbers of karst peaks, it is easily accessible by bus or by boat from nearby Guilin. It covers an area of 1,428 square kilometers with a population of 300,000.
Two main roads run away from the water and form the central part of the town, Chinese Street (Dei Chui Lu) and West Street (Xi Jie). Most foreign-oriented businesses, such as hostels, hotels, rock climbing companies, restaurants and entertainment venues, are situated on West Street or the pedestrian only Xian Qian Street which runs between Chinese and West Street.
The karst topography endowed the town with breath-taking sceneries, while its history of over 1,400 years enriches it with a sense of traditional culture. Diverse ethnic groups with special folk life inhabit the town. Numerous foreigners are fascinated by its scenery, leisure atmosphere and ethnic folk culture, and many of them have become residents of the town.
The major tourist attractions in Yangshuo include West Street (Xi Jie), Moon Hill, Ancient Banyan Tree, Yulong River (Bamboo Rafting), Fuli town, Xingping (a fishing village).
Recommended Yangshuo Tours