Yangshuo is one of the most beautiful places in China and on Earth, with surreal karst landscape and bucolic countryside. It is also a wonderful destination to experience authentic Chinese village life.
Yangshuo Facts
Location: Yangshuo is a small county located 66km down southeast from Guilin, Guangxi Zhuang Autonomous Region. The county borders the Li River on one side, and is situated on a small plain between numbers of karst peaks, it is easily accessible by bus or by boat from nearby Guilin.
Area: It covers an area of 1,428 square kilometers with a population of 300,000. Two main roads run away from the water and form the central part of the town, Chinese Street (Dei Chui Lu) and West Street (Xi Jie). Most foreign-oriented businesses, such as hostels, hotels, rock climbing companies, restaurants and entertainment venues, are situated on West Street or the pedestrian only Xian Qian Street which runs between Chinese and West Street.
Topography and history: The karst topography endowed the town with breath-taking sceneries, while its history of over 1,400 years enriches it with a sense of traditional culture. It was built during the Sui Dynasty (590 A .D.).
Population: Yangshuo has a population of 300,000. Diverse ethnic groups with special folk life inhabit the town. Numerous foreigners are fascinated by its scenery, leisure atmosphere and ethnic folk culture, and many of them have become residents of the town.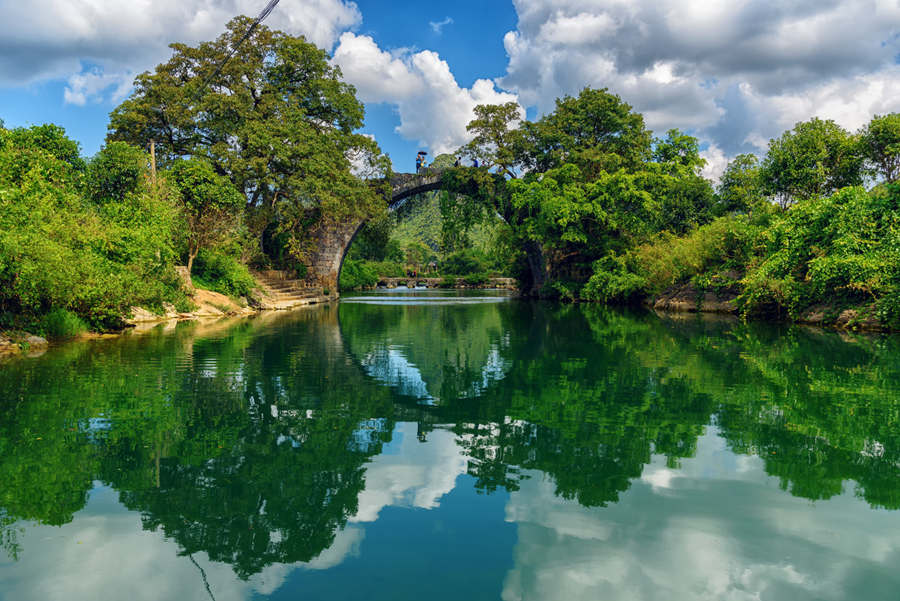 Top Things to Do in Yangshuo
Set amid limestone pinnacles, Yangshuo is famous for its spectacular scenery of hills and rivers. The Lijiang and Yulong rivers run by the town. The scenery along both rivers is superb, and a traveler of the Ming Dynasty Xu Xiake (1586-1641) described it as 'the land of green lotus and jade-color bamboo shoots'.
It is a great laidback base for which to explore other small villages in the nearby countryside. Along a slab-floored street in the town see many western-style cafes, comfortable and popular among tourists. Native produce is abundant due to the fertile land and includes fruits such as oranges, tangerines, pomelos, chestnuts, and kumquats. Visitors can always see local villagers working on the farm or gardens.
The major tourist attractions in Yangshuo include West Street (Xi Jie), Moon Hill, Ancient Banyan Tree, Yulong River (Bamboo Rafting), Fuli town, Xingping (a fishing village). Outdoor activities like rock climbing, biking, hiking, bamboo rafting, kayaking and hot ballooning are popular here.
Banyan Tree
The 1,300-odd-year-old Banyan Tree is located only 7 kilometers south of the Yangshuo County. Its branches spread out in all directions, and its roots twisting crisscross, and the tree takes six men to encircle its trunk with their arms stretched out. Under the tree there is an aged ferry, called 'Aged Ferry under the Shade of the Aged Banyan'. On the opposite bank of the river stands a hill with a cave going through it, therefore the hill came by the name 'Pierced-through Hill'. A hook-shaped rock, called the 'golden hook', protruded from near the hilltop, and another rock is found at the foot of the hill, which resembles a living frog ready to jump into the stream at any time.
The Moon Hill
About one kilometer from the Banyan Tree lies a hill whose peaks tower the sky as if it has reached the clouds. The hill has a cave with a diameter of 11 meters looking just like a full moon, hence the name. Viewed from different angles, the cave takes different shapes, just as the moon changes shape with the elapse of time; this is one of the major charms of Yangshuo.
Fuli
Fuli is a very small town of Yangshuo, with a mere 1,000-strong population. Nearly a third of its people work with traditional Chinese art and crafts, making painted folding fans, framing calligraphy of painting. Most of them get rich by selling these handicrafts to tourists. Former US President Bill Clinton called their fans 'natural air-conditioners' when he visited Yangshuo in 1998, bringing unexpected fame as well as cash to the town.
Yulong River (bamboo rafting/hiking/cycling/kayaking)
Yulong River is the longest branch of the Li River with a total length of 43.5 kilometers. It is praised as a natural heritage of mankind. The views of the Yulong River are idyllic and pleasing, with oasis, bamboo groves, bridges, farmlands, orchards and karst peaks on the banks. Travel to Yulong River, you dream of returning to the nature and countryside can be realized.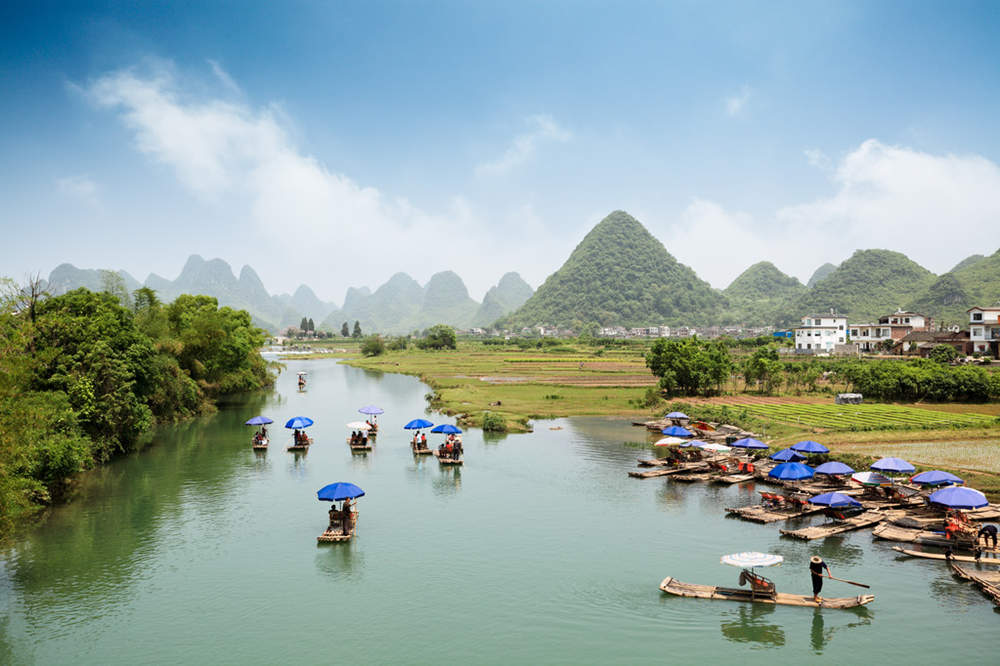 Nightlife
The nightlife of Yangshuo is vigorous and charming. The West Street, lined with bars, pubs, cafes and food stalls, is the best place to enjoy Yangshuo's nightlife. Sip a bottle of beer or a cup of coffee, chatting with your friends, listening to the music, when enjoying the lively yet laid-back atmosphere.
The Impression Liu Sanjie night show is another recommendation, which is a huge live-action performance blending local folk songs, Zhuang minority culture and art, and Li River landscape.
Getting to and around
There is not airport in Yangshuo, so travelers have to get to Guilin Liangjiang International Airport first (90km away), if by air. But now Yangshuo has its own train station, with bullet trains to Yangshuo from Guangzhou, Shenzhen, Guiyang and other Chinese cities. There are also regular buses to Yangshuo from Guilin, Longsheng and other cities and counties in Guangxi.
Bus, taxi and bicycle are the main transport in Yangshuo, and good ways to travel around.
Recommended Yangshuo Tours