There are many West Streets (Xi Jie) in China, and the most well-known one is in Yangshuo County. Situated in the town center of Yangshuo, was built during the Sui Dynasty around 590 AD. Though having experienced much wind and rain, it is well reserved and each year, approximately 100,000 foreigners come here to travel or attend advanced studies.
West Street reflects different atmospheres at different times: peaceful and calm in the daytime, while bustle and trendy in the evening. The Yangshuo West Street is composed of foraging, shopping, cafes, clubbing and other words. Traveling to West Street is an intimate touch with nature, landscape, soul and yourself. It drives away your pressures and worries, and fill your heart with pleasure and relax.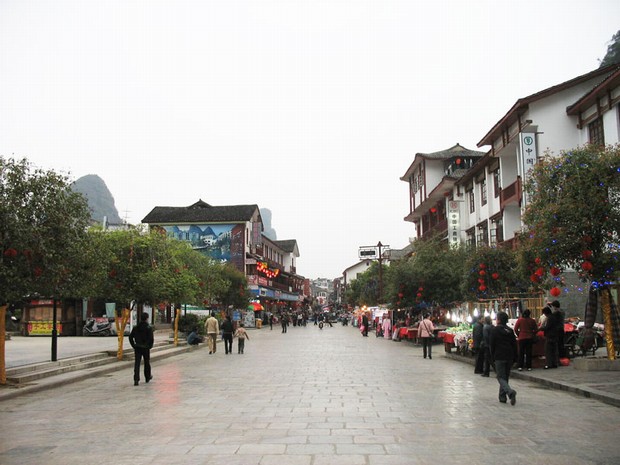 Facts
- In Chinese: 西街
- Location: Chengzhong Road, Yangshuo County, Guilin
- Length: 517 meters
- Opening time: all day
- Best time to visit: afternoon or night
- Entrance fee: Free
The Development of Foreigners' Street
West Street is the oldest street in Yangshuo County, with a history of more than 1400 years. When Yangshuo County was set up in 590 (Sui dynasty), the county had a street about 200 meters long and 5 meters wide. There were only a few grocery stores on the street, and most of the residents were peasants.
Yangshuo West Street was actually built in 1674 (Yuan dynasty). With the county government as the center, there is an area of two intersecting areas, known as the Cross Street; the longest section to the west, is called West Street. At that time, the Cross Street area was the most prosperous commercial center in Yangshuo, where a variety of shops gathered, which played an important role in local life and economy.
Later, the commercial center declined, but the quaint streets and buildings survived. The road surface is made of betel palm marble, dark green and bright. On both sides of the road are low brick houses left over from the Qing dynasty, with white powder walls and red windows, showing the simplicity and elegance of buildings in south-China style. Some of them are old houses built in the 1940s, which are also very historical.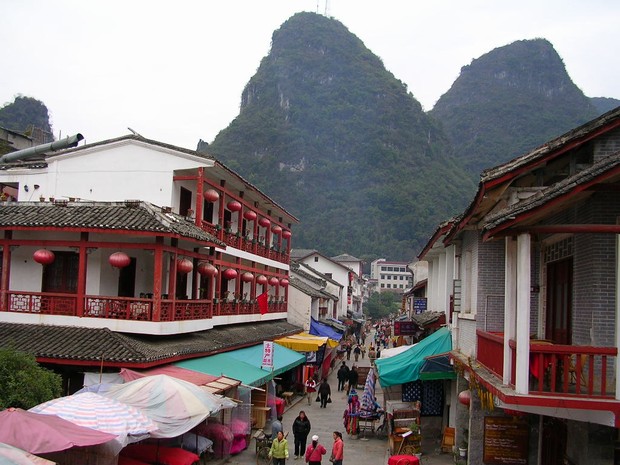 In the early 1970s, when Yangshuo opened to the outside world, western tourists discovered this charming street. At the same time, they showed a strong interest in the local simple and elegant dwellings, traditional culture and folk customs. From then on, more than one hundred thousand overseas tourists went to West Street for sightseeing, leisure and learning Chinese every year. Some of them lived for a few days, ten days or half a month, others for a few years. In the past decade, more than 70 or 80 foreign backpackers have married young men or women in Yangshuo. That's rare in a small county with so many foreign marriages in Guangxi Province.
In 1984, after the initial transformation, it was built into a rural but gorgeous tourist culture street. From 1999 to 2004, protective renovation was completed in Yangshuo County, which made the whole street buildings highlight the characteristics of folk houses with " green tiles, sloping roof, horse-head wall, wooden doors and windows, hanging balcony".
Since then, Yangshuo West Street formed a unique integration of Chinese and western cultures. Westerners bring European cafes, western restaurants and bars into Chinese houses. When night falls, foreigners sit around the shops and tables on both sides of the street, drinking beer. Thus, Yangshuo West Street became the a real "Foreigners' Street".
What to Do?
1. Look for local foods. There are all kinds of western and Chinese foods waiting for your exploration in West Street. Highly recommend trying Yangshuo Beer Fish and other local Guilin dishes as your dinner, matched with beer, what a nice meal!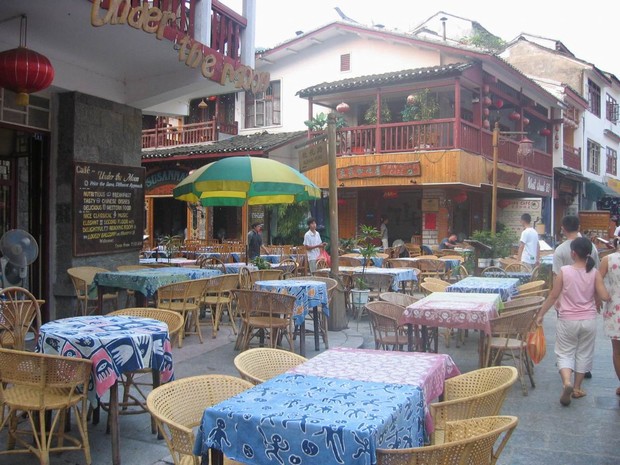 2. Appreciate ancient buildings. Although shops, restaurants, guesthouses are full of the street, some ancient residences and buildings are kept here, but they're not in the main street, you need to find them in allays along its branch.
3. Enjoy a relaxing afternoon or night life. If you have a bike riding or cruise trip in the morning, sitting along the street and enjoying your free time in West Street will be your favourite.
How to Get There?
The fastest way to visit West Street from Guilin is taking a coach at Guilin Bus Station. After arrival at Yangshuo Bus Station, there're only 5 – 10 minutes' walking to de destination.
A more leisure and enjoyable way to West Street is hopping on a Li River cruise in the morning; after you enjoy the beautiful natural scenery, you can reach the pier where it's close to the West Street.
More Attractions in Yangshuo
Recommended China Tours Including West Street (Xi Jie) Yangshuo