Introduction of Cheongsam
The Cheongsam or "Qi Pao" is a classic female costume which many westerns associated with Chinese women. It features at stand / high neck, loose chest, fitted waist, sides opening and varied sleeves (short, medium or full length) with tradition Chinese patterns. It is comfortable to wear and can fully set off the soft and female elegant figure, which gains growing popularity in the international fashion.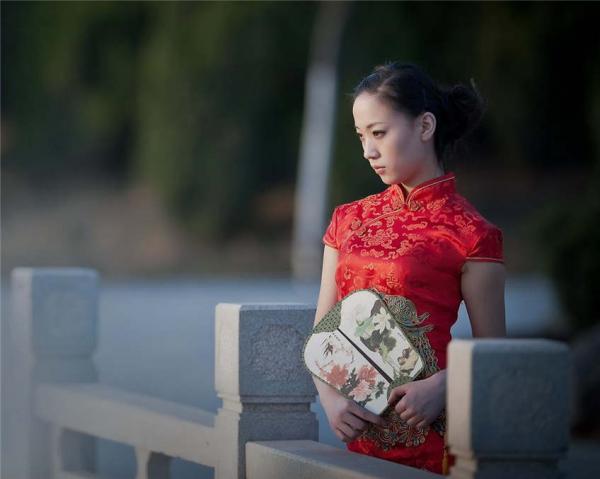 Legend of Cheongsam
A young fisherwoman at Jinbo Lake improved her long and loose fitting dress to a long multi-looped-button gown with slits to better convenient herself during work. She lived her life at the lake side until one day a fortune befell on her.
The young emperor of China at that time dream about his gone father one night, and his father told him the lady at the Jinbo Lake with self-made cheongsam would be his wives. The emperor sent his man out and found that clever young fisherwomen. She became the queen and Cheongsam spread among Manchu women.
Cheongsam through the years
Although it is a fork tale, the Cheongsam was really from the Manchus of Qing Dynasty. When they ruled China, their "banner gown (also translated as Qi-pao), a collarless, Tube-shaped gown wore by both men and women was developed, which was the origin of Cheonogsam. It was long and embroidered, with broad lace trimmed at the collar, sleeves and edges.
Qing Dynasty collapsed at early 20th century; women began to enjoy more freedom and improved their clothing for more comfort and freedom at movements. Instead of adopting western dress styles, they made changes to Qi-pao, cuffs narrower, lace trimmed thinner, varied collars and length, and tailored to be more fitting and revealing.
Cheongsam came to popular within the whole China. Its extraordinary popularity occurred at Shanghai, with its slimness and fitness, regarding as a formal suite for important occasions and social activities. But this prosperity was only existed at 1920s-1949.
A new boom appeared since 1990s, many ladies show warm welcome to this elegant and classic Asian gown. Cheongsam elements are used in world fashion industry to make it more charm over the world. Some Chinese girls even take red Cheongsam as bridal dress today, to add more beauty and elegant on wedding day; it is also common in some Chinese hotel and restaurant, hostess wear traditional qi pao to welcome or serve customers.
Tips for Cheongsam Dress
1. Due to the particularity of different ladies' figure, avoid ready-made qipao, but try to custom one according to your chest, wrist and so on.
2. There are diversified materials for making Cheongsam. Choose silk and other cool and soft material at summer; while velour or brocade for spring and summer.
3. Most Cheongsams are not suitable for home cleaning, do it at wash house. Oil, lipstick and soft drink on your qi-pao would cause big problems when washing.
4 Never wear a Qi-pao lasting for several days.
5. Away from keen-edged objects, they can scratch your qipao.
6. Never curl up your sleeves when wearing Cheongsam.
7. For a common dirty on a Cheongsam, cover the dirty with tiny wet cloth and use a electric iron to have it cleaned.
8. Hung the Cheongsam with clothes rack, make sure it smooth and in good condition.

Related Reading
Comments
Leave a Comment