Top 8 Buddhist Grottoes in China: Savor up Beautiful Buddhist Art
Top 8 Buddhist Grottoes in China: Savor up Beautiful Buddhist Art
The Buddhist grottoes originated in India and spread to China around 304 AD, continuing to the Ming and Qing dynasties, lasting more than 1000 years. In history, the developments of many dynasties in China were deeply influenced by Buddhism that made ancient China a big country of Buddhism. The caves or grottoes are a huge grottoes art landscape with Chinese Buddhist culture as its feature. They are the historical treasures of the traditional culture and art of the nation of Han in ancient China.
According to the religious beliefs and social customs of the time, countless artisans combined with their own life feelings and constantly innovated on the basis of absorbing foreign culture and art, reflecting the ideology, culture and social life in the feudal era of China.
So what are the most famous Buddhist Grottoes in China? Where are the most beautiful China Buddhist Caves? Check on more about top 8 Buddhist Caves & Grottoes in China.
1. Mogao Caves (Dunhuang)
Facts
- In Chinese: 莫高窟,千佛洞
- Location: Near the Provincial Highway 314, Dunhuang
- Opening time: 08:00 – 18:00 (April to November); 09:00 – 17:00 (December to the next March)
- Entrance fee: RMB258 (including RMB20 for foreign language explanation fee)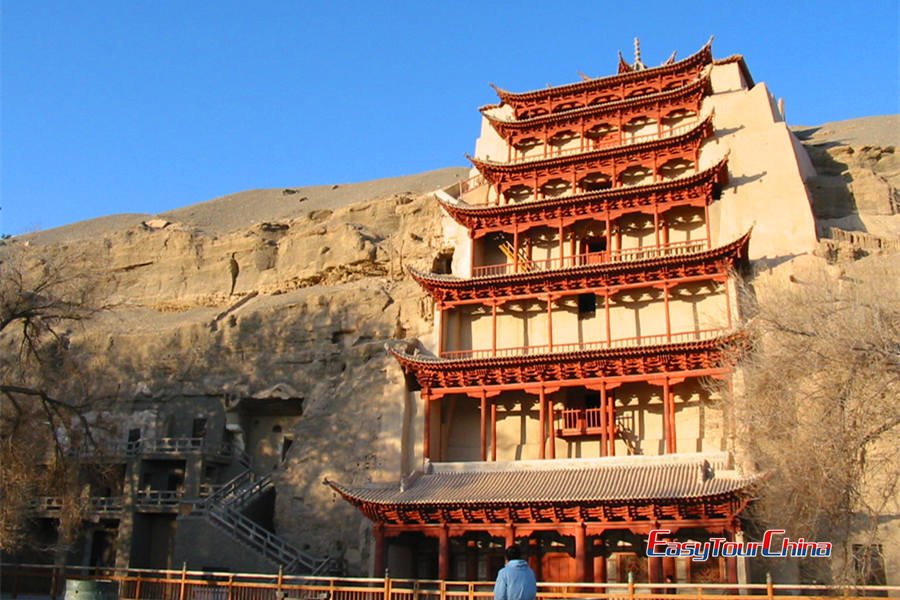 Mogao Caves is the master of Chinese ancient Buddhist culture. Its construction lasted more than 1,000 years, and there are more than 2,400 colorful sculptures preserved, so it is regarded as the largest, most systematic and precious sculpture heritage in China.
The Mogao Grottoes in Dunhuang is a combination of architecture, painted sculpture and murals, with the theme of painted sculpture. The art of murals in Mogao Caves reached the leading level in the Chinese traditional mural painting. The mural paintings of diverse themes have the characteristics of different times no matter their line, shape, composition, color, artistic language, ideological connotation and aesthetic taste. But due to its pure natural pigment and production process, many color paintings faded as a result of oxidation.
Furthermore, a large number of ancient Buddhist scriptures and documents were kept in the Sutra Depository that makes its academic value greatly exceeds the religious value. During the war, its frescoes and scriptures were stolen and destroyed by the invaders, and they were strictly protected and restored later. That is why Mogao Caves becomes the most important and influence grottoes in China.
>> How to get there
Take taxi from downtown to the Dunhuang Digital Display Center for around 9 kilometers. Or you can take Bus 12 at the station diagonally opposite the Silk Road Yiyuan Hotel.
>> Recommended Silk Road Tour including Maogao Caves
15-day Silk Road Adventure at Soft Grade
12-day Essence of the Silk Road Tour
2. Longmen Grottoes (Luoyang)
Facts
- In Chinese: 龙门石窟
- Location: Near the Provincial Highway 238, Luolong District, Luoyang
- Opening time: 08:00 – 18:00 (Feb 1st to Mar 31st, Oct 8th to Nov 14th); 08:00 – 17:30 (Nov 15th to the next Jan 31st); 08:00 – 18:30 (Apr 1st to Oct 7th)
- Entrance fee: RMB90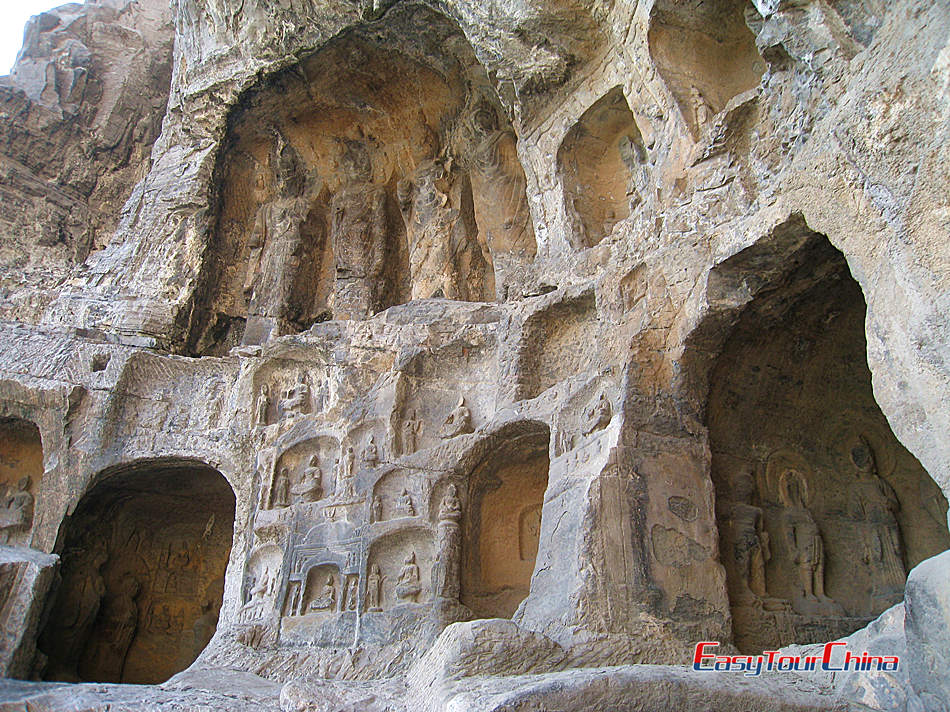 Longmen Grottoes is the most concentrated place where the royal nobles of the northern Wei dynasty and Tang dynasty made their wishes and statues, and it shows a huge difference in the shape. It is the embodiment of the royal will and behavior and has a strong national religious color. Especially, the Guyang cave contains the statues of a group of royal nobles and court ministers in the early period when the northern Wei dynasty moved the capital of Luoyang, which typically reflects the historical situation of the whole country worshiping Buddha in the northern Wei dynasty.
Other than Buddhist culture, Longmen Grottoes is a large stone art museum, a huge amount of religious, arts, architecture, calligraphy, music, clothing, medicine and other aspects of the material materials were preserved in here. Longmen Grottoes is the largest number of ancient inscriptions in China, so it's also a treasure of the art of calligraphy. There are more than 2,860 inscriptions, known as the forest of ancient inscriptions.
>> How to get there
Other than take taxi or book a car, it's convenient to get there by bus.
You can take Bus 81 at Luoyang station West Square Station and get off at Longmen Grottoes Station. If you are near Luoyang Longmen Rail Station, please walk to Tongqu Road Houzaimen Street East Station first, Bus 67 or 71 will take you Longmen Grottoes Station.
>> Recommended China Tour including Longmen Grottoes
14-day China History Tour on Bullet Train
14-day China Exploration on Train
3. Yungang Grottoes (Datong)
Facts
- In Chinese: 云冈石窟
- Location: 16km away from the south of Wuzhoushan Mountain, Yungang District, Datong
- Opening time: 08:30 – 17:30 (Apr to Oct 15th); 08:30 – 17:00 (Oct 16th to the next Mar 31st)
- Entrance fee: RMB120 (April to October); RMB100 (November to the next March)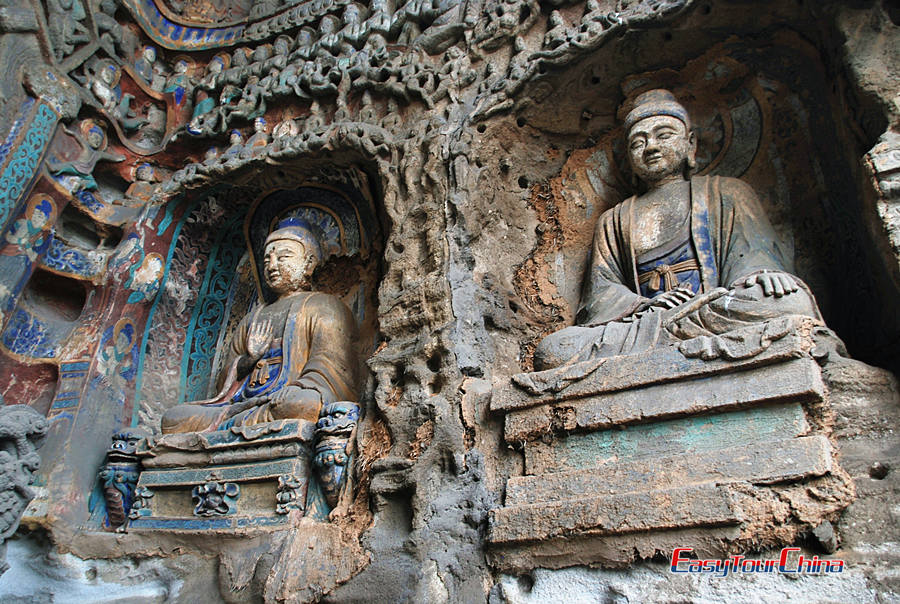 Yungang Grottoes was first built in the northern Wei dynasty. As the cultural relic of large grotto temple in the capital of the northern Wei dynasty, the whole project lasted about 70 years. It is a treasure of Buddhist art, which was carved by a nation in one dynasty after the Buddhist art was spread to China. It is a historical monument of the fusion of Chinese and western cultures in the 5th century.
Since its soil texture is different from that of Longmen Grottoes, the carving technique of Yungang Grottoes inherited and developed the excellent tradition of Han dynasty, absorbed and integrated the essence of ancient Indian Gandhara and Mathura art, and created a unique artistic style. In the middle period, the grottoes were also active in reform and innovation, which initiated the process of Chinese style of Buddhist grottoes. The synthesis of these a variety of factors, also produced so - called magnificent tastes. The complicated content and exquisite carving art features presented by it are greatly different from the early grottoes. The carving modeling pursues neat and gorgeous, and there are obvious Chinese characteristics from the grottoes shape to the carving content and style.
>> How to get there
You can take Bus 3 in Datong downtown and get off at Yungang Gorottoes Station.
>> Recommended China Religious Tour including Yungang Grottoes
16-day China History & Scenery Combo
13-day Buddhist Pilgrimage Tour to China with Mt. Wutai
19-day Buddhist Pilgrimage Tour to China
4. Maijishan Grottoes (Tianshui)
Facts
- In Chinese: 麦积山石窟
- Location: No.2 Quanhu Road, Maiji District, Tianshui, Gansu Province
- Opening time: 08:30 – 16:30 (all the year)
- Entrance fee: RMB105 (including RMB15 for round way shuttle bus of the scenic area)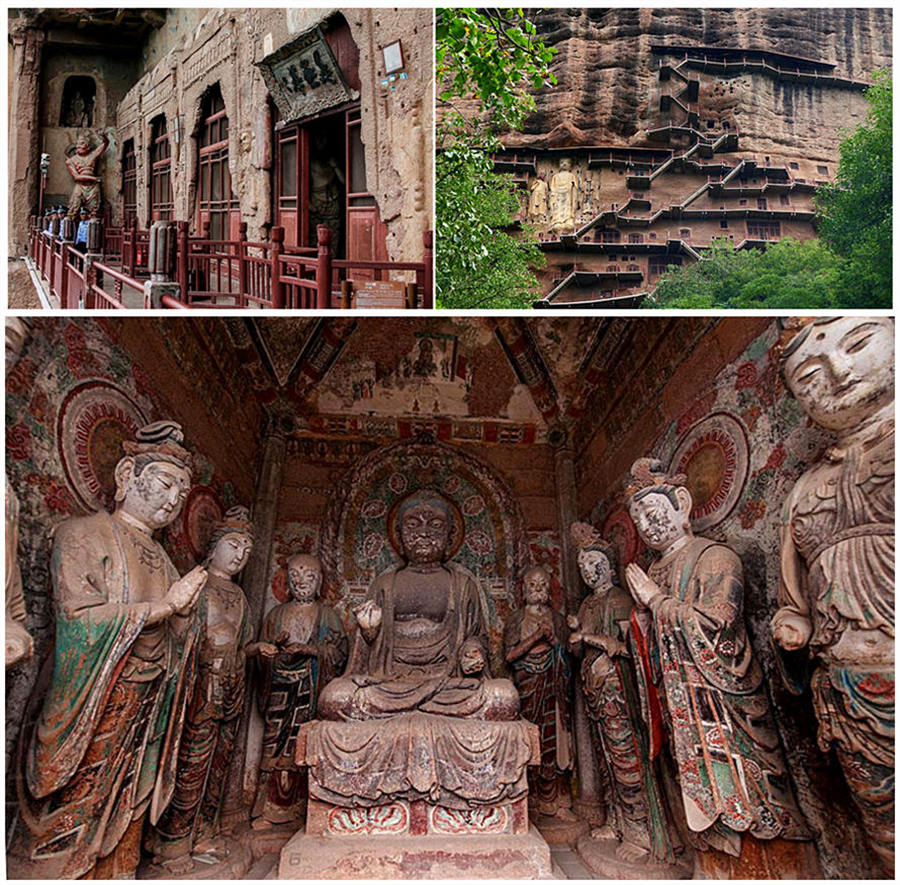 Maijishan Grottoes is one of the top four grottoes besides Mogao Caves, Longmen Grottoes and Yungang Grottoes. Maijishan Grottoes was first built between 384 and 417 AD, with 221 grottoes, 10632 clay sculptures and over 1,300 square meters of murals, known for its fine clay sculpture art.
Maijishan Grottoes carved on the cliff, the grottoes "as dense as beehives", the plank road "flying frame", layer upon layer, forming a magnificent three-dimensional building complex. Its imitation wood hall-style stone cliff pavilion is unique characteristics, magnificent. The grottoes are mostly Buddhist temples without central pillar with obvious local characteristics.
Other than grottoes, the entire scenic spot is composed of more than 180 sub-scenic spots including Mount Maijishan, Immortal Cliff, Shimen, Winding Stream and Jiting hot spring, with rich and diverse biological types and species, owning profound sightseeing & tourism value.
>> How to get there
In downtown, you can easily find Bus 5 or 34, hop on and get off at the last stop, Mount Maijishan Parking Lot Station, the scenic spot will come into your eyes.
5. Kizil Caves – Temple Complex (Aksu)
Facts
- In Chinese: 克孜尔石窟,克孜尔千佛洞
- Location: About 7km southeast of the north bank of Muzati River, Kizil County, Aksu District, Xinjiang Province
- Opening time: 10:00 – 20:00 (all the year)
- Entrance fee: RMB60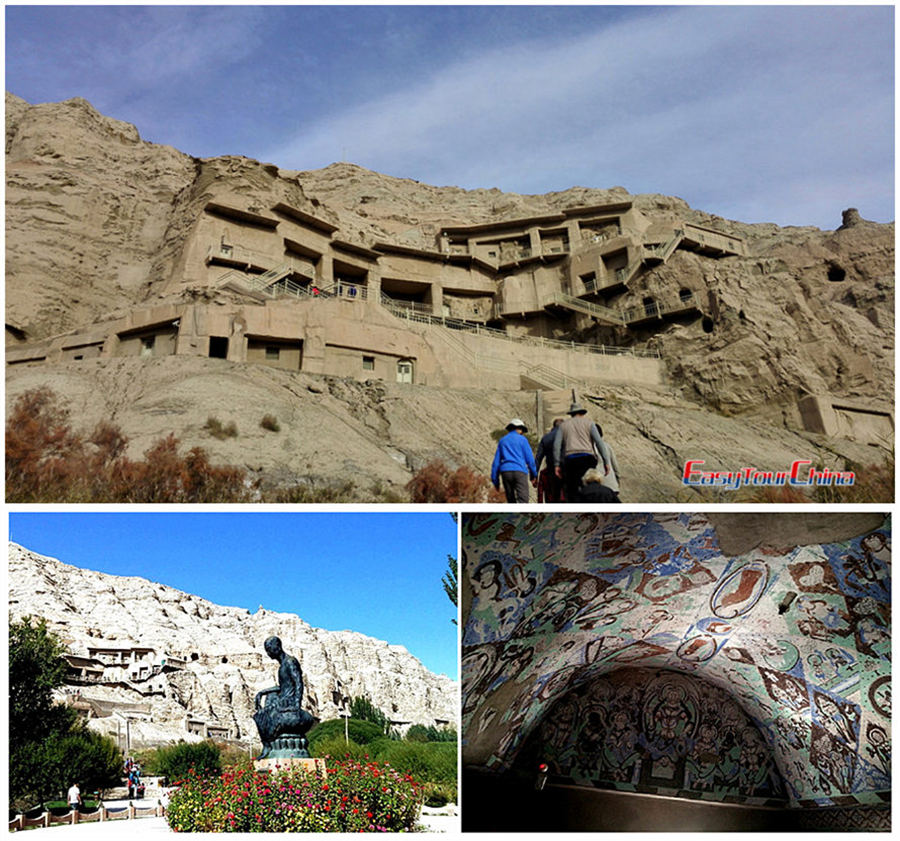 According to research, the Kizil Caves is the earliest large-scale grottoes in China and it's the one located in the most west of China. The grottoes were dug in about the 3rd century, 300 earlier than Mogao Caves, and gradually stopped construction in the 8th and 9th century.
The shape and structure of Kizil grottoes are roughly divided into two types: one is the part of monk's houses, which is a place for monks and apprentices to live in with kitchen and simple living facilities. The other is the temple of Buddhism, a place for Buddhist worship and sermons. Devout Buddhists, in the form of paintings, depict various figures, stories and legends of Buddhism on the wall of the caves.
Visiting Kizil Caves gives a feeling of sad and regretful; except for some frescoes on the top of the cave, they were almost empty. Kizil Caves had suffered three major catastrophes in history: the first was in the 10th century, when Kizil Caves was gradually abandoned and destroyed along with the decline of Qiuci Buddhism in the religious dispute between Buddhism and Islam. The second time was from the late 19th century to the early 20th century, when western explorers stole nearly 500 square meters of murals from 60 caves. The third time, in the early 1930s, the German explorer Le Coq stole hundreds of boxes of murals, statues and other works of art.
Established in 1985, Xinjiang Qiuzi research institute not only participates in relevant protection projects carried out by the state and UNESCO, but also organizes professionals to carry out daily monitoring, rescue reinforcement, protection and restoration of the caves under its jurisdiction, so that the endangered frescoes and cultural relics are effectively protected.
>> How to get there
Since it's far from the downtown, shuttle bus or public transportation is unavailable, so you can book a vehicle to get to Kizil Caves.
>> Recommended Xinjiang Tour including Kizil Caves
13-day Xinjiang Highlights Tour
6. Yulin Caves (Guazhou County)
Facts
- In Chinese: 榆林窟,万佛峡
- Location: 72 kilometers in the south of the downtown, Guanzhou County, nearly Dunhuang, Gansu Province
- Opening time: 09:00 - 17:30 (May to October); 10:00 - 17:00 (November to the next April)
- Entrance fee: RMB55 (including RMB15 for foreign language explanation fee)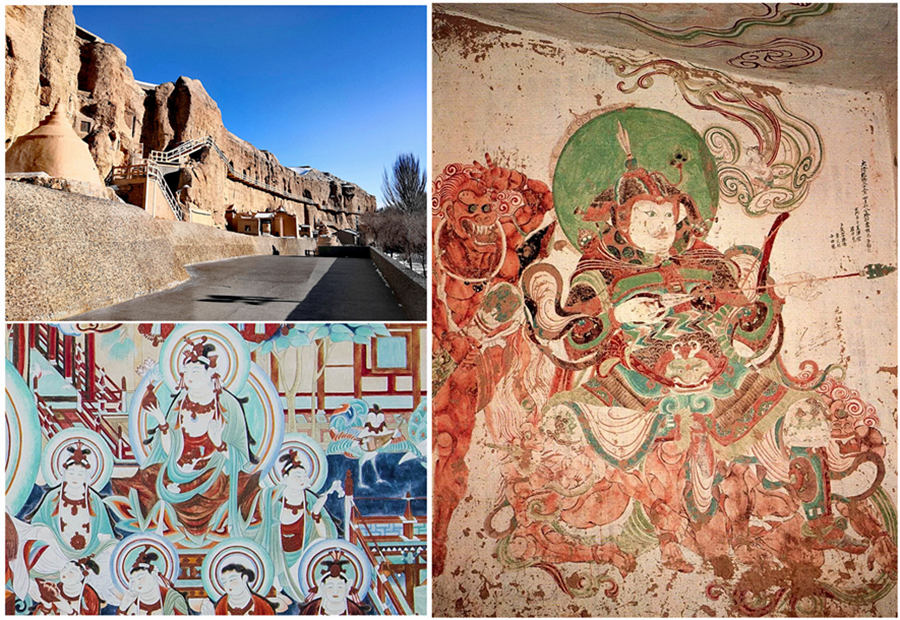 Because of near Dunhuang and in the same series of Dunhuang art system, Yulin Caves is called the sister cave of Mogao Caves. Its content, artistic style, color sculpture, mural production and other aspects are closely related to the Mogao Caves, but there are obvious differences in many aspects, has its own unique style.
For it is relatively well preserved, its achievements in many aspects are higher than those of the Mogao Caves in Dunhuang. The frescoes in Yulin Caves are brightly colored and well structured, and there are few tourists and low ticket prices. If you are only interested in Dunhuang art, you will be more satisfied to visit here.
>> How to get there
Book a vehicle or take taxi to Yulin Caves. If you start your trip from Dunhuang, you need to take a train or coach to Guazhou, and then take a taxi. If you drive from Dunhuang, it takes about 2.5hrs for more than 170km between Dunhuang and Guazhou.
7. Dazu Rock Carvings/Dazu Grottoes (Chongqing)
Facts
- In Chinese: 大足石刻
- Location: Baoding Town, Dazu District, Chongqing
- Opening time: 08:30 – 18:00 (all the year)
- Entrance fee: RMB140 for whole scenic spot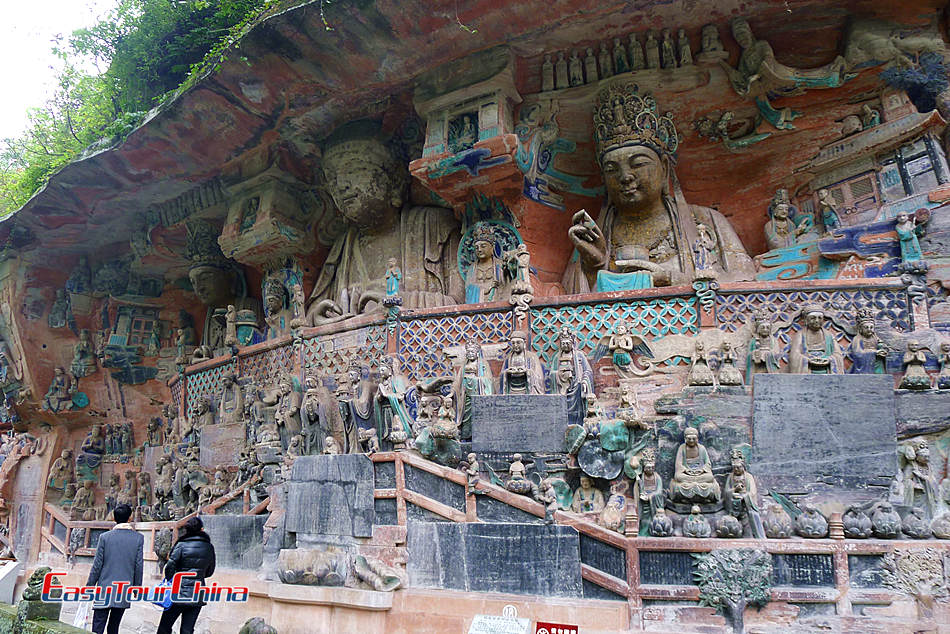 Carved in the early Tang dynasty (the middle of the 7th century), Dazu Rock Carvings experienced the late Sang dynasty, the five dynasties, the northern Song dynasty, flourished in the southern Song dynasty, and continued to the Ming and Qing dynasties. Thus, the history of Chinese grotto art has been extended for more than 400 years. It is the most magnificent masterpiece in the history of Chinese grotto art from the 9th to the 13th century. Dazu Rock Carvings has become the last monument in the history of Chinese grotto art construction.
The theme of the sculpture is dominated by Buddhism, with more than 50,000 statues. It is also an example of the harmonious coexistence of Buddhism, Taoism and Confucianism and the unprecedented art of grottoes.
>> How to get there
Take shuttle bus at Caiyuanba Bus Station or Longtou Temple Station in Chongqing, and you will arrive in Dazu County in 1.5 or 2hrs. Then take Bus 205; the final stop is the Dazu Rock Carvings.
>> Recommended Chongqing Tour including Dazu Rock Carvings
2-day Chongqing Highlights Tour
8. Bingling Temple Grottoes/Bingling Thousand-Buddha Caves (Yongjing County)
Facts
- In Chinese: 炳灵寺千佛洞,炳灵寺石窟
- Location: Yongjing County, Linxia Hui Autonomous Prefecture, Gansu Province
- Opening time: all day and all the year
- Entrance fee: RMB50 (non-including advanced caves)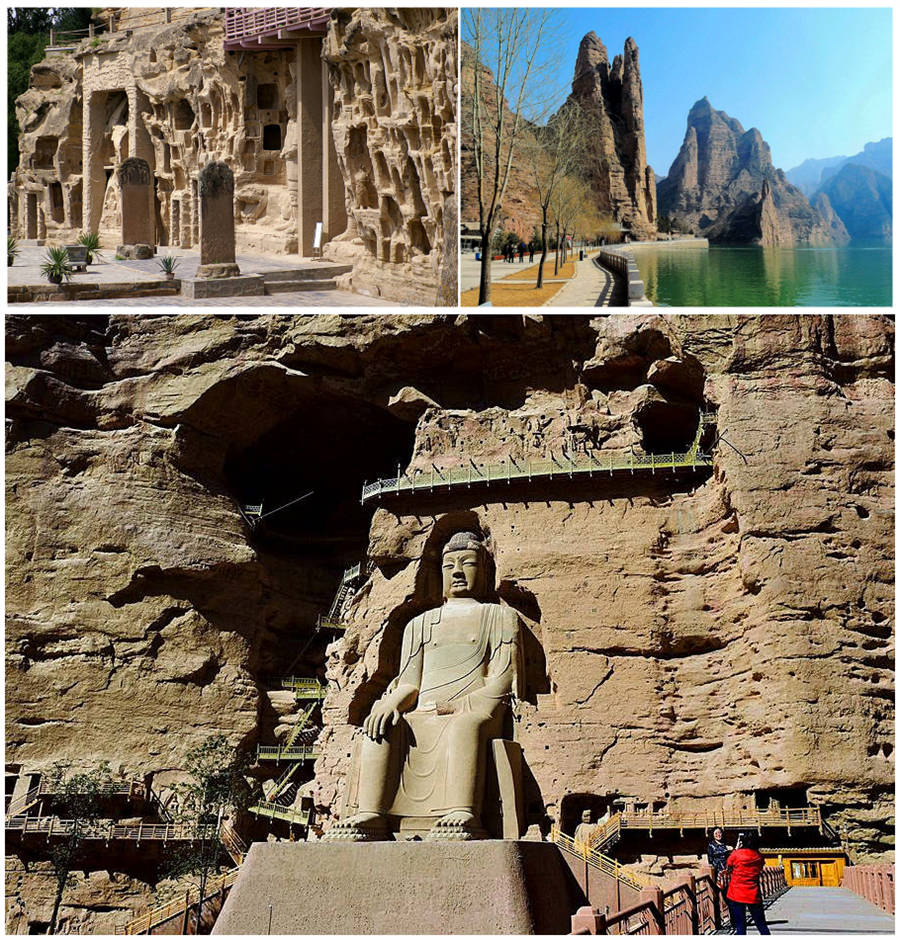 In the Sui dynasty, Yongjing was a place where prosperous merchant ships docked and where people went south to Tibet along the ancient Silk Road. Economic development and different cultures have created Bingling Temple. At the end of the Yuan dynasty and the beginning of the Ming dynasty, the Gelug sect of Tibetan Buddhism was introduced into Bingling Temple.
On the basis of inheriting the folk art of the previous generation, the grottoes of Bingling Temple absorbed and integrated the foreign Buddhist art, and created the vivid sculpture image and painting art with a brand-new posture and simple technique. The most typical art in Bingling Temple is the stone statue, relief pagoda and Mizong murals art; the main feature is stone carving. With Mogao Caves and Maijishan Grottoes, it is called top three grottoes in Gansu Province.
>> How to get there
You can take shuttle bus from Lanzhou to Liujiaxia for around 1.5hrs, and then take a ship from Liujiaxia Dam to the destination.
Leave a Comment