Tianluokeng earth building cluster is one of the better known Fujian Tulou, about four hours' drive from city Xiamen. It consists of a square earth building in the center, surrounded by four round earth buildings. These earth buildings have only one entrance, guarded by 4–5-inch-thick wooden doors re-enforced with an outer shell of iron plate.
The square Buyunlou (Reaching the Cloud building) at the center of the quincunx. It was the first tulou at this site, built in 1796. It is three storeys high, each storey has 26 rooms, four sets of stairs, and a go around corridor in front of the rooms at each level. The Buyun building was burnt down by bandits in 1936, rebuilt in 1953 according to the original plan.
The Hechang building, a three-storey-high round earth building,Zhenchang building, three storeys, round shape, 26 rooms per storey, built in 1930 Ruiyun building, built in 1936, three storeys, 26 rooms per floor. The oval shape Wenchang building of 1966, three storeys, 32 rooms per floor.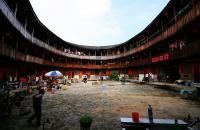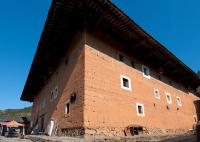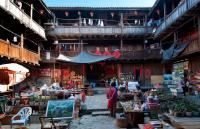 More Attractions in Xiamen
Recommended China Tours Including Tianluokeng Tulou Cluster Xiamen