Dujiangyan Irrigation System in Southwest China's Sichuan Province represents ancient China's superb science and technology and is a milestone in the world's water harnessing and irrigation history. Dujiangyan, the world's oldest diversion project without a dam, still feeds a grid of irrigation canals watering 670,000 hectares (1,675,000 acres of farmland in Sichuan, turning the province into the country's famous land of abundance since ancient times.
Dujiangyan Irrigation Project History
56 kilometers (34.8miles) west of Chengdu, the Dujiangyan Irrigation System was built up in 256 B.C. to harness the Min River, a tributary of Yangtze River, which had frequently caused floods in rainy seasons. It was designed to divert the fast-flowing river and re-channel it into irrigation aqueducts.
As the engineering designer, Li Bing created a three-part project based around a central dam, which split the Min River into an inner flow for irrigation and an outer channel for flood control. Work was continued by Li Bing's son, and the scheme has been maintained and developed ever since, so that the present system of dams, reservoirs and pumping stations irrigate some 3.2 million hectares. In memory of the great engineer Li Bing and his son, local people built two temples: Fulong Guan and Erwang Miao by the project.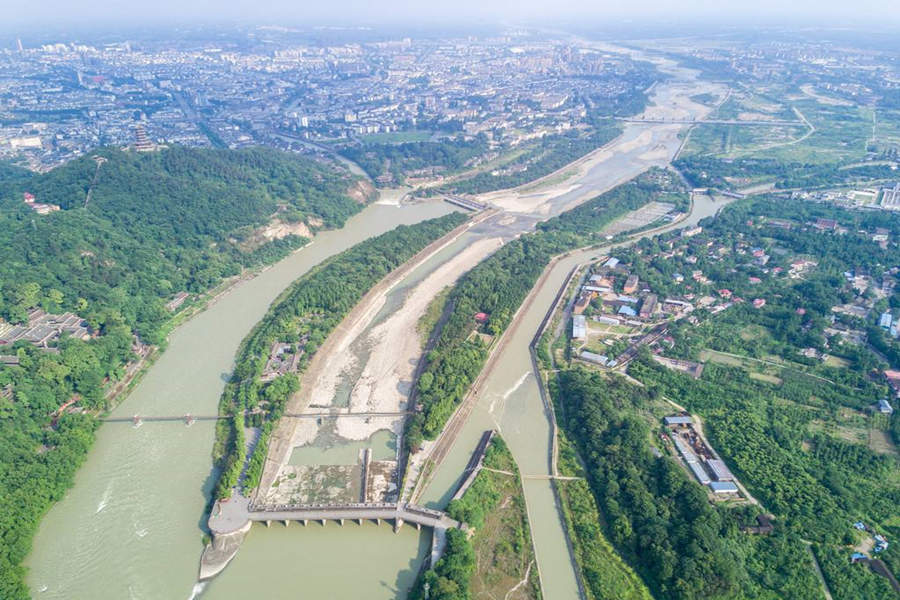 Dujiangyan Irrigation Project Facts
-Chinese name: 都江堰水利工程
-Location: On the Minjiang River at the west of Dujiangyan
-Time needed: Half day
-Best seasons: April to October
-Entrance fee: CNY80
Best Time to Visit Dujiangyan Irrigation System
It is suitable to visit Dujiangyan all the year around, but the best time is spring and summer. Water Pouring Festival and Temple Fair will be held every spring at Dujiangyan scenic spot, you can learn more about the local folk customs and water culture of Dujiangyan if you come to visit during spring. Dujiangyan is a famous summer resort as well. In the hottest summer, Dujiangyan and its surrounding Qingcheng Mountain are still cool at 22℃, you can not only experience rafting, but also catch up with the lively Beer Festival. Dujiangyan is a great place for taking one day extension when you traveling in Chengdu.
What to see at Dujiangyan Irrigation System
Dujiangyan Irrigation Project is one of the most famous projects in China. The project was built in the third century AD, it is the oldest and only remaining grand project that characterized by water diversion without a dam. For more than two thousand years, it has been playing an important role in flood control and irrigation.
The main part of Dujiangyan Irrigation System is the headwork project, which is the key facility of Dujiangyan Irrigation System. The three main parts of the headwork composed of Yuzui (fish mouth) diversion dike, Baopingkou (Bottle mouth) diversion project and Feisha (flying sand) spillway.
Major Dujiangyan Irrigation Project Attractions
Yuzui Water Diversion Project
Yuzui water diversion dike is the water diversion project of Dujiangyan Irrigation System, named for its shape like a fish mouth. Its main function is to divide the turbulent Minjiang River into internal and external rivers. The western part is called Outer River, which is used to drain off the floodwaters. The eastern part is called Inner River, which is used in irrigation.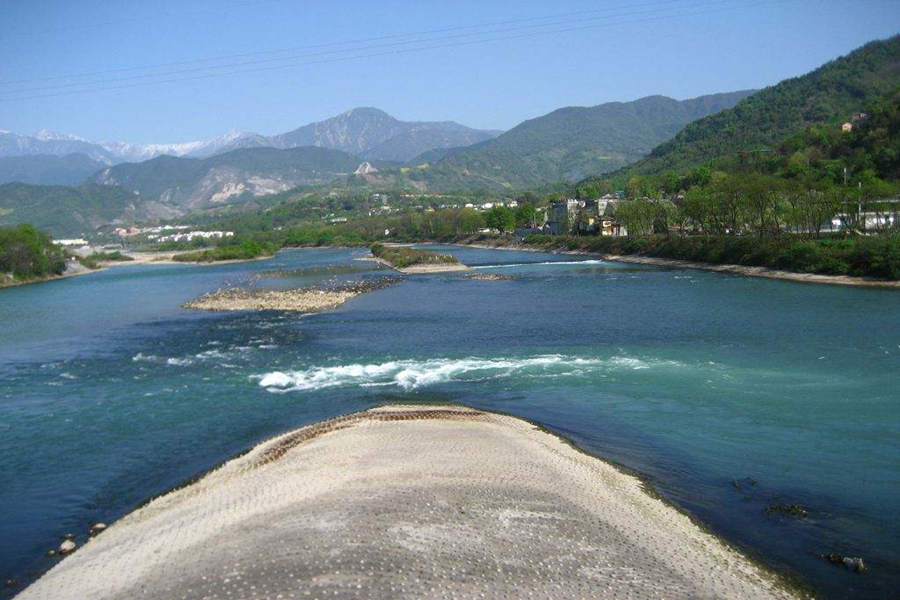 Feishayan spillway
The Feishayan spillway has significant functions of flood discharge, sediment discharge and water regulation. It looks very ordinary, but actually the function is very important. It can be said that it is the key project that ensure Chengdu Plain is not affected by flood. The main function of the Feishayan is when the water flow of the Inner River exceeds the upper limit of the Baopingkou, the excess water will overflow from the Feishayan.
Baopingkou Diversion Project
Baopingkou Diversion Project works as a control valve, and it can automatically control the inflow of Inner River. It is named Baopingkou because it is shaped like a bottle mouth and has a unique function. The natural scenery of Baopingkou is stunning, and it's a famous attraction in ancient time.
Erwang Temple
Erwang Temple is located at the hillside on the right bank of Ming River and it's used to commemorate Li Bing and his son. There are statues of Li Bing and his son, as well as famous saying on water control and inscriptions of poets. The whibuilding complex is located on the east bank of Dujiangyan headworks, it is a famous scenic spot that combining temples and gardens.
Anlan Suspension Bridge
Located on Yuzui Water Diversion Project and spanning the Inner and Outer Rivers, Alan Suspension Bridge is reputed as "Five Ancient Chinese Bridges", and the total length is around 240 meters. Now it is one of the most characteristic landscapes at Dujiangyan scenic spot. Walking on the bridge, the bridge will swing as long as there are someone swings it, it's very exciting experience. Standing on the bridge, the general view and function of Dujiangyan Irrigation system are clear at a glance.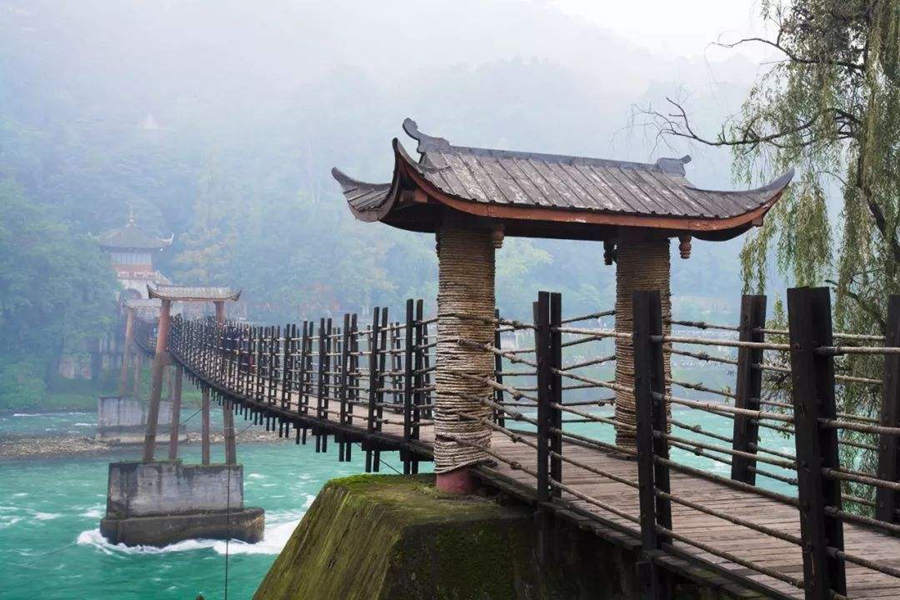 How to Get to Dujiangyan Irrigation Project Attractions
1. Train: Take high-speed train from Chengdu Rail Station or Xipu Rail Station to Dujiangyan City (around half an hour or so), and then change to bus 4, 6, 9, 19 or 31 to Dujiangyan Scenic Area.
2. Bus: Take a long-distance bus from Xinnanmen Bus Station, East Railway Station Bus Station or Chadianzi Bus Station directly to Dujiangyan Scenic Area.
More Attractions in Chengdu
Recommended China Tours Including Dujiangyan Irrigation Project Chengdu