Yulong River, a major tributary of Li River, flows through some of the most beautiful karst (limestone) sceneries near Yangshuo. Local people use rafts as daily transportation up and down the river between house, markets, and rice paddies. Some villagers made bigger rafts and started to woo the travelers and soon it became a highlight of tour around Yangshuo. Sitting on the reclining chair on the raft, you can enjoy an all-around view of the nature and rural peaceful life down the river.
The hills along the two banks are of different shapes with dense forests and elegant bamboo-groves. Green all the year round the paddies are full of life and vitality. The water in the river is so clear that you can see to the bottom and standing by the riverside you'll get a picturesque scene with a poetic sense to swell up in your mind. Such scenes will cast away your perplexities and make you immerse in the relaxing atmosphere.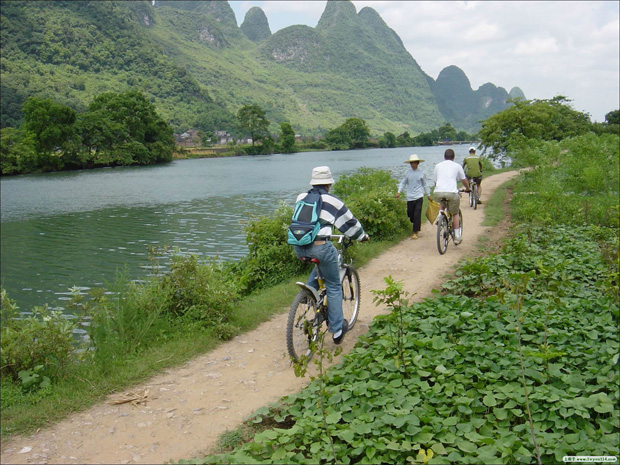 Facts
- In Chinese: 遇龙河
- Location: Yulong River Scenic Spot, Yangshuo County, Guilin
- Length: 43.5 km
- Opening time: 08:00 – 17:30
- Best time to visit: Apr - Oct
- Entrance fee: Free
- Bamboo rafting price: RMB255 for 2 seats
What to See & Do?
1. Take a Bamboo Rafting
There is a picturesque Bamboo Rafting (about 1.5 hours) excursion along on Yulong River, where guests can admire silently the spectacular landscapes, gently pulled by the current. Though there are nine levels to slip down along the river, the bamboo rafting is a kind of leisure rafting, the water is flowing quite slowly, you can easily get a peaceful and quiet mood when you are sitting on the bamboo rafts and enjoying the picturesque scenery.
The entire trail for rafting is from Jinlong Bridge to Gongnong Bridge, and two sections of the excursion are for your choice: Jinlong Bridge – Jiuxian Village and Jiuxian Village – Gongnong Bridge. Rural scenery and local life are the main highlights of the first period; the second period got a name of Little Li River, Karst mountains and crystal water are the most charming scenery.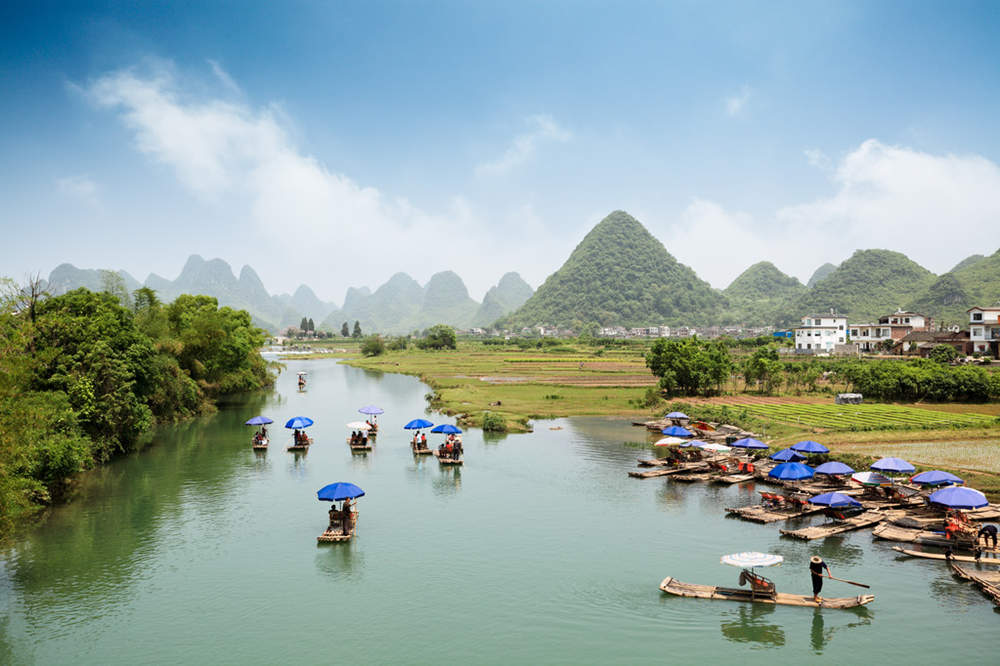 2. Countryside Biking or Hiking Trip
Several bike rides and hikes also follow the Yulong River taking in local villages and rice paddies. These can be some of the most memorable days on your China experience. You can get here easily by bike taking in towns on the banks on the Yulong River.
3. Visit Local Villages and Explore Their Lifestyle
Jiuxian Village is a tranquil ancient village bellow to Yangshuo. The historical relics and ancient buildings savor up the interest of the Yulong River trip. If you are fond of Chinese traditional and old lifestyle, it's also a good place to explore; you will see how people plug, cook, or entertain.
4. Take Photos of Every Stone Bridges
Villages and fields are connected by several bridges on the Yulong River, and the ancient stone bridges are also the main way for locals get into the school or work. There are three famed old bridges: Yulong Bridge, Xiangui Bridge and Fuli Bridge.
Yulong Bridge – Located along Yulong Village of Baisha Town, the 60-meter-long, 5-meter-wide bridge was built in Ming dynasty with stone totally and without any mortar. The bridge is wide and covered with ivy, which is interesting. After hundreds of years without damage, it is one of the key cultural relics and historic sites of Yangshuo.
Xiangui Bridge – the oldest stone arch bridge in Guangxi Province. Built in Song dynasty in 1123, the structure of the bridge body is unique, and the bridge adopts the extremely rare juxtaposition brick method, which is built with 9 groups of coupon stone arches and consists of 281 blocks of stone juxtaposition.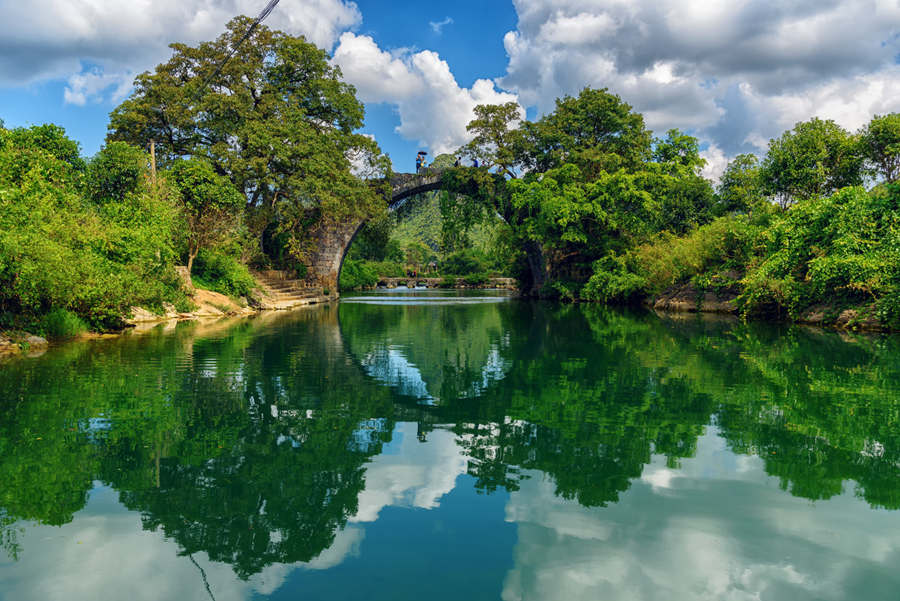 Fuli Bridge – this 30-meter-long, 5-meter-wide and 10-meter-high bridge was built in Ming dynasty. There is an old tree at each end of the bridge, the length of the bridge is roughly the same as the height, and from a distance, the arch and reflection meet, like a full moon.
5. Swim in the River
Swimming is also a popular activity on this river. There are several swimming holes on the river. Swimming here is safer than on the Li River as there is a smaller current and it is not as deep.
How to Visit Yulong River?
You can walk, ride bike to take special sightseeing bus to enter the Yulong River Scenic Area. If you want to drive into the scenic spot, you 'll need the help of a guide or driver to do it (entrance fee for private vehicle is needed).
Take a coach from Yangshuo to Guilin at Yangshuo Bus Station, and get off at Baisha Town; you can walk to Yulong River in a short time.
More Attractions in Yangshuo
Recommended China Tours Including Yulong River (Dragon Meeting River) Yangshuo