Shangri-La means the ideal living place in Chinese, equaling to the Elysium or heaven in the West. Shangri-la is a dream place for many people. You don't have go all the way to Shangri-La in Yunnan, as you can find another Shangri-La, equally beautiful and enchanting, is not far from Guilin. Shangri-La Park, also named Shi Wai Tao Yuan, is located not far away Yangshuo along Guiyang Road.
Facts
- In Chinese: 阳朔世外桃源景区
- Location: Yangshuo County, Guilin
- Opening time: 08:30 – 17:30
- Best time to visit: April to November
- Suggested sightseeing duration: 1 hour
- Entrance fee: RMB115 (including the show and performance tickets)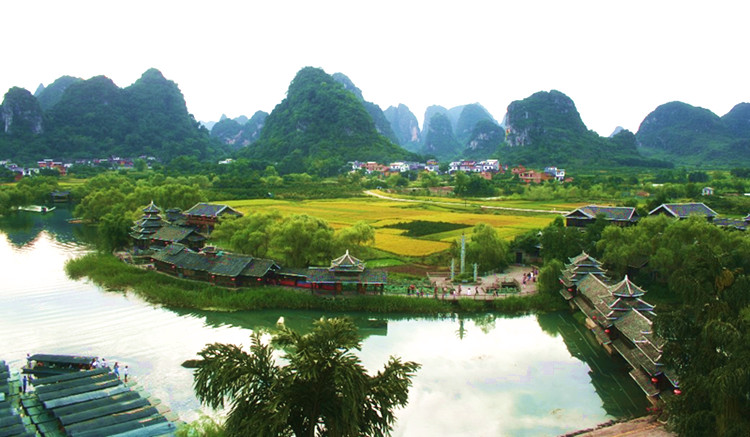 What to See & Major Attractions
Shangri-La is a place of peace and quiet, with a pleasant sight of peach tree-lined riverbank, paddy fields, ancient bridges and hidden cottages. It showcases a natural paradise to you, which may not be reprehensive but surely impressive. Yangshuo Shangri-La Park is mainly composed of Lotus Pond, Swallow Lake, Swallow Cave, Dong village and Primitive Tribe.
This Shangri-La does take in the natural beauty of surrounding area with its small river and large karst peaks in the background. The first sight visitors will encounter is a pavilion named Peach Pavilion. A willows shaded narrow trail will lead to an idyllic lake, called Swallow Lake, which is the largest tributary of the Yu Long River, an ideal drifting place. The narrow lake can be divided into three parts, the Outer Lake, Inner Lake and the Back Lake. On the lake stands a traditional building complex, called Wind-and-rain Bridge. Through the bridge and along a path, you will see three larger Totem Pillars. These oddly carved stone pillars represent the primitive local religions and culture which now are still practiced by the minority peoples in the area.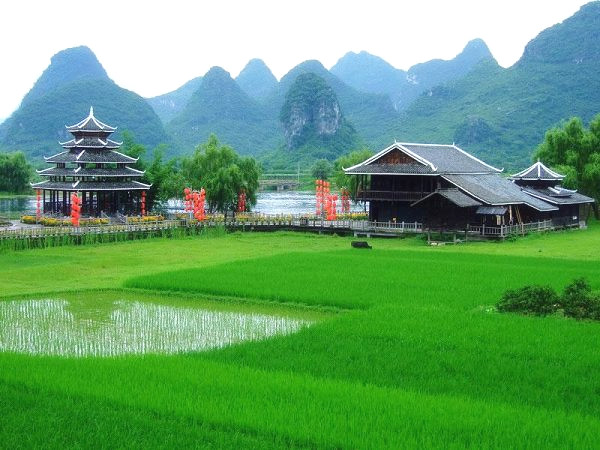 Handicrafts & Shows in Yangshuo Shangrila Park
Besides, you can walk around the traditional buildings of Shangri-La Park and see local people making handicrafts. Performance featuring the ethical dances and songs are presented. Visitor can also experience the throwing-love-ball tradition. The gracefully embroidered ball is considered a symbol of love by the Zhuang people.
Black Zhuang people Tianqin Show - Black Zhuang people are mainly living in Napo County, neighboring Vietnam and regarded by anthropologists to be the "living fossils" of the Zhuang ethnic minority. Tianqin is a traditional plucked stringed instrument handed down by Zhuang people.
Dong Kam Grand Choirs – A unique singing and music form, It is an unaccompanied polyphonic multipart chorus, and has been listed as a UNESCO cultural heritage.
The Miao embroidery – It blends the traditional design and contemporary design, embroider randomly, needing not draw a picture in advance. Each piece of embroidery requires over 60,000 needle works. It takes at least 26 days to embroider a tie.
Yao nationality dance - Yao people live in the mountains, where bamboo and wood resources are relatively rich. They use local materials to make some bamboo crafts, as well as some dancing tools, and have created a variety of bamboo dance.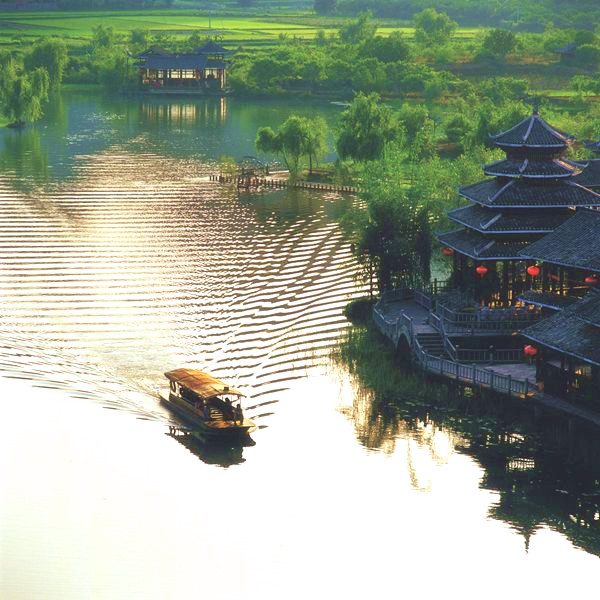 How to Get There
From Guilin: Take regular bus from Guilin Passenger Station to Yangshuo (or Li River Cruise to Yangshuo), and then change for another bus/taxi to Shangri-La Park.
From downtown Yangshuo:
1) There are regular buses/ taxi going to Shangri-La Park from the West Street and Yangshuo Passenger Station.
2) For active travelers, you may ride a bicycle to Shangri-La Park. It takes about 1.5 hours if departing from the West Street
3) By walking - Shangri-La Park is approximately 16km away from downtown Yangshuo. The walk needs 3.5-4 hours.
More Attractions in Yangshuo
Recommended China Tours Including Yangshuo Shangri-La Yangshuo