6km south of the center of Dunhuang at the Singing Sand Mountains, the Crescent Lake is an oasis Gobi desert, which is surrounded the numerous sand dunes. The dunes reach a relative height of 250 meters (820 feet). The climb to the top is rewarded with the dramatic view back across the rolling desert sands towards the oasis. Descending the dunes is quite easy - silde down the dune to the sound of rumbling sands or the sound of thunder or a drum-roll as the wind sweeps across the sands. The Mingsha Shan is so named for the sound of the wind whipping off the dunes.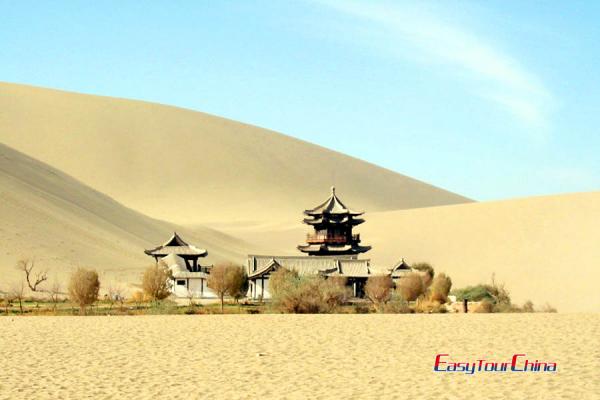 Along the side of the Crescent Lake is a pagoda in traditional Han Chinese architecture. A street lined with souvenir stalls leads up from the entrance to the complex. Many tourists ride camels here, organized by the complex operators, to get to the summit of the sand dunes. Typically the camels are guided by a local camel escort, who include both women and men. At the dunes, a popular activity for tourists is to ride sleds down the sand slopes, much like snow-sledding during winter in temperate zones.
In the past decades, the Crescent Lake kept shrinking while the desert expanded step by step. At present, it only covers an area of 7.8 Mu (1 Mu=667 square meter). Since 2000, the local government has adopted measures to protect the famous attraction.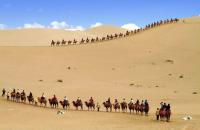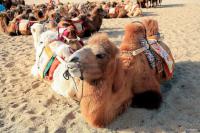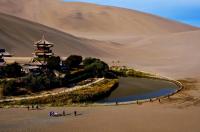 More Attractions in Dunhuang
Recommended China Tours Including Crescent Lake & Singing Sand Mountains Dunhuang