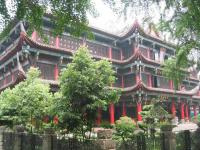 Located at No. 15 Wenshu Yuan Street, Wenshu Monastery is the largest best-preserved Buddhist temple in Chengdu. It was built in the Tang Dynasty (618-907) to dedicate to the God of Wisdom - Wenshu. Facing south and north, the Wenshu Monastery has 5 halls and eleven-story pagoda. The monastery covers over 20,000 sq. meters with more than 190 rooms. The newly built Peace Pagoda of A Thousand Buddha has 11 stories with a height of 22 meters, ranking as the tallest iron pagoda in China. Blown by the wind, the yellow bells hanging on the pagoda give out melodious sounds.
Wenshu Monastery is famous for being abundant in storing precious cultural relics painting and calligraphy. Over 500 pieces of painting and calligraphy by celebrities have been stored here since the Tang and Song dynasties. These precious works of art were created by distinguished Chinese painters and calligraphers like Zhang Daqian, Zheng Banqiao, and Feng Zikai. More eccentric and much rater exhibits include a Bodhivista embroidered from human hair, books written by monks using their own blood in 19th century and the skull of Xuan Zang(a famous Tang dynasty Buddhist master). Besides, Wenshu Monastery is home to 300 Buddha statues of various materials including iron, bronze, stone, wood, and jade, some gloriously painted.
This quiet monastery is a good place for strolling. Clean yards and exquisite gardens melt with each other, small ponds and underused buildings in corners of the complex, the elegant environment will get you lost in the silence, totally forgetting the bustle and hustle of city life. In addition to the beautiful scenery, the monastery also has a large teahouse and an excellent vegetarian restaurant. Tourists and locals can enjoy tea in the teahouse while listening to music by folk artists or the murmur of chanting. Dishes in the vegetarian restaurant range from RMB4~75, and they are yummy. The admission Fee is RMB 5 and the opening Hours are from 08:00 to 18:00.
More Attractions in Chengdu
Recommended China Tours Including Wenshu Monastery Chengdu