Kuan Zhai Alley literally means "Wide and Narrow Alleys" in Chinese, but they are not really wide or narrow at all. As one of the three conservation districts of historic sites of Chengdu City, Kuan Zhai Alley is consist of three parallel Chinese old-style alleys---Kuan Alley, Zhai Alley and Jing Alley.
During the Qing Dynasty, in order to consolidate the southwest border, the court built the Jiangjun Yamen in Chengdu for the general of the Shao city, where both the soldiers and their families from the north of China lived. The walled city was once composed of 42 lanes, Kuan & Zhai Alleys are three of them. Now the Kuan & Zhai Alleys has been the only model in China that contains the North China lane culture in South China. It has also been the sample of Chengdu local life ranking as the most Chengduish alley.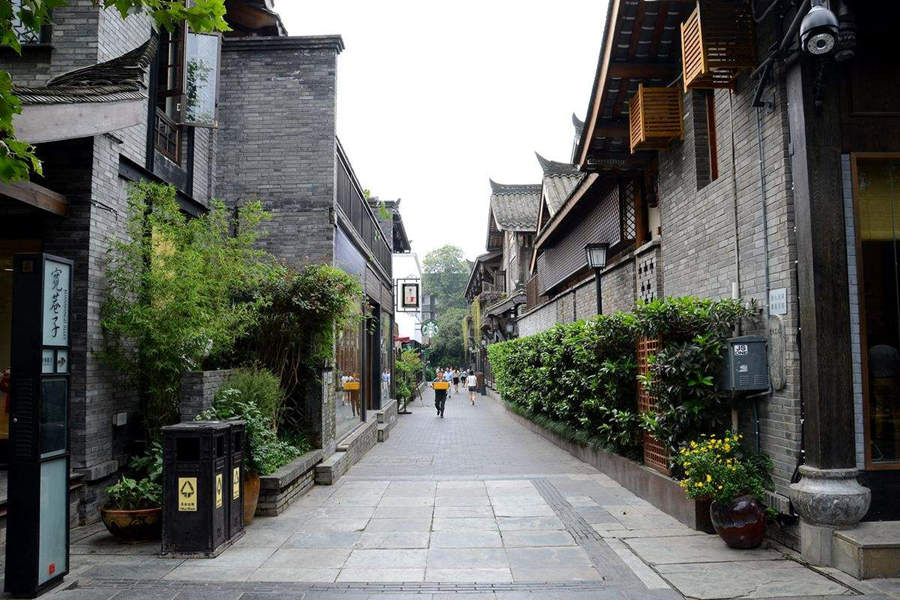 Kuan Zhai Alley Facts
-Chinese name: 宽窄巷子
-Location: Near Changshun Street, Qingyang District, Chengdu City.
-Opening Hours: 24 hours, most shops close at 22:00-23:00
-Time needed: 2-3 hours
-Entrance fee: Free
Best Time to Visit Kuan Zhai Alley
Kuan Zhai Alley is suitable for visiting all the year around. Chengdu has humid climate and the annual average temperature is around 16 ℃, spring and autumn are regarded as the best time to visit in Chengdu. Visiting Kuan Zhai Alley in the daytime, you will see Chengdu's folk culture, drink a cup of tea and feel the slow life of old Chengdu. At night, you can taste a variety of snacks and dazzling handicrafts at Kuan Zhai Alley. Moreover, the colorful lights will change Kuan Zhai Alley into another appearance.
What to See at Kuan Zhai Alley
Kuan Alley was called Xingren Alley in Qing Dynasty, and the ancient charm can still be felt once entering the Kuan Alley. Sitting in the traditional courtyard houses savoring the classic private kitchen cuisines, chatting in the teahouses enjoying the leisure time or appreciating the Sichuan Opera, joining locals eating snack and barbecue under the old tree at night, you will feel as if time had slowed its pace.
Zhai Alley was called Taiping Alley in Qing Dynasty. It marked the beginning of a western style introducing in Chengdu in early 20th Century as the architectures of it is a combination of Chinese and Western styles. Various western food and drinks, coffees, arts, healthy living plaza, and special culture-themed fine life zone are available at Zhai Alley. Jing Alley (Well Alley) was called Ruyi Alley in Qing Dynasty. Interesting traditional Sichuan handicraft products are gathered in the alley and various bars contribute to the multicolored night. It is said that Chengdu people are really good at enjoying life, Kuan & Zhai Alleys best represented the words. Here is a great place to feel local life when you travel in Chengdu.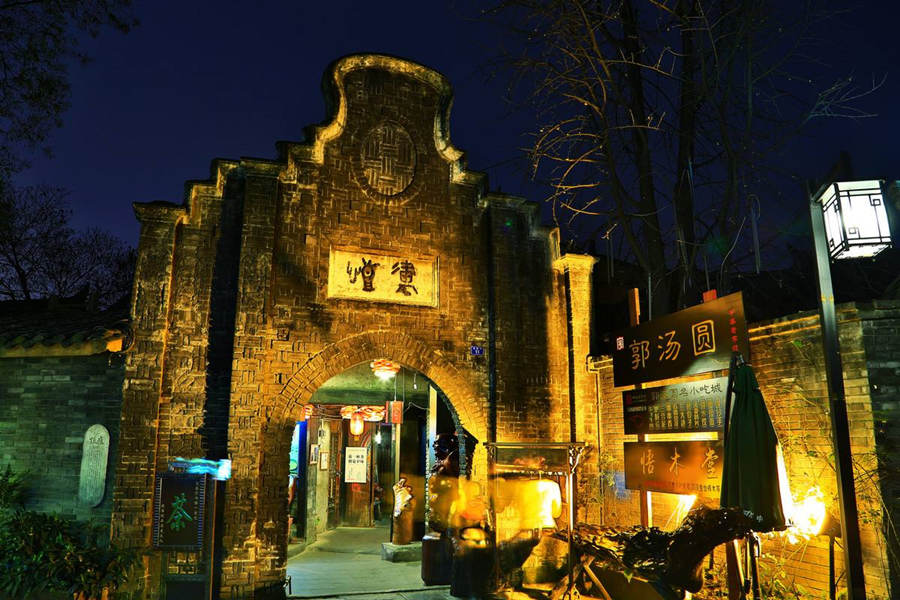 Major Kuan Zhai Alley Attractions
Kailu
Kailu located at No.11 of Kuanzhai Alley, it is one of the best-know landmarks at Kuan Zhai Alley. It is said that a hundred years ago, the owner of this house returned to China from overseas and he renovated the original gate into an arched gate with foreign flavor. A traditional Chinese stone plaque was embedded on the top of the door with the word "Kailu", which means "happy and comfortable place to live". There is a old teahouse inside the courtyard, some of the things in the teahouse were handed down from Ming and Qing Dynasties. If you are tired when you visiting Kuang Zhai Alley, here is a good place to have a cup of tea and enjoy the rare quiet place at Kuanzhai Alley.
Horse Hitching Stone
The Horse Hitching Stone is a well-know spot which located on the old wall of Zhai Alley, it is one of the only three Horse Hitching Statues in Kuanzhai Alley. The stone is in square shaped, about 4 meters high and more than 10 meters in circumference, with four clear edges. A hundred years ago, it was the residence of the Manchuria eight banners and their families who used had the habit of riding horses.
Brick Culture Wall
The Brick Culture Wall is a 400 meters long east-west sculpture wall in Jing Alley. It is the first museum that with brick as its carrier in China. On the culture wall, you can feel both traditional and modern culture of Chengdu. After artistic creation, old bricks with different historical sections have been built into historical and cultural fragments of Chengdu, such as platforms, walls, roads, steles, doors, etc, which illustrate the history of Chengdu.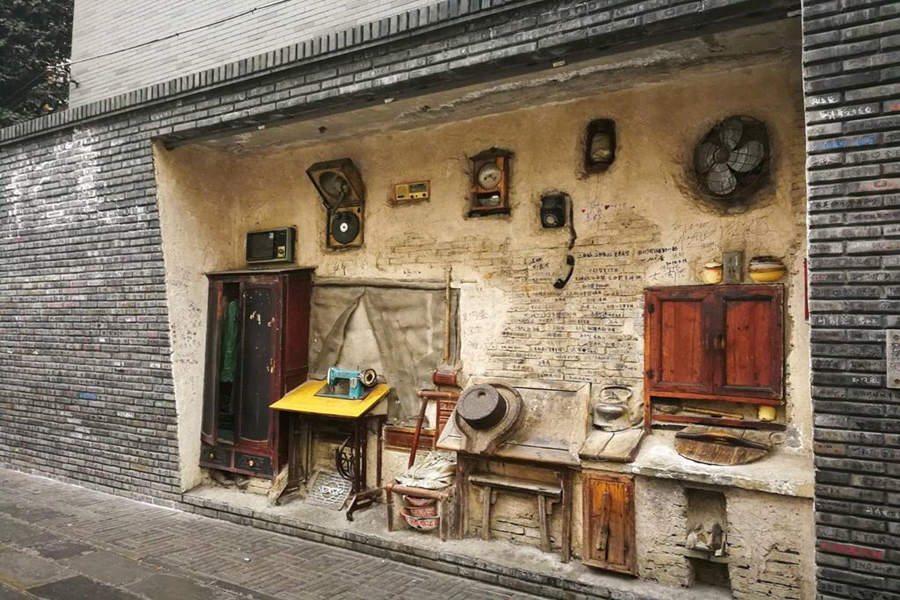 How to Get to Kuan Zhai Alley
Bus: Take bus No. 62, 70, 93, 126 Loop Line, 127, 163, 340, and get off at Kuanzhai Xiangzi (Wide and Narrow Alley) Station.
Metro: Take Metro Line 2 and get off at People's Park Station, get out from Exit D1 and then walk along Changshun Upper Road for about 400 meters. Or you can take Metro Line 4 and get off at Wide and Narrow Alley Station.
More Attractions in Chengdu
Recommended China Tours Including Kuan Zhai Alley Chengdu