Kuan & Zhai Alleys literally means "Wide and Narrow Alleys" in Chinese, but they are not really wide or narrow at all. As one of the three conservation districts of historic sites of Chengdu City, Kuan & Zhai Alleys is consist of three parallel Chinese old-style alleys---Kuan Alley, Zhai Alley and Jing Alley.
During the Qing Dynasty, in order to consolidate the southwest border, the court built the Jiangjun Yamen in Chengdu for the general of the Shao city, where both the soldiers and their families from the north of China lived. The walled city was once composed of 42 lanes, Kuan & Zhai Alleys are three of them. Now the Kuan & Zhai Alleys has been the only model in China that contains the North China lane culture in South China. It has also been the sample of Chengdu local life ranking as the most Chengduish alley.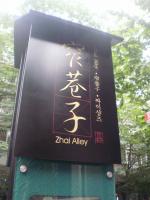 Kuan Alley was called Xingren Alley in Qing Dynasty, and the ancient charm can still be felt once entering the Kuan Alley. Sitting in the traditional courtyard houses savoring the classic private kitchen cuisines, chatting in the teahouses enjoying the leisure time or appreciating the Sichuan Opera, joining locals eating snack and barbecue under the old tree at night, you will feel as if time had slowed its pace.
Zhai Alley was called Taiping Alley in Qing Dynasty. It marked the beginning of a western style introducing in Chengdu in early 20th Century as the architectures of it is a combination of Chinese and Western styles. Various western food and drinks, coffees, arts, healthy living plaza, and special culture-themed fine life zone are available at Zhai Alley. Jing Alley (Well Alley) was called Ruyi Alley in Qing Dynasty. Interesting traditional Sichuan handicraft products are gathered in the alley and various bars contribute to the multicolored night. It is said that Chengdu people are really good at enjoying life, Kuan & Zhai Alleys best represented the words.
More Attractions in Chengdu
Recommended China Tours Including Kuan & Zhai Alleys Chengdu