Located at the side of the Flower Washing Brook in the western suburbs of Chengdu, the cottage is the former residence of the famous Tang Dynasty poet, Du Fu. In the year 759 A.D., at the age of 47, compelled by poverty and social upheaval, he moved from Gansu to the outskirts of Chengdu and built a thatched hut. During his stay of nearly four years, he composed more than 240 of 1400 surviving poems reflecting upon the misery of the people. Within the building, from front to back, are the poetic history halls, thatched entrance, Gongbuci Temple, and Shaoling Stone Monument.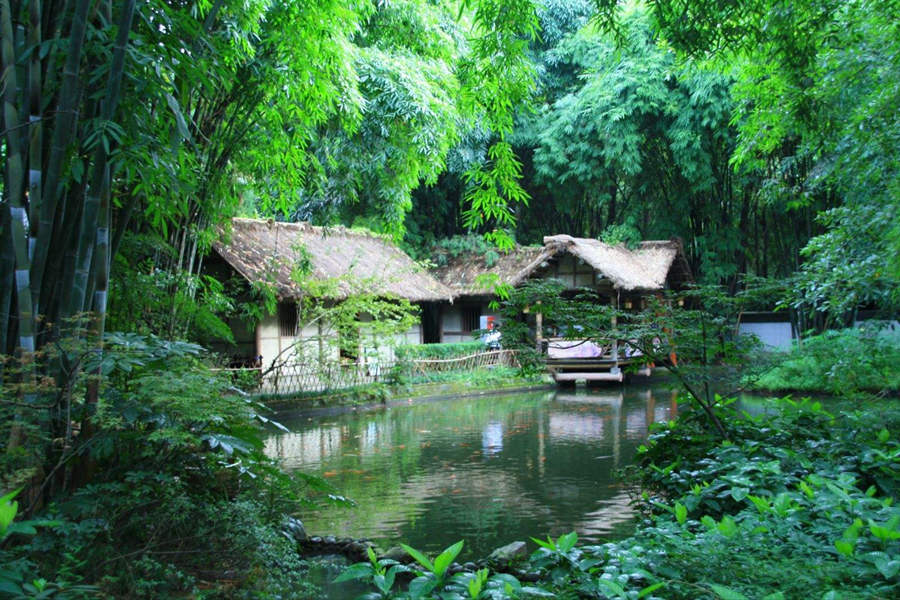 Du Fu Thatched Cottage Facts
-Chinese name: 成都杜甫草堂博物馆
-Location: No.37 Qinghua Road, Qingyang District, Chengdu
-Total Area: 20 hectare
-Opening Hours: May to Oct: 08:00-18:30, Nov to April of next year: 08:00-18:00
-Time needed: 2 hours
-Entrance fee: CNY50
Brief Introduction about Du Fu
Du Fu was born to a scholarly family in Henan Province, he was considered as the greatest realistic poet in Tang Dynasty. Dufu received traditional Confucian education since childhood, but he failed in the imperial examinations of 735. After that, he spent lot of time for traveling. He had traveled to nowadays Jiangsu province, Zhejiang Province, Hebei Province and Shangdong Province and met other poets of that period, including the great Li Bai. As a result, he made a deep friendship with Li Bai.
Du Fu has a very profound influence in Chinese classical poetry, and was called the "Saint of Poetry". The core of Du Fu's thought is the benevolent government of Confucianism. Although he was not famous in his lifetime, while he became very famous and he had a profound influence on both Chinese and Japanese literature. About 1500 poems that written by Du Fu have been preserved and most of them were collected in Du Gong Bu Ji.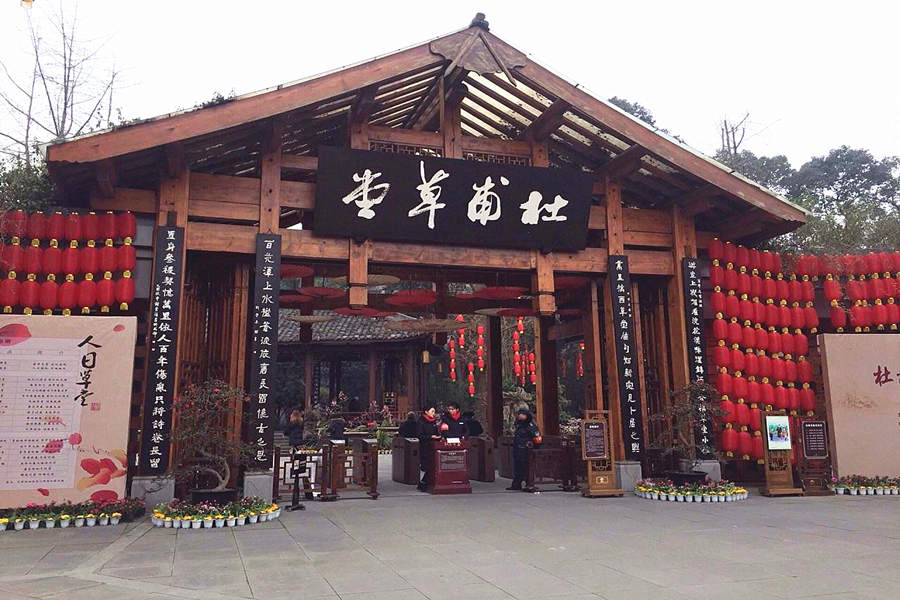 What to See at Du Fu Thatched Cottage
At the cottage where Du Fu resided in an impressive life-sized statue of the poet with one hand pensively stroking his beard. Outside, across a small bridge and up some steps is Du Fu's Memorial Hall. On show here are steles, stone tablets, and clay sculptures of the poet done as early as the 14th century. Displayed in his study at the back pf the cottage are over 150 copies of various editions of his poems, including woodblock-printed texts, hand-written copies from past dynasties, editions published after the new China was founded, and also translated versions in English, French, Russian, Japanese and 11 other languages. There are also a collection of 2,700 biographies, booklets and literary commentary on his life, and his poems published in Chinese and other languages. The more than thousand books and paintings exhibited in Du Fu thatched cottage reflect his contribution to the enrichment of Chinese and world literature.
The humble cottage is now surrounded by a 20-hectare (50 acres) garden with more than thirty varieties of plum trees besides magnolias, crabapples, camellias, azalea, laurel, and other flowers and plants. The flowers in the garden are in bloom throughout the four seasons, scenting the air with their fragrance.
Major Du Fu Thatched Cottage Attractions
Hall of Odes
The Hall of Odes was originally the main hall of Cantang Temple and it was officially opened in 2002. In the 500 square meters hall, there is a huge painted mural and 12 ancient poets' sculptures. The mural images show the life of Du Fu and the development of Chinese classical poetry. The vivid sculptures of ancient poets are made of white marble, ebony, cast steel, etc, achieving the perfect unity of content and form.
Thatched Cottage
At that time, Du Fu came to Chengdu to avoid An-shi Rebellion, and with the help of his friends, he lived in a thatched Cottage by the picturesque Huanhua River for about 4 years. After Du Fu Left Chengdu, the thatched cottage almost destroyed by wind and rain. In memory of Du Fu, the thatched cottage has been rebuilt for few times by later generations. The thatched cottage that we see right now was reconstructed in 1997 according to the description of Du Fu's poems and other historical materials. The reconstruction work tried to restore the layout and interior furnishings of the hut, in addition, it also deliberately made a dilapidated effect.
Hall of Historic Poetry
The Hall of Historic Poetry is the main building of Du Fu Thatched Cottage Scenic Area, and it is used to store a large number of poems and poetry collections of Du Fu. The poems that written by Du Fu vividly show the real life picture of Tang Dynasty before and after the An-shi Rebellion, reflecting the history of Tang Dynasty from prosperity to decline.
Shaoling Tablet Pavilion
Shaoling Tablet Pavilion is one of the most representative buildings of Du Fu Thatched Cottage. There is a stone tablet in the center of Shaoling Thatched Cottage inscribed with "Shaoling Thatched Cottage" which was written by Prince Guo. People always take Shaolin Tablet Pavilion as the symbol of Du Fu Thatched Cottage.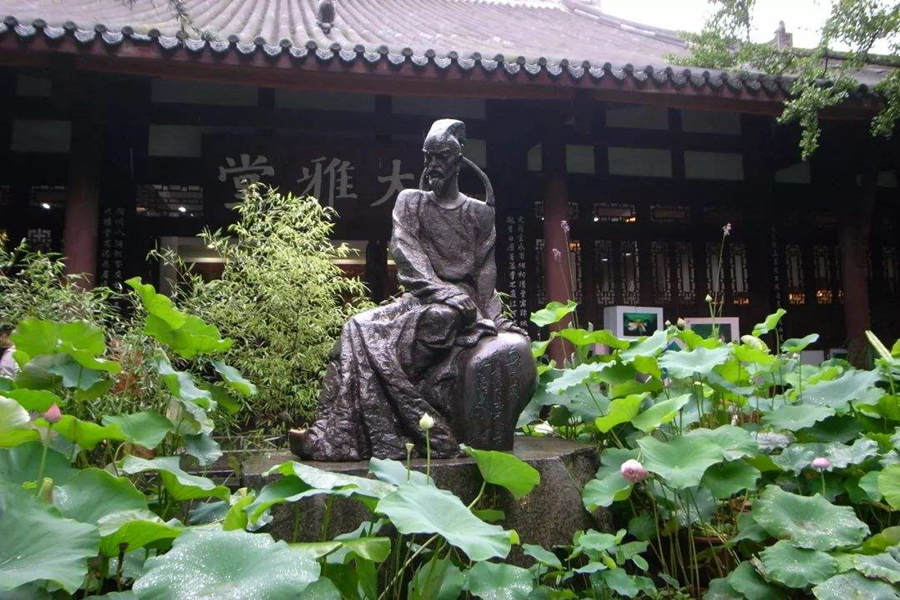 How to Get to Du Fu Thatched Cottage
1. Bus: Take bus No.19, 35, 58, 82, 151, 165, 170, 1031, 1134, G59, G74, and get off at Dufu Caotang (Dufu Thatched Cottage) Station.
2. Metro: Take Metro Line 4 to Caotang Road North Station, go out from Exit B and then walk south for about 15 minute to get there.
More Attractions in Chengdu
Recommended China Tours Including Du Fu Thatched Cottage Chengdu