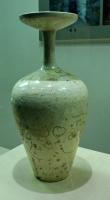 The Inner Mongolia Museum is a regional museum located at the intersection of Xinhua Dajie and Zhongshan Lu in the heart of Hohhot City. Covering an area of 3,500 square meters, Inner Mongolia Museum is the largest and best comprehensive museum in the Inner Mongolia Autonomous Region. It was founded on the occasion of the tenth anniversary of the establishment of the Inner Mongolia Autonomous Region in 1957.
The building of the museum is novel in the architectural style, combining traditional features with modern ideas and style. On the top of the main structure of the building stands the statue of a galloping horse, symbolizing the rapid development of the Inner Mongolia Autonomous Region. The Inner Mongolia Museum contains a variety of interesting exhibitions. The four exhibition halls in the first floor are: Display of Ancient Animals' Remains, Display of Historical Relics, Display of Folk Relics and Display of Revolutionary Relics. These materials display the natural landscapes and social development of Inner Mongolia. The second floor is a display of the history of the province in ancient times. Most of the exhibitions are dedicated to telling the story of the Khan's, Genghis and Kublai, and the rise and fall of the Mongolian Yuan Dynasty. There is a good display of maps showing the hordes sweeping enlarging of their empire, that at one time stretched as far as Turkey.
The Museum boasts 56,475 pieces of cultural relics, of which 635 pieces are the first-grade, including an eagle-shaped golden coronet of the Warring States Period with 7.1cm in height and 192 grams in weight, and a set of golden coronet strips with 1,022.4 grams in weight. These two items were unearthed in 1972. One of the important sources of its collections is precious materials excavated from the earth as a result of archaeological research. These materials are of great specialty to the museum. At present, there are more than 3,000 sets of such objects, which reflect the lifestyles and customs of a wide variety of Mongolian and other ethnic groups in the region.
More Attractions in Hohhot
Recommended China Tours Including Inner Mongolia Museum Hohhot