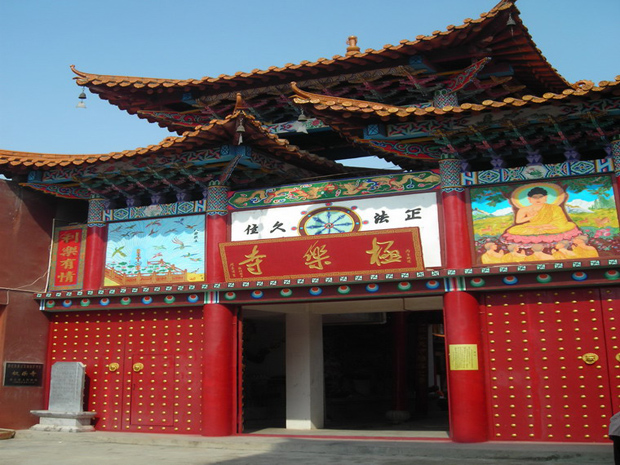 Constructed in the 1921, the Temple of Bliss went through several changes before reaching its final shape in 1924 and held the consecration ceremony in 1928. Covering an area of 5.7 hectares, the Temple of Bliss is situated at the end of Dongdazhi Street in Nangang District, Harbin.
The Temple of Bliss is a very spiritual place where you can feel a buzz and the incense smoke in the air. It is honored as one of four well-known temples in Northeast China on a par with the other three: Cien Temple in Shenyang, Lengyan Temple in Yingkou and Banruo Temple in Changchun. Temple of Bliss is looked upon as the model for visitors to understand and appreciate the art of Chinese temple building for its architecture and it's lay out and all are designed strictly after the Chinese Buddhist style. Facing south, Temple of Bliss falls into three courtyards on the left, middle and right.
A seven-story pagoda is the symbol of the temple. Measuring more than 30 meters tall, there are eight upturned eaves and graceful Buddhist pictures on the walls in each level. The Mountain Gate is built to resemble a Chinese character, which means mountain in English, hence the name "Mountain Gate". The Drum Tower and the Bell Tower enter the main gate of Temple of Bliss. At every sunrise and sunset, the monks will beat the drum and the bell of two towers for asking the other monks to do their morning and the afternoon worships. Temple of Bliss is made up of the Mountain Gate, the Heavenly King Hall, the Hall of Three Saints, the Hall of Mahavira, Scriptures-storing Tower, Chanting Hall, Side Hall, Anyang Hall, Shifang Hall and the monks' cells. The Heavenly King Hall is the first hall. There is a 1.6 meters tall sitting statue of Maitreya in the middle, with the sitting statues of the Four Heavenly Kings in the east and west.
More Attractions in Habin
Recommended China Tours Including Temple of Bliss Harbin