If you want to enjoy a colorful snow world or have an ice adventure in the white winter, come on, come to Harbin and take part in the 2024, 40th Harbin International Ice & Snow Festival, the most exciting winter festival in the world. Here you can walk through the exquisite amazing palaces, pyramids made of huge ice blocks and feel like you're iving in the frozen Disney world; you can also have fun with amazing snow activities and ice sports with kids and friends. Your Harbin trip is incomplete without the Harbin Ice Festival.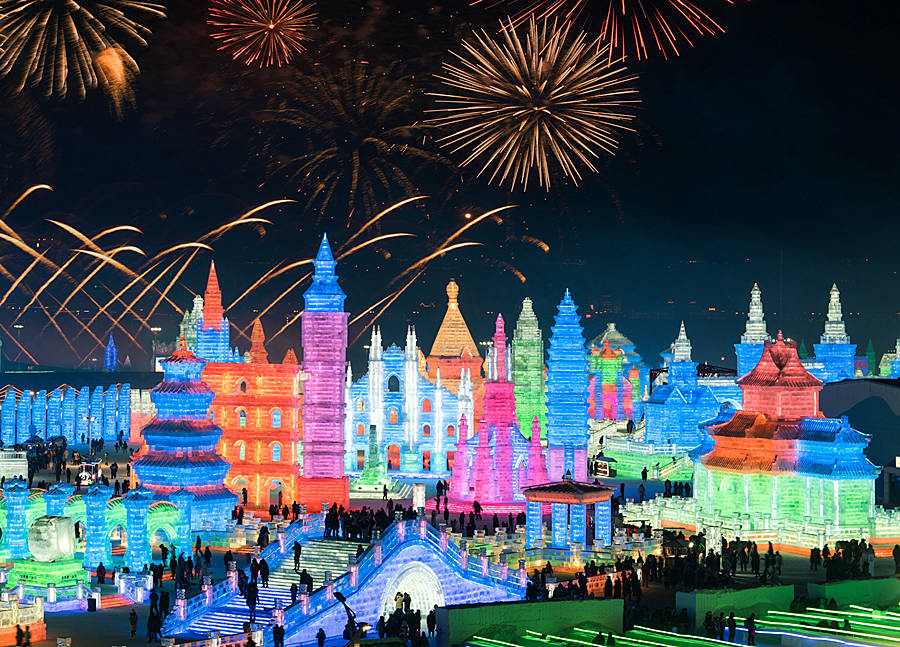 On January 5th, 1985, the first Harbin Ice and Snow Festival was held basing the traditional Ice Lantern Garden Party of northern China. Since then it has become an annual event from January 5th to February 5th, which is highly acclaimed around the world. The long and frigid winter, and the high plasticity and hardness of ice blocks quarried from the Songhua River, furnish favorable conditions for ice and snow sculpture. Now the "Harbin International Ice and Snow Festival" is one of the world's four largest ice and snow festivals, along with Japan's Sapporo Snow Festival, Canada's Quebec City Winter Carnival, and Norway's Ski Festival.
Facts
- In Chinese: 哈尔滨国际冰雪节
- Other names: Harbin Ice Festival
- Significance: one of the most famous snow and ice festivals in the wold
- History: held from 1985 till now
- Time: from January 5th to February 5th, 2024
- Main venues: Harbin Ice and Snow World, Sun Island, Zhaolin Park, Central Avenue, Songhua River, Winter Swimming Pool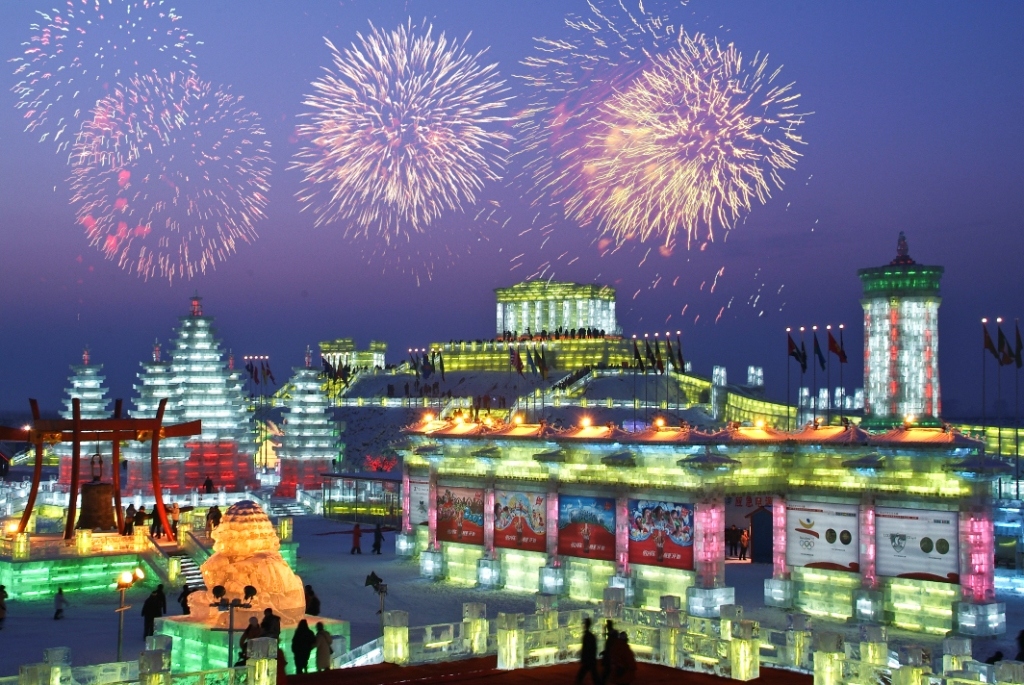 When To Visit – The Best Time To Come
Harbin Ice Festival is the world's longest festival of ice and snow. There is only the opening ceremony on January 5th every year, without the closing ceremony. The ice festival was originally planed to last for a month, but actually the ceremony, snow and ice show, and winter activities begins from December and end at the next February. During the festival, local people celebrate it along with four important traditiional Chinese winter festivals including New Year's Day, Spring Festival, the Lantern Festival and Skiing Festival.
If you want to join in the events or snow & ice activities, you can come to Harbin in the late December to early January; the great opening ceremony of Harbin Ice Festival on January 5th is the one you shouldn't miss. If you want to avoid the tourist crowds, it's better to participate in the Harbin Ice & Snow Festival after the Chinese Spring Festival Holiday (Feb.11th to 17th, 2024). In a word, you can take a Harbin tour as early in December or as late in late February.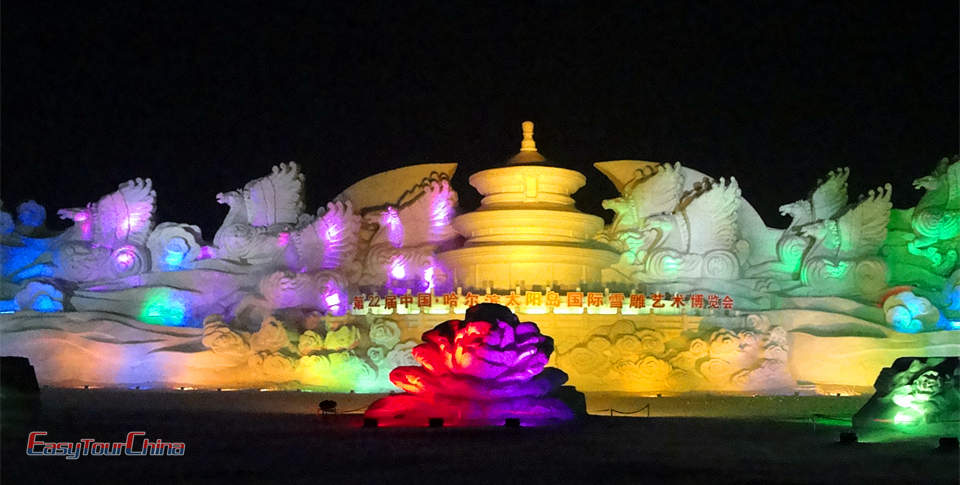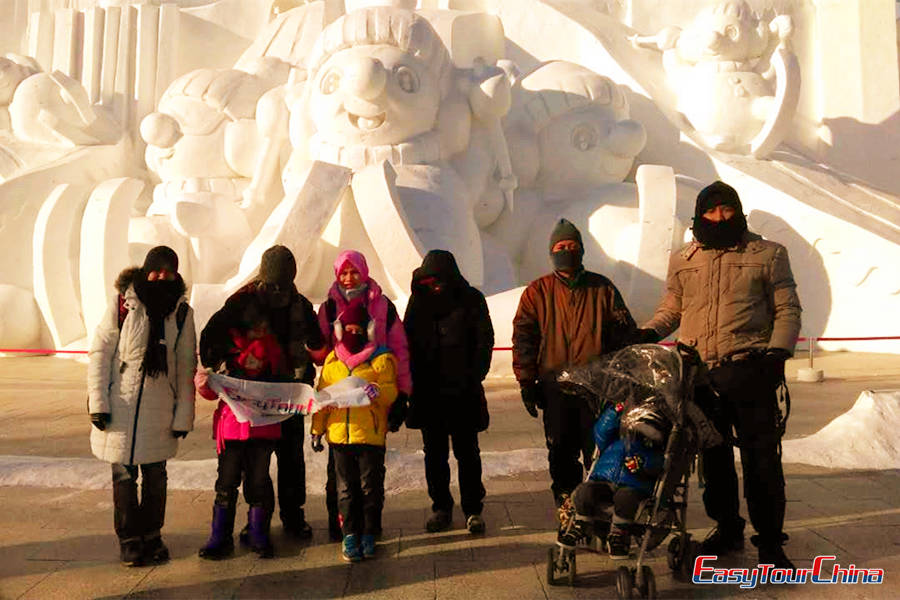 Weather & What to Wear during Harbin Ice Festival
Cold-long winter & rainy-short summer is the feature of Harbin. With a 190-day freezing season, the northeastern city of Harbin is known as a "City of Ice" and a cradle of the ice-and-snow culture in the world. The temperature here in winter is much lower than that of the most places in China. It begins to snow from the end of October; it's the coldest time in Harbin from December to the next March, but it's also the hottest travel time of the year.
The average temperature in December is -10°C in the day and -20°C in the night.
The average temperature in January is -14°C in the day and -25°C in the night.
The average temperature in February is -8°C in the day and -20°C in the night.
●Clothing tips:
For your Harbin trip from December to February, actually, it's not very cold to stay inside the house, because there is central heating in the northern China. Shirt with a suit of thermal underwear will be fine.
If you go outdoor, thicken or brushed thermal underwear with thicken down jacket will be needed. In northern China, feet are easy to frostbite, so water-proof snow boots with warm-feet paste are recommended. Scarf, gloves and mouth mask are also necessary to protect you from the freezing air.
Sunglasses are highly recommended to prevent the glary from the sun on snow.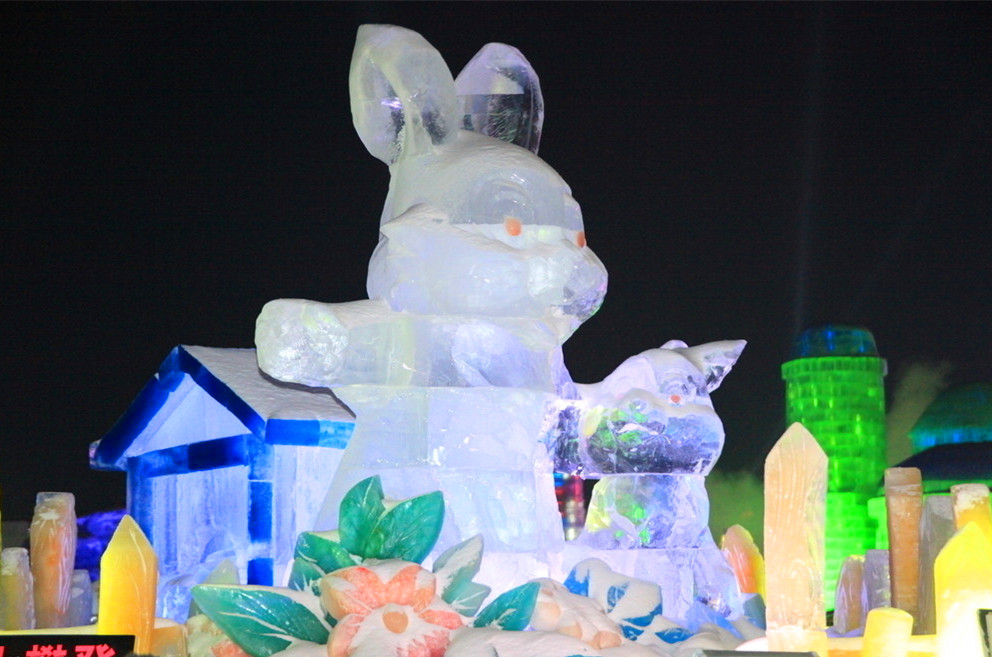 Where To Go – Main Sites Of Harbin Ice & Snow Festival
The 37th Harbin International Ice & Snow Festival 2022 will still be held in Harbin Ice and Snow World, Sun Island, Zhaolin Park, etc. Make sure you visit these places on your Harbin Ice Festival Tour.
Night comes early in Harbin, around 4:30 pm. With the yellow street lights lighting, it's a good time to visit Harbin Ice and Snow World that features the world's largest ice and snow art landscape, ice and snow entertainments and the most complete ice and snow holy land.
You can see huge ice sculptures, buildings, palaces, monuments, the architecture replicas and mystical statues that are illuminated by computer controlled LED with constantly changing colors, watch exotic performances, ice acrobatics shows, etc. Moreover, you can experience ice entertainments such as big ice slide, ice climbing rock, maze, and snow field football and curling sports, all making the area an "Snow & Ice Disneyland".
Some find the many ice slides on the icy palace the "coolest" things in the festival. Visitors, both young and old, glide down quickly from the thrilling ice slides.
Address: Harbin Ice & Snow World scenic area, west of Sun Island, Songbei District, Harbin
Opening time: 11:00 – 21:30
Ticket price in 2024: RMB180
Discounted ticket price for Seniors (aged 60-65), Children, Diabled: RMB120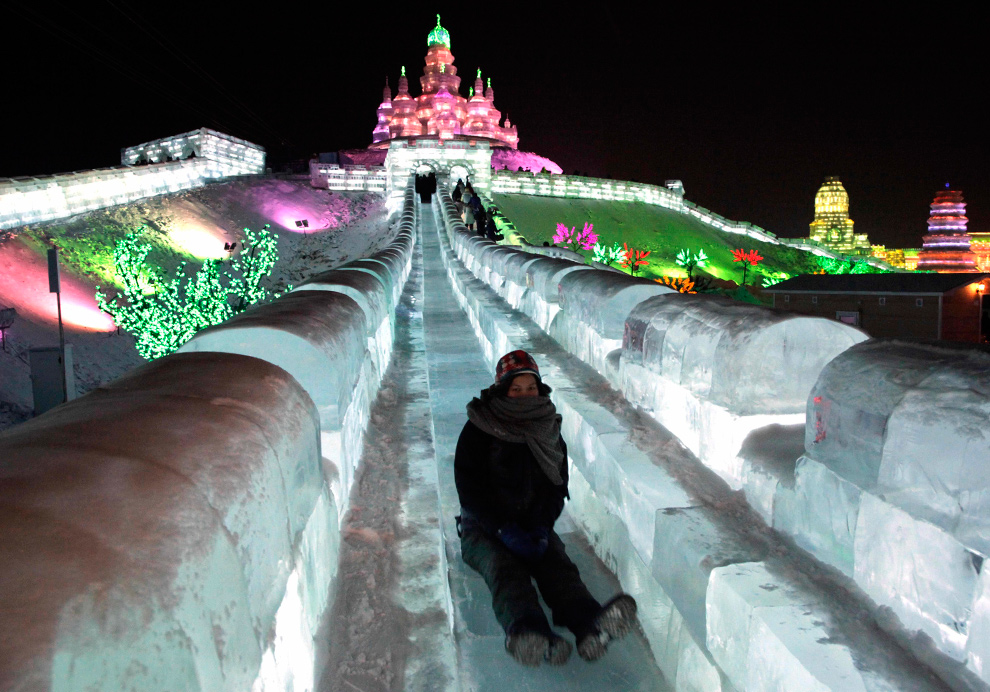 (The ice slide in Harbin)
Sun Island faces the busy city across the water. In summer, different kinds of flowers, trees, lovely hill and lake make the island a northern fairyland. In winter, it shows a completely particular scene. Snow covers the whole Sun Island; snow dances with ice trees in gorgeous lights, what a snow world!
As the International Snow Sculpture Art Expo, part of the Harbin Ice and Snow Festival, is held, you can appreciate such snow sculptures in Sun Island, which were made by the top snow sculptors of the world and express the spirits and culture of northern China. Not only photography lovers, but also snow play lovers can enjoy a good time; ice pool, experience SUV speeding along the snow field and snowboarding will make you a wonderful snow adventure.
Address: No. 24, Linjiang Road, Songbei District, Harbin
Opening time: 08:00 – 17:00
Discounted ticket price in 2024: RMB100 (for the International Snow Sculpture Art Expo)
Built in 1906, Zhaolin Park is located in the downtown of Harbin and was named for the general Zhaolin Lee. As if the Sun Island is famous for snow sculptures, Zhaolin Park is known for its Ice Lantern Garden Party that has been held since 1963. When night falls, the ice lanterns in special shapes are colorful. Besides enjoy the ice lanterns and sculptures here, you can also make a sculpture yourselves, best for couples, students, friends and family! Every year, millions of travelers from home and abroad who come for Harbin Ice Festival usally also pay a visit to Zhaolin Park's Ice Lantern Garden Party.
Address: No. 74 Youyi Road, Daoli District, Harbin
Opening time: 08:00 – 20:00
Discounted ticket price in 2024: Free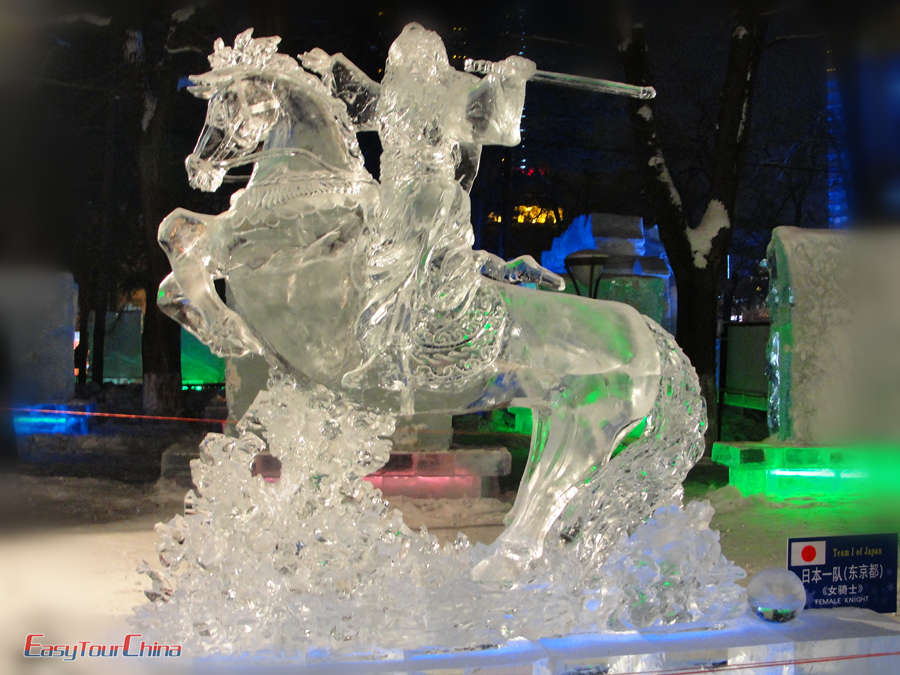 What To Do – The Classical Events
In time and space, the Harbin International Ice & Snow Festival creates the miracle of human labor. The craftsmen make hundreds of ice works by carving and cutting, decorating with colorful lights, making the cold ice lively.
During the festival, there are so many winter activities available such as ice lantern show, snow sculpture display, and international ice and snow sculpture competitions; winter swimming, ice hockey, speed-skating, alpine skiing, and cross-country skiing competitions; and ice and snow film festival exhibitions of paintings, calligraphy and photograph, folklore shows, ethnic song and dance parties, weddings on an ice-covered river. A participation in the ice-snow festival can be compared to a visit to a fairyland of crystal palace. Read more about the facts & timetable about Harbin Ice Festival activities.
More Attractions in Habin
Recommended China Tours Including Harbin Ice Festival Harbin