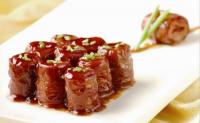 Harbin boasts colorful culinary cultures. The city not only inherits the traditional cuisine of nomadic Manchurian style dating back to more than 1000 years, but also develops and learns from the mixture of cultures, which made the Cuisine of Harbin have its unique features.
To survive in the freezing days, the local people get used to eating the frozen or raw dishes to get more vitamins since long time ago. Another feature of local dish is that they prefer to stew all the materials in one pot including meat, vegetables and mushrooms. Comparatively the local dishes are saltier and stronger than the food served in South China. And drinking strong alcohol daily to warm up the body is also very popular here like most of other cold places in the world.
Influenced by the immigrants of Russia and other European countries a couple of century ago, Harbin has quite a few nice western restaurants and bakeries here.