St. Sophia Church of Harbin is the largest Orthodox Cathedral in Far East. It displays Harbin's diverse culture and special historical memory with its unique Russian Byzantine architecture and the square of music fountain next to it with roosting pigeons. It can be comparable to Saint Basil's Cathedral in Moscow.
Nowadays St. Sophia Church was renamed "Harbin Building Art Museum", and has become the symbolic architecture, which is one of a must-see places if you have a trip in Harbin. Compared with the daytime, the night scene of the church is more beautiful. When the night comes, the church is more majestic, mysterious and exotic, under the support of lights. Make sure you will visit it during your Harbin trip.
Facts
- In Chinese: 圣索菲亚大教堂
- Address: No.88 Toulong Street, Daoli District, Harbin
- Opening hours: 08:30 – 17:00
- Entrance fee: RMB20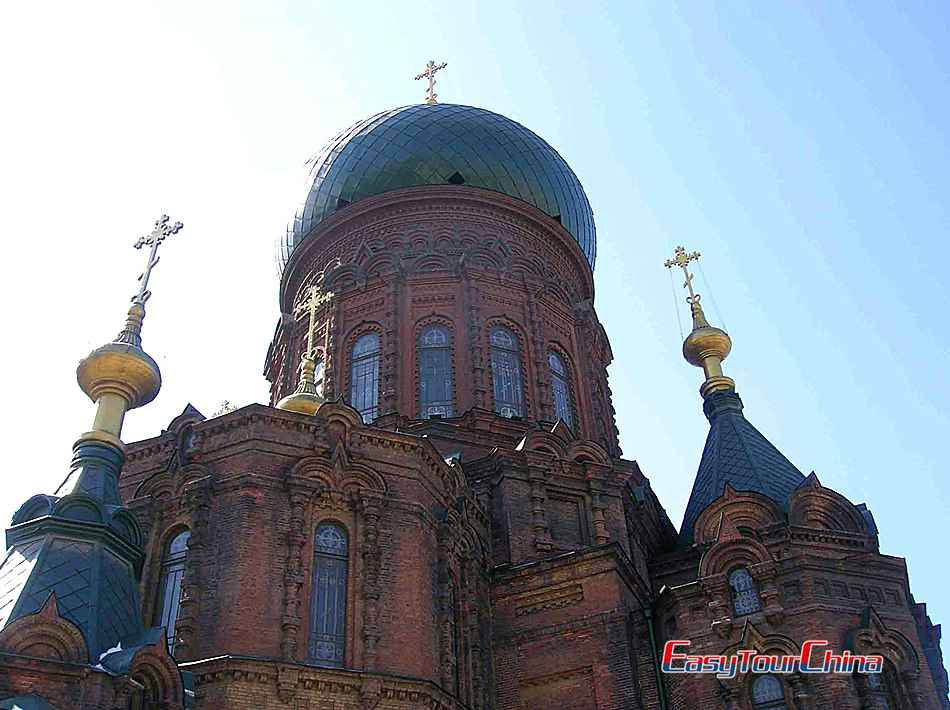 History
Located in the central of Harbin, the church was first built in March, 1907, as a Russian Army church, to peace the minds of soldiers who were far from home. At that time, it was an all-wood church.
In 1923, the restoration of this church began, and it was completed after 9 year of construction and became a splendid Byzantine featured architecture with red bricks and green onion dome in November, 1932.
St. Sophia Cathedral was listed the fourth batch of cultural relics of China in 1996, and it was repaired and extended a square in 1997, expanding the artistic features of the building and showing the multicultural influence of Harbin.
Harbin has many other smaller orthodox churches still active for use. But St. Sophia Church has been turned into the Municipal Architecture and Art Museum with exhibitions of the architectural history of the city. No wonder it is a must-visit sight in Harbin.
Features
St. Sophia Church is magnificent and exquisite. The existing masonry church was built in 1932. It is 53.25 meters high with a floor area of 721 square meters. With the elegant Byzantine style, St. Sophia Church boasts typical onion-shape domes, which can be seen from far.
The whole church is a courtyard building, with a standard big dome on the top of the main building, red-brick wall, lofty and spacious. Beside the main dome, standing four tent roofs of different sizes with crosses on the top, form a layout of primary and secondary. The front door is topped by a bell tower, and the seven brass bells are exactly seven notes. Trained bell ringers use their hands and feet to strike the bells in cadence.
The inside of church not only has exquisite murals, but also exhibits the development of Harbin city. Seeing the pictures, visitors can learn the past, present and future of Harbin, finding huge changes of the city.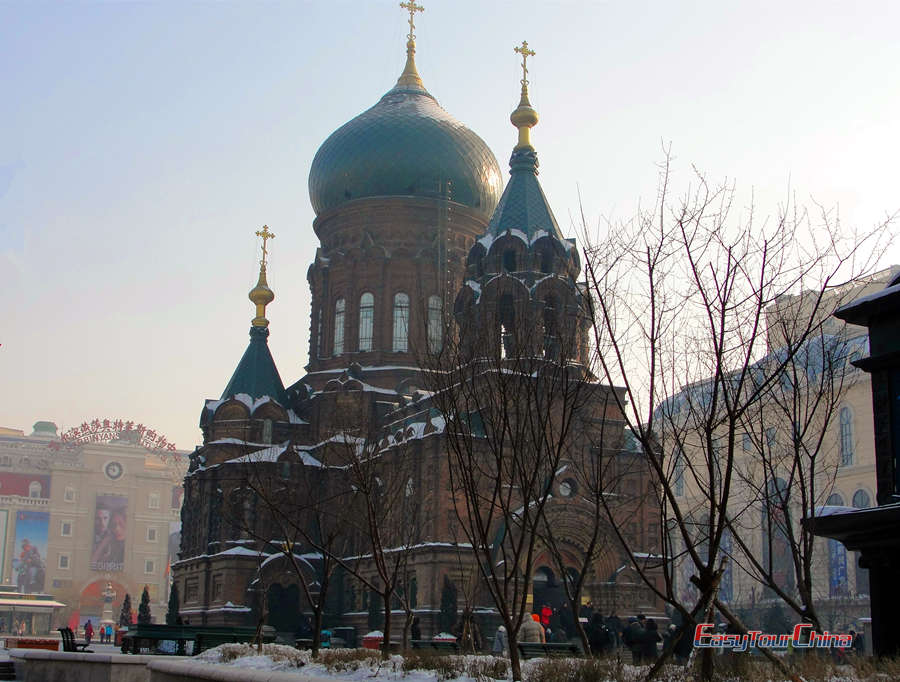 How To Go There?
If you're strolling in the Central Street, walking to St. Sophia Church will be a good choice, and it's also a good chance to enjoy the city sights on the way. It only takes 15 minutes walking (around 1.1km).
Or Bus 1, 5, 20, 53, 61, 113, 114 or 206 in downtown can bring to the cathedral; just get off at Zhaolin Street Station.
If you drop on Bus 101 or 103 at Harbin Railway Station, getting off at Hayibai Station will be the closest.
More Attractions in Habin
Recommended China Tours Including St. Sophia Church Harbin