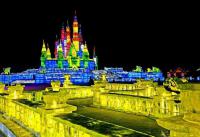 Nicknamed "Ice City", Harbin is known as the top winter destination in the world. It boasts International Ice and Snow Festival, Ice Lantern Festival, and various culture & winter activities, like skiing China-Yabuli Ski Resort. Here are some tips to keep in mind while you travel in Harbin in winter, hope they are helpful.
Best time to Harbin
The best time to enjoy ice, snow and the wonderful winter activities is from December to February of the next year.
Body Health & Safety
1. The winter temperature of Harbin is very low. So please dress in layers. Because the weather is very dry, it is suggested that you wear a mask to protect your nose and keep off the dust. Also, carrying lipsticks is advisable.
2. The temperature difference between inside of house and outside of house is sharp, so travelers may easily catch cold, and then some medicine concerned should be carried.
3. Don't let children eat snow. Even white snow can contain pollutants from the air, including trace minerals like mercury. Snow can also contain windblown soils that can include animal fecal matter.
4. Children should be taught never to throw snow at other people. Snowballs can contain ice chunks or stones that can do harm.
5. Never bury anyone in snow as there is a risk of suffocation and teach children never to make tunnels in the snow.
6. Wear brightly colored clothing - easier to be seen. With snow all over the city - especially in the ski fields, white clothes might make it not easy for others to notice you and cause possible collision.
7. When using electronic products outdoors, such as camera, mobile phone, or PSP, please try to keep them from the cold. Whenever you finish using them, put them in the pocket or small bag, so that the battery will keep working. It is advisable to take one or two extra batteries
Shopping
1. Panax, pilose antler and marten are regarded as the 'Three Treasures' of Northeast China by the Chinese. Right here you can also see quite a few products imported from Russia.
2. Zhongyang Pedestrian Avenue is the longest pedestian street in Asia, firstly built in 1898. Now it is the most popular commercial shopping street in Harbin. All the major department stores of Harbin find their places here.
3. Shopping centers are generally open to public every day from about 9am to 9pm.