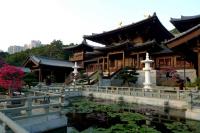 Founded in 1934 and rebuilt in 1990, Chi Lin Nunnery is a large Buddhist temple complex located in Diamond Hill, Kowloon Hong Kong. The newly reconstruction resembled the style of Tang dynasty monastic architecture dating back to 618-907 A.D. The grand and elegant complex will surely become one of China's great cultural attractions in the years to come.
After spending more than a multimillion dollar for its renovation, the Buddhist Nunnery was reopened in 2000. Chi Lin Nunnery stands on an area of eight acre land and houses a lotus pond rock garden of Zen style, 16 Buddhist halls, and a ten thousand Buddhist pagoda. Covering a space of more than 33,000 square meters, the temple complex includes a nunnery, temple halls, Chinese gardens, visitor's hostels and a vegetarian restaurant. Overlooking the smaller second courtyard, it honors the first Buddha, known as Sakyamuni. The soaring ceilings are held up by 28 cedar columns, measuring 18 feet each. The temple hall has statues of the Sakyamuni Buddha, the goddess of mercy Guanyin and other bodhisattvas. There is no a single nail was used to build this nunnery. Instead, traditional Tang Dynasty architectural techniques involving wooden dowels and bracket work hold its 228,000 pieces of timber together.
The temple's clean lines are a vast departure from most of Hong Kong's colorful religious buildings. The buildings face south toward the sea, bring abundance. Their backs are to the mountain, provider of strength and good energy. The Monastery remains open from every Thursday to Tuesday from 9 am in the morning to 4:30 pm in the evening. The lotus pond rock garden remains open daily from 7 am in the morning to 7 pm in the evening. The entry to the pond is free of cost and is open for all.
More Attractions in Hong Kong
Recommended China Tours Including Chi Lin Nunnery Hong Kong