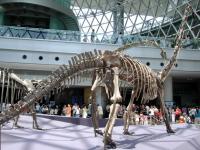 Covering an area of 68,000 square meters, a floor space of 98,000 square meters and an exhibition space of 65,500 square meters, Shanghai Science and Technology Museum is located in on the southeast end of Century Avenue, beside Century Park in Pudong New Area. Lined with the theme of "Nature, People and Science", it at offering visitors a unique experience in the modern scientific discipline.
Shanghai Science & Technology Museum opened to the public on December 18, 2001. Up to December 2009, it has received more than 18 million visitors to greatly promote its science education and science traveling functions. Shanghai Science and Technology Museum currently has opened 14 thematic exhibition halls and 4 science theaters to the public.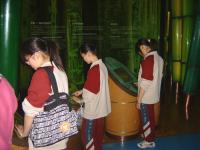 The "Earth's Crust Exploration" exhibit the secrets of the earth and Shanghai's physical geography, is a journey to the center of the Earth, complete with fossils. "Children's Techno land" has a walk-in heart and brain, as well as a simulated construction zone with soft foam bricks, is designed for children between one and twelve years old, to interest them early in scientific matters. The vast "Light of Wisdom" area has more than 100 interactive stations that bring scientific principles to life. "Cradle of Designers" gives you the chance to design your own cards or create your own video. "Spectrum of Life" is a simulated tropical rainforest with robotic beetles and a bat cave.
The IMAX 3D Theater, the IMAX Dome Theater, the IWERKS Theater and the Space Theater constitute the largest science education cinema in Asia with 10,000 annual films shown. The IMAX 3-D Large-Format Theatre, with a silver screen measuring 60 x 81 feet, is the first Chinese 3-D large-format Theatre, and it can hold 441 viewers. The IMAX Dome Theatre stages educational entertainment for 280 audiences. It can play dome digital movie and also do celestial demonstration. The tilting silver screen makes spectators afloat while watching the films.
More Attractions in Shanghai
Recommended China Tours Including Shanghai Science and Technology Museum Shanghai