Shanghai Tower is a giant high-rise landmark skyscraper in Shanghai, China. Its design is much higher than that of the nearby Shanghai World Financial Center (SWFC). It was officially completed in 2016, and became the highest buildings in China and the second tallest building in the world. Since then, with Jinmao Tower and SWFC, Shanghai Tower is regarded as a symbolic skycraper of Shanghai Pudong new area.
As a comprehensive super high-rise building, it is mainly for office, and other business forms including exhibition, hotel, sightseeing and entertainment, commerce, etc. On April 27th, 2016, Shanghai Tower was opened for public operation for the first time. The "top of Shanghai" is a functional experience area, with city display and viewing observatory, entertainment, VIP small bar, catering, sightseeing and other functions.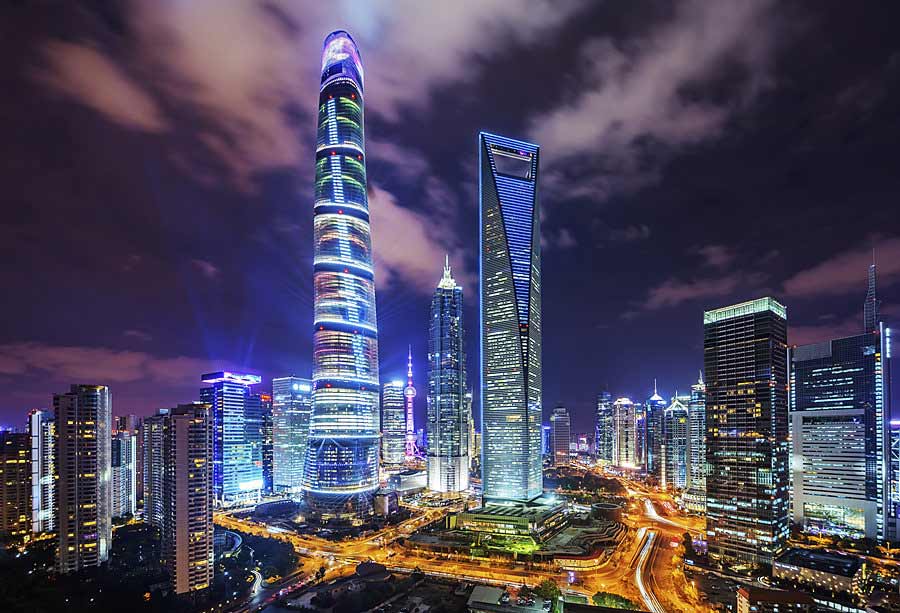 Facts
- In Chinese: 上海中心大厦
- Address: No.501 Middle Yincheng Road, Pudong District, Shanghai
- Opening time: 09:00 - 21:00
- Best time to visit: 17:00 - 21:00 to see sunset or night view
- Ticket price: RMB180 (for adult); RMB120 (for senior who is over 60 years old)
Construction
The project area of Shanghai Tower is 433,954 square meters, the main building is 119 stories, the total height is 632 meters, and the structure height is 580 meters. The vehicle parking is arranged underground and it can park 2000 vehicles. It looks like a guitar pick, with a twist of nearly 1 degree per layer, forming a spiral appearance. There are also landscape lightings and theme light shows on the exterior of the high-rise buildings, which, in addition to the normal light display, also echo the landscape lightings of the surrounding buildings.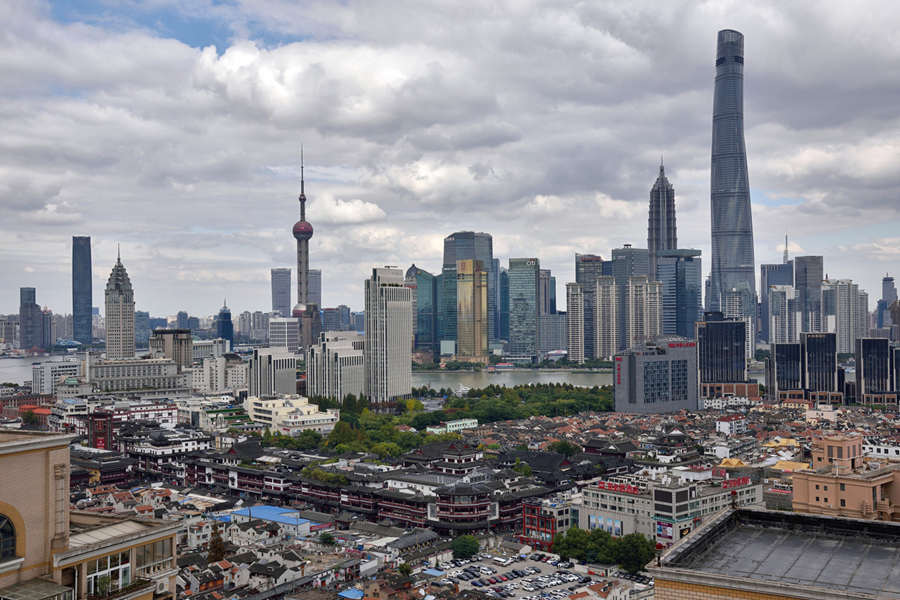 Like most modern high-rise skyscrapers, Shanghai Tower is not just an office building. Each of the inside 9 districts of Shanghai Tower has its own sky lobby and atrium. Each floor of the sky lobby will have its own retail stores and restaurants, making it a vertical business district. The building has 24 hanging gardens, of which the 118th and 119th floors are the main sightseeing floors. The second floor underground is the tourist entrance. The elevators will take visitors directly to the 118th floor at a speed of 18 meters per second. The 125th and 126th floors of the building are also planning to provide sightseeing function, with heights of 580 and 583 meters.
News: Climbers Climbed to the Top of Shanghai Tower
In 2014 when the project of Shanghai Tower had not completed, 2 climbers, Vadim Makhorov and Vitaliy Raskalov, climbed over the construction wall. Without any safety measures, they climbed to the top of Shanghai's tallest building crane under construction by hands, nearly 650 meters high. The second time, they eluded securities, climbed to the top of the tower without a safety cord, and photographed Shanghai in the clouds.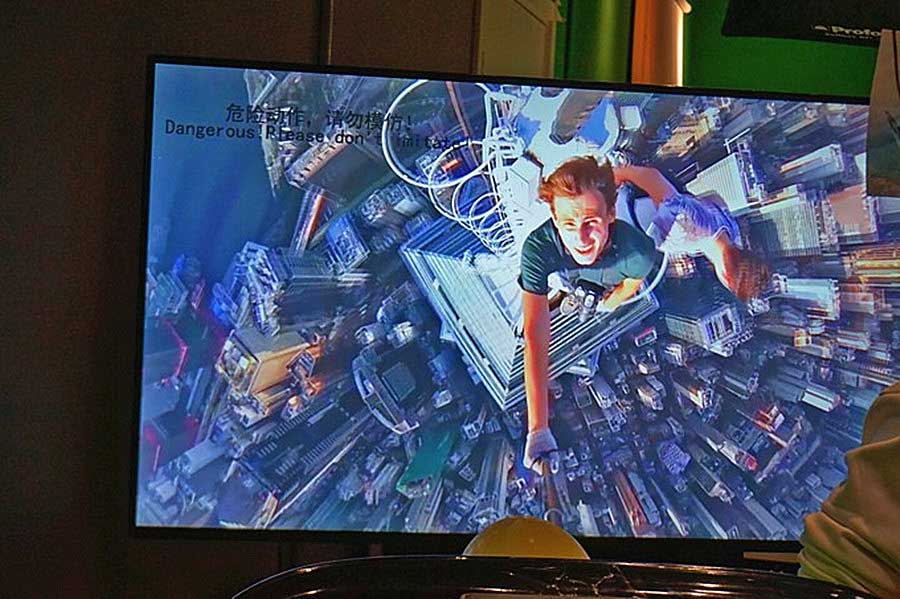 What to Do?
1. Enjoy a bird view of whole Shanghai city with 360-degree view. Taking the high-speed elevator to the "top of Shanghai" observatory at the 118th floor, you can find the enormous transparent glass wall makes the visual effect unparalleled. If it's in a nice weather without cloud or fog, you can see the buildings from distance and find out the lovely and winding Hunagpu River and Suzhou River meeting at your feet. That's a marvelous scene!
2. Send postcard from hanging post office. Write to your friends or families on the card with Shanghai Tower picture, showing this symbolic building to them. You can also bring some souvenirs from here.
3. Have a meal in the air. Enjoy a romantic meal with your friends in the air; it's a great way to see how the locals live while enjoying the food.
4. Do some entertainments like playing VR games, drinking in a bar, etc.
5. Appreciate photographic exhibition or other shows about art, Chinese history or culture. Let you know more about the process of building this master piece and the city.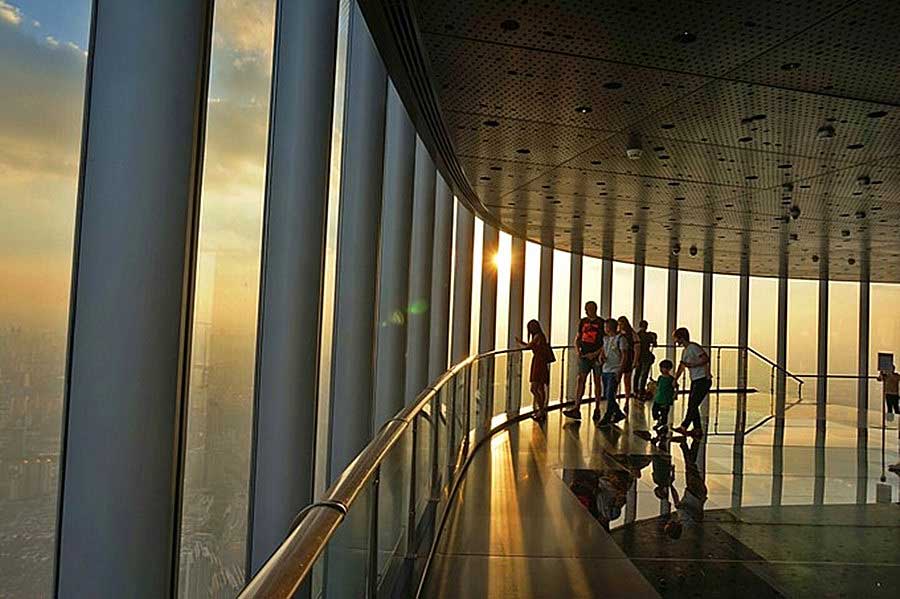 How to get there?
It's very convenient to take subway Line 2 to Shanghai Tower, getting off at Lujiazui Station, and walking 5 minutes, you can reach the destination. Or take subway Line 9, getting off at Shangcheng Road Station and walking for 9 minutes.
If you want to do some sightseeing of the city by bus, Bus 938, 961, 995 can also take you to the right place.
More Attractions in Shanghai
Recommended China Tours Including Shanghai Tower Shanghai