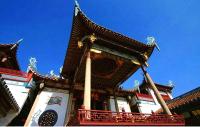 Located at the crossroads of Jiefang Road and Yuhuangge Street in Yinchuan City, Jade Emperor Pavilion is a Taoist temple at the foot of Penang Hill in Air Itam, Penang. Occupying an area of 1040 square meters, Jade Emperor Pavilion is the only ancient high-rise pavilion with timberwork in Yinchuan.
According to Chinese legend, the Jade Emperor Pavilion is dedicated to the eponymous deity. The Jade Emperor is considered the omnipotent ruler of Heaven and Earth as well as the spirit world. The Jade Emperor Pavilion got this name for a copper statue of Jade Emperor in the hall. With the history of more than 600 years, Jade Emperor Pavilion was built during the Ming Dynasty. It was destroyed by earthquake during the Qing Dynasty in the reign of Qianlong. Recently, it has been repaired. The entire complex is an embodiment of the consummate skill of the ancient craftsmen of Yinchuan and contributes greatly to the study of the architectural style and materials used during the Ming Dynasty.
The Jade Emperor Pavilion is a three-storey structure with double bow-shaped brackets supporting the upturning roof-corners. Visiting this only remaining traditional wooden structure in Yinchuan, you are sure to be attracted by the architectural style and exquisitely designed. The center of the platform is occupied by a southern-facing main hall under a double gable-and-hipped roof, which is linked in the south to another hall which features a curved-canopy roof. It has a height of about 22 meters and covers an area of about 1040 square meters. A bell tower under a double-eaved roof sits symmetrically at one end of the main building with a drum tower at the other end. Both floors of the building are graced with red-lacquered doors, and its latticed windows are covered with richly embroidered panes. Surrounded by red-painted balustrades, the balcony provides an overview of the surrounding landscape.
More Attractions in Yinchuan
Recommended China Tours Including Jade Emperor Pavilion Yinchuan