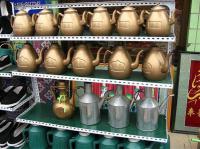 Best Travel Time Yinchuan
Yinchuan has a dry continental climate with cold and windy winter, dust-laden spring, hot and little humid summer and comfortable but short autumn. The annual average temperature here is around 8.5 degree Celsius and the annual sunshine hours are between 2,800 hours and 3,000 hours and the temperature differences for day and night are huge. The best time to travel Yinchuan Ningxia is between May and October.
Yinchuan Safety Tips
There are many Hui minority people in Yinchuan, the capital city of Xining, just respect their customs.
Take a sunshine lotion or sunglass when you plan to Yinchuan in summer.
Yinchuan Shopping Tips
The "Five Treasure" in Yinchuan is the most popular local products and souvenirs: Liquorices, Helan Stone, Sheepskin, Barbary wolfberry fruit and facai. The rice of Ningxia, is famed as the "pearl rice", got praised from home and abroad; and the yellow river carp, sea buckthorn, folk porcelain or Chinese dates are the other cute items at local markets.
Eating in Yinchuan
The main minority groups in Yinchuan are Hui people and Han people so a variety of unique Muslim food as well as traditional Chinese food available in the city. Representative Islamic dishes are Steamed lamb, mutton eaten with hands, shredded cake in mutton, beef soup and spiced crisp chicken.
Nightlife / Entertainment in Yinchuan
Visit the Yinchuan South Gate Square, and enjoy the Hui ethnic dance and singing performance there; sometimes, there are some large scale art or cultural activities held. There are some pubs or bars at the city center for night activities.
Festival in Yinchuan
Huaer is one kind of folk songs, popular in Gansu, Qinghai and Ningxia areas. The song sung by the boys is called Shaonian and the song sung by the girls is called Huaer. Has a history of more than 400 years, Huaer is rich in content and free in form. On the festivals, people dressed in colorful clothes will sing the songs which full of vivid local flavors. It is celebrated on Jul. 1 to Jul. 30 every year.
Another big event in Yinchuan is the Yinchuan Yellow River Culture Festival, to celebrate the close and intricate fate with yellow river and the traditional culture related. Typical folk cultural activities are held during the festival, such as large-scale ethnic singing and dancing performances, folk arts, acrobatics, Shaanxi Opera and other performances. Various exhibitions will also be held such as Modern Chinese Painting and Calligraphy Exhibition, Helan Mountain painting exhibition, Travel Goods Show and Muslim Food Exhibition.
Recommended Yinchuan Tours