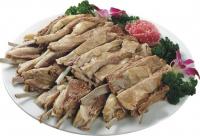 As the major habitat for Hui Muslims, Yinchuan food is featured with the Islamic flavor. Since the area is rich in food supply, and has a long history of over 1000 years, here has become a Halal cuisine center for Muslim people.
The most popular dishes here include mutton eaten with hands, steamed lamb, mutton noodle, big plate crisp chicken, etc.
Recommended local Muslim restaurants are Delonglou Islamic Restaurant, Xianhelou Islamic Restaurant, Yingbinlou Restaurant.
Recommended Yinchuan Tours