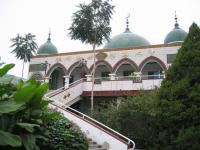 Known as "Pheonix City", Yinchuan is the capital of Ningxia Hui Autonomous Region. Sheltered from the Gobi Desert by the high Helan Mountain ranges to its west, and abundantly supplied with water from the nearby Yellow River, it occupies a favored geographical position in otherwise harsh surroundings. The city was once the capital of the Western Xia, a mysterious kingdom founded during the 11th century.
With over 1300 year history, Yinchuan consists of 3 districts (Xingqing, Jinfeng and Xixia), one county-level city (Lingwu), and 2 counties (Yongning and Helan), encompassing an area of 9,579 km² and a total population of 1.48 million (2007). Yinchuan is a major habitat for the Hui people (Muslims), who constitute a third of the population.
Boasting minimal industries compared with other capital cities in China, Yinchuan is the chief agricultural market and distribution center for this area and also deals in animal products from the herds tended by nomads in the surrounding grasslands. It is a market for grain and has flour mills, as well as rice-hulling and oil-extraction plants. The wool produced in the surrounding plains supplies a woolen-textile mill.
Yinchuan is a transportation hub of the region with complete networks of highway, railway and airlines. Several national highways go through the town, and more than 125 kilometers (about 78 miles) of expressways run within the territory. Baolan Railway (Baotou of Inner Mongolia Autonomous Region to Lanzhou of Gansu Province) connects the city to the rest part of the country. Yinchuan Hedong Airport makes the city an accessible place.
Being endowed with the colorful cultural and historical values, Yinchuan deserves to be a famous tourist city in China. There are so many interesting sites worth a visit. The most popular attractions include Sand Lake Scenic Resort (Sha Hu) and Shapotou, Western Xia Mausoleum, etc.
Recommended Yinchuan Tours