Generally speaking, China is a fairly safe country to travel for all types of travelers. The crimes against foreigners are scarcely heard here as the government tends to impose severe punishment to those criminals and establish a positive image of the state. If you watch the videos on YouTube published by expats in China or international travelers, they always mentioned that the people here, even girls can walk the street freely in late evening without feeling threatened in any way. Anyhow, as a visitor, you should still need to be cautious while traveling in an unfamiliar country like China. Here below are some safety tips for family travel with children in China, which are helpful for international travelers planning safe China family tours.
At the airport/train station/bus station
Usually the airports/train stations/bus stations are quite busy. Right here you will not only carry the luggage, but also look after the kids. Hold the hand of your young child, and consider a safety leash for him/her. Please note that people here tend to be closer to you when waiting in a queue, even some of them push you lightly forward to avoid queue jumping of someone else. This doesn't mean they show their disrespect or threats to you.
Sometimes around the train station or bus station, there might be higher chances of pick-pocketing. We see the less and less phenomena of theft in China now, as many Chinese people seldom carry cash, we prefer to use mobile phone to pay. Some thieves still target those victims with cash or mobile phones. So keep your valuables safe on the body, like passport, cash, and mobile phone, especially in the busy places.
If you travel independently, and go out of the exit of airport, train/bus station, please follow the sign of taxi stand/station, and go with other passengers to the right place to wait for official taxis. If someone come up to you, saying "taxi, taxi?", please don't go with them. They are mostly the private cars illegally running the taxi business (black cab) without a taxi sign on the hood, and their fare can be several times higher than the licensed ones.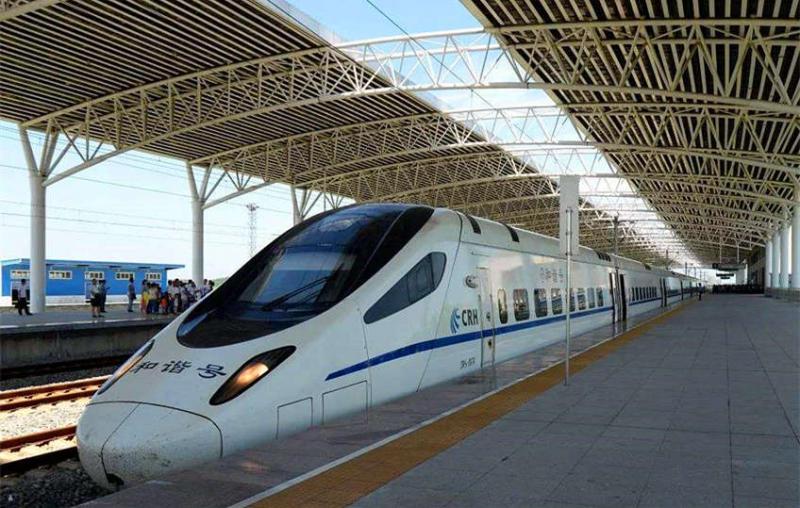 On the transportation vehicles – airplane, train and long-distance buses
On the plane, keep your child belted as long as possible as air turbulence can happen at any time. If he/she do need to get up and wander around, be sure that the seat-belt sign is off. You'd better go with your young child to the restroom on plane in case of anything unexpected happens.
A convenient and popular cross-city transport for family China tours, the high speed train in China goes very fast and smooth. There is no seat belt available. Kids can wander around. The aisle is narrow, please warn your kid in advance, who might be hit down by other passengers or serving cart. Please note that some Chinese will go to one end of carriage to fetch boiling water for preparation of tea or instant noodle. If a kid bumps into someone holding a bottle of hot water, then it is also potentially dangerous.
If your family takes a long-distance bus ride from one spot to another, have your seat belt fastened as most of these buses will go via express road at a speed of 100-120 km/h. Every 2-3 hours, the bus will stop for a few minutes at a service station so that the passengers can use the restroom. Tell your kid in advance to prepare for that.
To travel safe in China with kids, you are also suggested to read: Traveling by train in China with children
In the hotel
During your family trip to China, after registration at the reception of hotels, you walk into the room. If you see someone left a bottle of drink, or any drinks at the minibar were opened before, please tell the front desk about it. Never let your children touch the drinks. Any facilities in the room don't work, or less towels are provided (2 sets of towels for twin/double rooms), please also report. If not, when you check out, the hotel staff find a towel is missing, they may request you to pay for the loss. Some hotels also charge you of dirty stains on bed sheet left by kids for extra laundry fee.
Don't leave the valuables casually at hotel, you can put it in a safety box in the room or at the reception desk. During the breakfast, some tourists like to leave their sunglasses or hats (expensive ones) on the table to save a seat without a companion, and then go to pick the food. When they return, their belonging is gone. Tell your kids to cherish what they have. If they leave it carelessly, someone else who knows its value will take it away.
Some people don't like to take their passports with them during the day tour in China, it is fine to put them in the safety box. While you should also know that passports are required to buy the admission tickets in some attractions. If you are not sure, then it is suggested to carry the passport with you.
In the restaurants
After a day tour in a city, taking your families to a local restaurant to reward yourself and kids is a good idea. Some of the local restaurants are busy, the employees don't have time to mop the floor. So the areas close to the kitchen or at the restroom are quite wet, especially in humid weather. Please tell your child to walk carefully if it is a slippery and greasy floor. It is very easy to fall down and get hurt. If you have 2 or more younger children, don't let them chase each other in a restaurant. They may bump into a waiter/waitress holding a plate of hot dish, which may drop off and cause injury to them.
If your family travels off the beaten track to the small towns in China, some local restaurants may kill the fish, chicken, duck or rabbit in front of diners to guarantee them fresh meat for the dishes. It is really uncommon in the West. Some of the children may get scared and upset.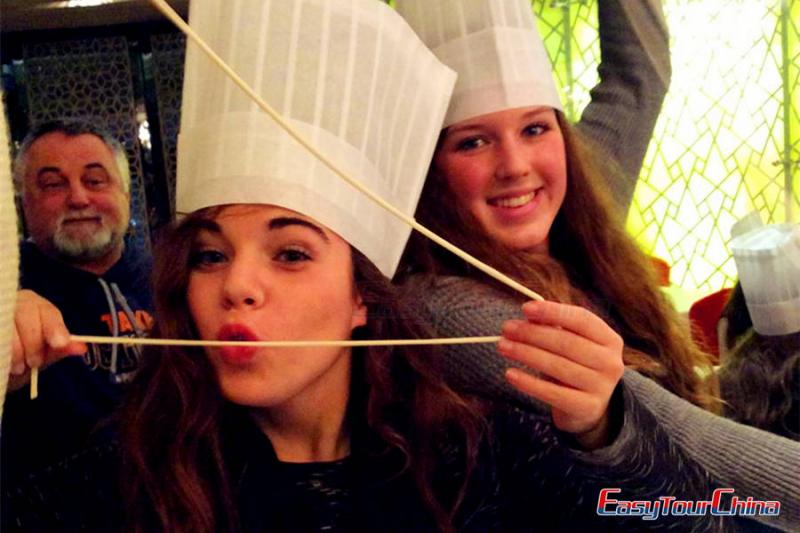 In toilets
In China, the squat-style toilets are widely used all over the country, especially in public restrooms. Those ones in big cities usually have at least one Western-style toilet that you can use if it is functional. If the younger kid has never used this type of toilet before, parents should go with them and help him/her to squat during your family China vacation. Possibly they can't squat that long or possibly step into the hole accidentally. Besides, some public restrooms might not be well maintained with a wet floor. Nearly all the free public restrooms don't offer toilet paper or liquid soap. It is suggested that you should always keep a pack of tissues on you.
In the national park, theme park, museum or other places of interest
If your family holiday in China with China happens to be during the tourist season, all the attraction sites will be packed with visitors. You can discuss with your local tour guide what the best solution is. If you simply follow the itinerary, it may happen when you arrive at the entrance, there are thousands of Chinese tourists waiting there already. Then you have to wait for 2-3 hours to get into the park. If you travel independently, then you can check with the hotel concierge or receptionist about it. Once inside the park, sometimes visitors are requested to take shuttle bus from one spot to another, please keep all the family members together before getting on the same vehicles. If the buses are the golf-cart type, then ask your younger kids sit between 2 parents. In the high season, it will surely be over-packed with tourists like the Great Wall, Yellow Mountain, Zhangjiajie. You need watch your step very carefully when you go up and down, especially at the path without railing (or basic one). If you see the site is not well managed and nearly out of control at that moment, there is no sense to elbow your way to go further if traveling with your child.
In the public areas
When you and your families walk along the street or in a park, some Chinese may come up to you, asking if they can take photos with your child. Especially those adorable Caucasian kids are their stars. For many Chinese living in smaller towns or countryside, they hardly see the doll-like foreign kids in their world. So all they want is to take a selfie photo with your children as a memento.
When you walk on the sidewalk, or in a square, you still have to be cautious as some cyclists and e-scooter riders may go on the same way from different directions. This can be a bit dangerous if the younger child run a bit far from the adults.
Countryside, rural areas
If you travel to China with kids in the warmer months, mosquito repellent is needed, especially if you will stay overnight in the rural area. Malaria cases are seldom heard in China for years. You don't have to worry much about it. If you take an active family tour like hiking and biking in the countryside of Yangshuo, please also be careful of snakes and dogs. Snakes are rarely seen, only along a path in the mountains of South China. It is recommended to carry a walking stick while hiking in the wildness of Yunnan or Tibet.
Westerners are very friendly to dogs. They raise dogs as pets, and treat them like a family member. In China, the farmers feed dogs as a family guard. The dogs were brought up to be more vigilant and aggressive to strangers. So just to be on the safe side, keep your child away from countryside dogs.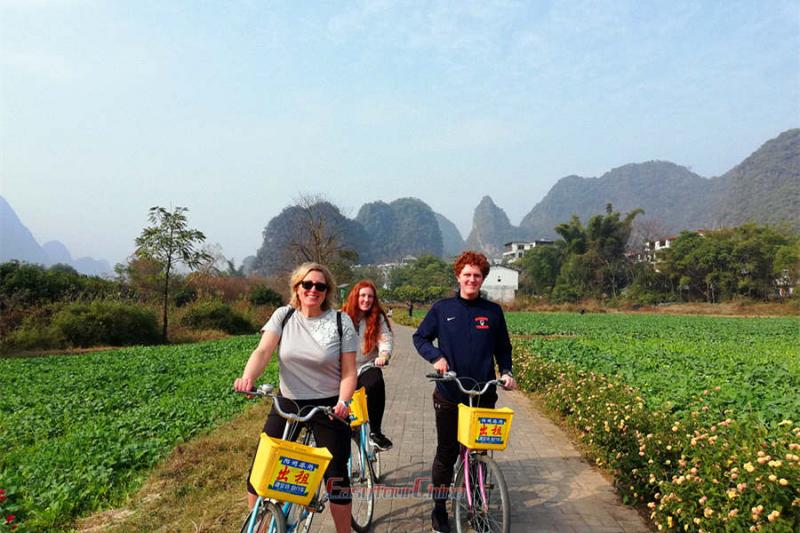 Medication and other essentials
When traveling to China with kids, bring a travel medical kit with all necessary medication inside for any emergency. Just imagine that if your kid is running a fever at midnight, and you don't read Chinese, pharmacy workers often don't speak English, and a substitute medication can't be found. Therefore, it is best to prepare for the potential cold, fever, diarrhea, headache, pain pills and any other medications you normally need.
A pair of comfortable walking shoes is a must for each person. A lot of walking will be involved during a family trip to China.
If you're worried about air pollution in China, you can take some masks with you in case of bad air quality days in certain cities.
Don't drink the tap water, but the bottled water. There is an electric kettle in every hotel room, you can also drink the boiled water.
You can also consider carrying your own hand sanitizer and wet wipe besides packs of tissues. By the way, they are also available in the shops of China if you don't care about the brands.
Related Reading: