Top Family Tour Destinations - Places to Go in China with Kids
China Family Travel Tips Top Family Tour Destinations - Places to Go in China with Kids
As the top 4 most visited country by international tourists in 2019, China enjoys great fame for its long history, diversified culture and hospitable people, plus a safe and fun place for family with kids. Have no idea of how to plan a memorable family trip to China for your spouse and children? Here below is some helpful information of top family tour destinations in China – the best places to visit with kids, plus with interesting family-friendly activities and Chinese cultural experience to recommend.
As the capital of 5 dynasties in the past, Beijing boasts so much for you and your kid to see, explore and experience, not only the historical architecture: the Great Wall, the Forbidden City, and Temple of Heaven, but some unique cultural experiences: coloring the Peking opera masks, making Chinese knots, trying the paper cutting or flying a kite in a park, etc. Children can immerse themselves in these activities for inspirations. Besides, you can also take your child to Hutong old quarters, 798 Art Zone, Panjiayuan Antique Market and Beijing Aquarium to see the different facets of Beijing. 3-5 days family tour in Beijing is probably fine for a good vacation in this mega city.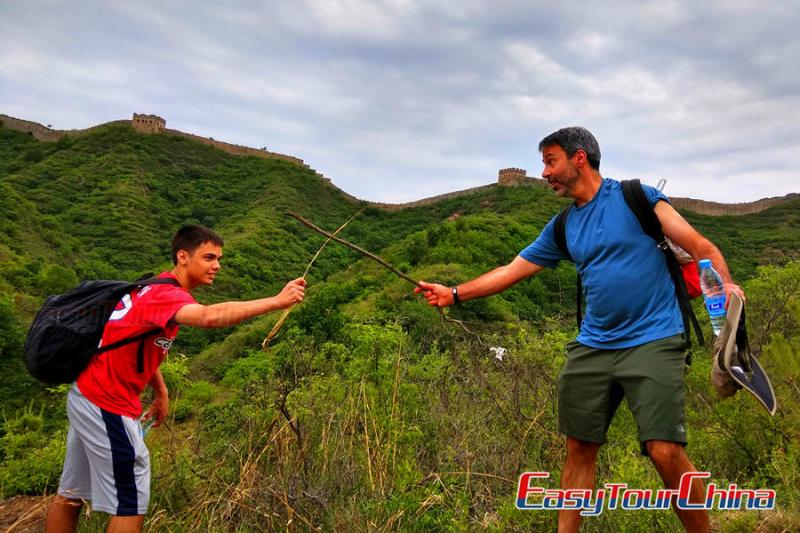 Recommended attractions and activities for children in Beijing:
Walk on the Mutianyu Great Wall, and try the toboggan ride down
Unravel the mystery of the Forbidden City, home to 24 emperors in history
Fly a kite or learn Tai Chi at Temple of Heaven
Meet locals at Hutong, experience some traditional handcraft skills
Similarly like the status of New York to the United States, Shanghai is one of the two most famous cities in Mainland China behind the national capital - Beijing. Compared with other Chinese cities, Shanghai might be a little more westernized and modern, yet still retains its original characteristics showcased in its shikumen and Longtang Alleyways. This is one of the few metropolises in China where your family can have more free time and travel independently. With a fast and safe metro service, you and your kids can go easily to any major tourist sites in the city. It is a great place to see the modernity of China. Your children can feel the pulse and excitement of the biggest metropolis of this country. By the way, the wide spectrums of street snacks of Shanghai are also appetizing and full of options. Plan a 3-5 days Shanghai family tour for Shanghai Disneyland, the old streets exploration and gastronomic delights.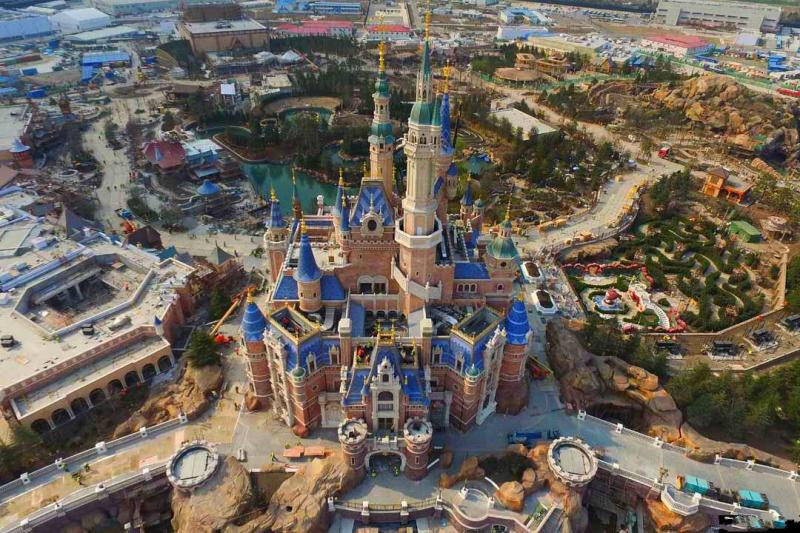 Recommended attractions and activities for children in Shanghai:
Shanghai Disneyland
Side-car/jeep trip through the old town of Shanghai
ERA Acrobatic show
Bird-eye view on Shanghai Tower, the highest building in China
Night cruise on Huangpu River to see the old and new Shanghai on both sides of the river
To better know the history of China, you and your kids should not miss Xian. How and why did China become a vast united Central Kingdom in history? After visiting the legendary Terra cotta army and learning about the stories behind, you may find out the reason. As the starting point of the Silk Road Journey, Xian has numerous historic sites left from its glorious Han and Tang dynasties, which await you to explore. What is more, there's many kid-friendly activities, as your child will have a chance to try making a replica of Terra cotta soldier, biking on the ancient city wall, learning Chinese calligraphy, Chinese dumplings or noodles, etc.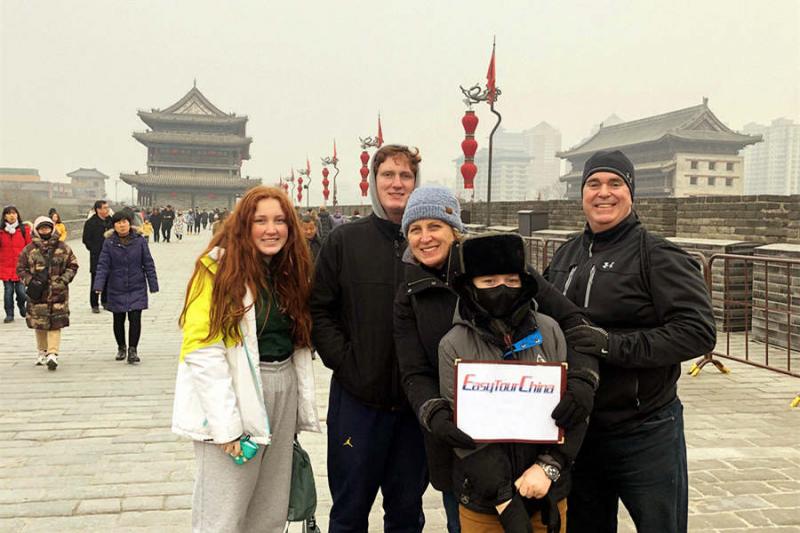 Recommended attractions and activities for children in Xian:
Make yourself a Terra cotta Warrior with clay at a local cave dwelling house
Cycle on the ancient city wall of Xian
Learn to make dumplings or noodles at home of local people
Watch the traditional Chinese shadow play and puppet show, and learn to make a figure of shadow play
Explore the Muslim street market to see all types of local food
>> Recommended 4-day Xian Discovery Tour for Active Family
Someone said the heaviness Chinese history brought on you in Beijing and Xian during the trip, could be unloaded in Guilin and Yangshuo. This is why Guillin is so popular among international travelers, especially for their China family tour with kids. Yangshuo is actually a small town 64 km south of Guilin, famous for the stunning Karst limestone peaks, clear rivers and mesmerizing rural life. You and your children can fully relax yourselves in natural landscape, breathing the fresh air. At the same time, there are tons of interesting activities here designed for family travelers: bike riding, hiking, bamboo rafting, cave exploring, mud bathing, Kung Fu or Tai Chi class, cooking class, and calligraphy/painting class, etc.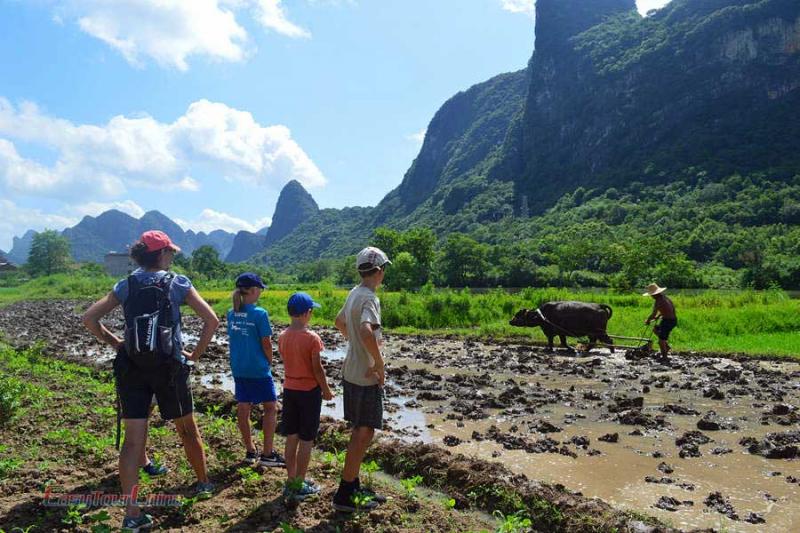 Recommended attractions and activities for children in Guilin/Yangshuo:
Li River cruise
Yulong River bamboo rafting
Family cooking class at the beautiful countryside home
Learn Chinese painting, inspired by surreal karst landscape
Impression Sister Liu Sanjie Light Show
Cycling/hiking in the countryside
>> Recommended 3-day Yangshuo Family Adventure: Biking, Walking & Real Farm Work
As the hometown of giant pandas and Sichuan cuisine, Chengdu is another great destination for family with kids. Right here you and your child will not only observe the pandas like anywhere else, but join in panda keeper program tours to do the volunteer work in the panda base: cleaning panda houses and making their daily snacks. Compared with other mega cities in China, Chengdu is slow-paced and full of old-world teahouses. Stroll along the old streets or in local parks, you and your family will have a feel of authentic Chinese way of life. If you go out of town, a few UNESCO Heritage sits are located not far from the city, such as the Giant Buddha in Leshan, Dujiangyan Irrigation Project, Mt. Qingcheng and Emei, etc. At night, you can also take your kids to watch the face-changing feat of Sichuan Opera.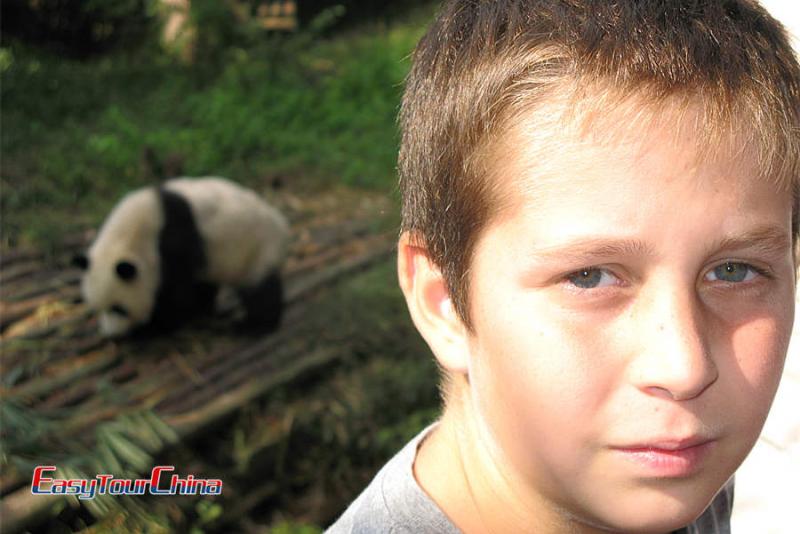 Recommended attractions and activities for family with children in Chengdu:
Go to the pandas, and possibly do one-day volunteer work at panda base
Send postcards to your friends or relatives at Panda Post Office
Face-changing show of Sichuan Opera
See the largest stone-carved Buddha of the world in Leshan
Learn to cook the most popular Chinese dishes of Sichuan Cuisine at a cuisine museum in Chengdu
Different from other Chinese destinations for family with children, Yunnan is not a city, but a province situated in the southwest of China. In the province, there are a series of enchanting towns, allowing you to explore: Lijiang, Dali and Shangrila. The three places are the habitat of ethnic groups: Naxi, Bai and Tibetan respectively, together with Han and other minorities. Right here you will see another side of China, enigmatical and interesting. The ethnic people still maintain their traditional lifestyle like what their ancestors did hundreds of years ago.
Yunnan is a perfect destination for the families who love to go off the beaten path and look for some soft adventure in China, since here it is a great blend of natural scenery, outdoor activities, diversified culture and friendly people. If you can go a bit further down, there are more lovely smaller towns like Shaxi, Weishan and Yuanyang hidden on the amazing land.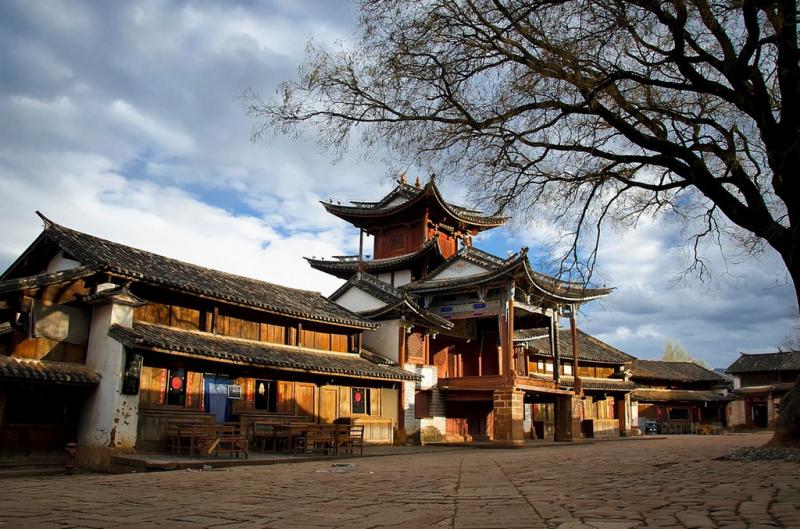 Recommended attractions and activities for family with children in Yunnan
Hike along the Tiger Leaping Gorges (for the families with teenagers or older)
Ride a bike around Lijiang Old Town or along the way of Erhai Lake in Dali
Stay overnight at a small town like Shuhe or Shaxi to experience the lifestyle of locals and visit the dynamic traditional market
Visit the Bai people's home and see how they handle the tie-dye traditionally
Watch the show – Dynamic Yunnan in Kunming – the capital of Yunnan
Enjoy horse riding in Shangri-La and make black pottery at Nixi Village
Further Reading: