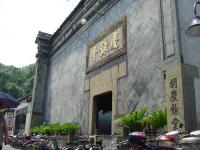 Established in 1989, Chinese Medicine Museum is the only state-level professional Chinese medicine museum in China. It is located at the foot of Wushan hill in the beautiful city of Hangzhou. The museum is built basing on the ancient buildings of Hu Qingyu Tang. The group of old buildings of Hu Qing Yu Tang once was traditional Chinese pharmaceutical factory, which was founded in 1874 by Hu Xueyan in Qing Dynasty.
Hu Xueyan, the first boss of the pharmacy, was not only a successful businessman but also a high-class official in the imperial court. Many tourists are attracted to the Hu Qing Yu Tang Museum to not only appreciate the treasures of Chinese medicine, but also to admire its magnificent architectural complexities and to learn more about Hu's legendary stories.
Museum of Traditional Chinese Medicine covers an area of more than 4,000 square meters with five main parts, including the Exhibition Hall, the Medicine Preparation Hall, the Chinese Health Care Clinic, the Restaurant of Medicinal Diet and the Sales Department. The history of Chinese traditional medicine is demonstrated through a great number of items and descriptions in the exhibition hall. You can view or try the ancient operations of medicine preparations in the Medicine Preparation Hall. In the traditional Chinese health care clinic, you can get health care services from famous doctors with unique achievements. Besides, the Restaurant of Medicinal Diet provides you with numerous medicinal diets which are good for human health. You can can benefit from the decease prevention and anti-aging actions while enjoying delicacies, because the Restaurant of Medicinal Diet combines the actions of traditional Chinese medicines and the flavors of Chinese diets. You can select and buy patent medicines of superior quality produced by the Hu Qing Yu Tang pharmaceutical factory in the Sales Department.
More Attractions in Hangzhou
Recommended China Tours Including Chinese Medicine Museum of Hu Qinyu Pharmacy Hangzhou