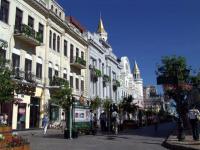 Being a rare architectural art corridor as well as one of the longest and biggest pedestrian streets in Asia today, Zhongyang Pedestrian Street has been the most prosperous commercial hub in Harbin for over one hundred years. Zhongyang Street was first built in 1898 and was originally called Chinese Street.
Strongly featured by the western architecture, Harbin Zhongyang Pedestrian Street perhaps is the most typical tourist destination to understand the development history of North China. In May, 1924, the Zhongyang Street was floored with square stones according to a Russian engineer's design. Since then it has become a rendezvous of numerous foreign shops, hotels, and bars. The street has kept in good shape with a few repairs in the past, thanks to its good quality. It began to take shape as an international street in the 1920s. Russian leather, British woolen cloth, French perfume, German medicine and plenty more can be found in this fashionable street. In 1997, Harbin government appointed the street as a pedestrian street.
There are 71 buildings constructed in European style and 13 municipal protection buildings in Renaissance, Baroque, and Eclectic styles in this 1450 meter-long walking street. The present Education Bookstore is the biggest form of Baroque architecture in Harbin and also the mark of the Zhongyang Pedestrian Street. The Mod-Er Hotel and the Daoliqiulin Shop, built in 1906 and 1919 respectively, are fine examples of Art Nouveau architecture. The Women and Children's Shop in 1917 was the former Xiehe Bank, which reflects classic Renaissance architecture. There are many other exotic and appealing constructions there. All of them are well preserved and continuously play an important role in people's daily life. Zhongyang Pedestrian Street provides an enthralling destination which abounds with history, attracting tourists from home and abroad. This long corridor of European architectural art is the pride of every Harbin.
More Attractions in Habin
Recommended China Tours Including Zhongyang Pedestrian Street Harbin