Being a rare architectural art corridor as well as one of the longest and biggest pedestrian streets in Asia otday, Zhongyang Pedestrian Street has been the most prosperous commercial hub in Harbin for over one hundred years, and also become a must-see site when you travel in Harbin.
Zhongyang Street was first built in 1898 and was originally called Chinese Street. Strongly featured by the western architecture, Harbin Zhongyang Pedestrian Street perhaps is the most typical tourist destination to understand the development history of North China. In May, 1924, the Zhongyang Street was floored with square stones according to a Russian engineer's design. Since then it has become a rendezvous of numerous foreign shops, hotels, and bars. The street has kept in good shape with a few repairs in the past, thanks to its good quality. It began to take shape as an international street in the 1920s. Russian leather, British woolen cloth, French perfume, German medicine and plenty more can be found in this fashionable street. In 1997, Harbin government appointed the street as a pedestrian street.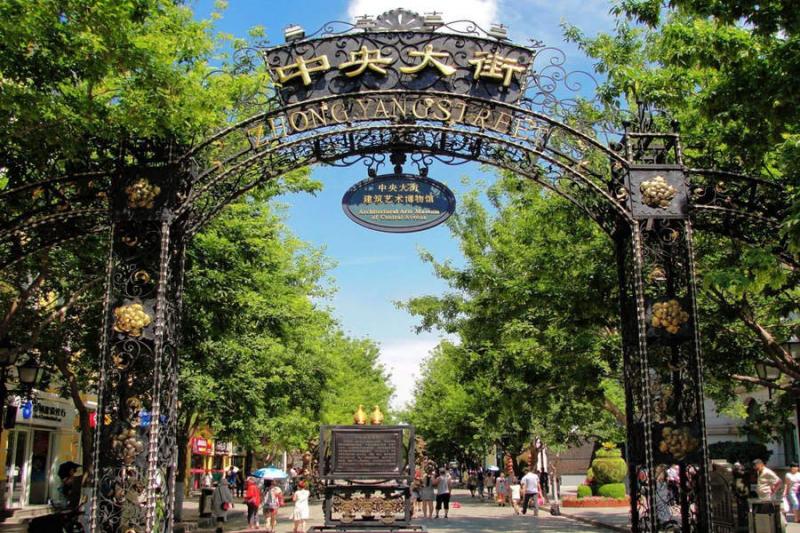 Zhongyang Pedestrian Street Facts
-Chinese name: 中央大街步行街
-Location: Daoli District, Harbin
-Total Area: 94.05 hectares
-Time needed: 1 to 3 hours
-Entrance fee: Free
Best Time to Visit Zhongyang Pedestrian Street
The best time for Harbin trip is from Dec to Jan of the following year. The snow and ice scenery at that time is quite charming. Harbin is located in the most northern part in our country, and it is a metropolis with the highest latitude and lowest temperature in China. It is definitely an ideal summer resort from Jul to Sep.
What to See at Zhongyang Pedestrian Street
There are 71 buildings constructed in European style and 13 municipal protection buildings in Renaissance, Baroque, and Eclectic styles in this 1450 meter-long walking street. The present Education Bookstore is the biggest form of Baroque architecture in Harbin and also the mark of the Zhongyang Pedestrian Street. The Mod-Er Hotel and the Daoliqiulin Shop, built in 1906 and 1919 respectively, are fine examples of Art Nouveau architecture. The Women and Children's Shop in 1917 was the former Xiehe Bank, which reflects classic Renaissance architecture. There are many other exotic and appealing constructions there. All of them are well preserved and continuously play an important role in people's daily life. Zhongyang Pedestrian Street provides an enthralling destination which abounds with history, attracting tourists from home and abroad. This long corridor of European architectural art is the pride of every Harbin.
Major Zhongyang Pedestrian Street Attractions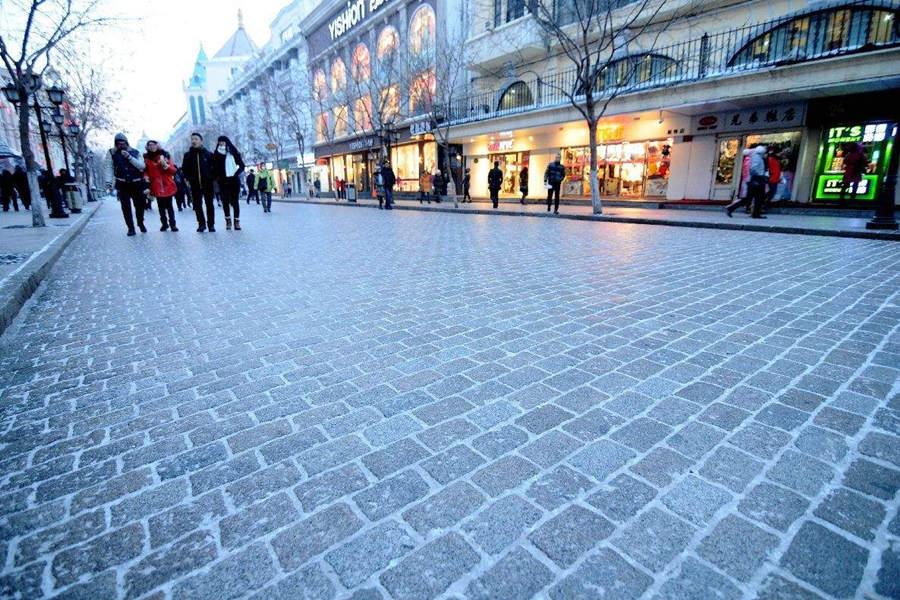 Square-stone Road
The most distinctive feature of Central Street is that whole street was paved with square stones. In May 1924, the Central Street was floored with square stones according to a Russian engineer's design. Each square stone that used for paving the road is 18cm long and 10cm wide. The shape and size of the stone are just like Russian bread, the surface is bright and round which is extremely rare in Chinese and overseas road history.
Former site of Matsuura
Foreign FirmLocated at No.120 of the Zhongyang Pedestrian Street, the former Matsuura Foreign Firm was built in 1906 and completed in 1909. The scope of business covers almost everything we need in daily life, such as clothing, food, cosmetics, metals, musical instruments, coals, etc. The former site of Matsuura Foreign Firm is the biggest form of Baroque architecture in Harbin and also the mark of the Central Street. Later, it was changed to foreign language bookstore after the liberation of New China.
Jewish Community Sites
Zhongyang Pedestrian Street was originally called "Chinese Street", it was a central avenue in a cosmopolitan city with people from thousands of countries. More 70 European style buildings are gathered here to become an architectural art gallery. The Jews who good at doing business built many buildings in Central Street at that time, they are just like the witness of their life in Harbin. Walking from south to north from Zhongyang Pedestrian Street, you will see Miniature Restaurant, Jewish National Bank, Aokun Building, Modern Hotel, Rabinovich Building, Jewish Hospital, Jewish P. A. Berk Abramovich Building, The Main Synagogue, The Judaism School.
How to Get to Zhongyang Pedestrian Street
1. It can be reached by bus 53, 113, 114, 126, get off at "Zhongyang Dajie" (Central Street) Station.
2. Take shuttle bus line 3 from Harbin Taiping International Airport, and get off at "Zhongyang Dajie" (Central Street) Station.
More Attractions in Habin
Recommended China Tours Including Zhongyang Pedestrian Street (Harbin Central Street) Harbin