As the most famous endangered species in the world, the Siberian tiger was listed in the white paper of world protected species in the 1970s. To rescue and protect the endangered Siberian tigers in China and make more scientific studies, Heilongjian Siberian Tiger Park was established in Harbin in 1996.
Located on the north bank of the Songhua River, next to Sun Island Scenic Area, the park encompasses an area of 1,440,000 square meters. At present the park boasts about 800 Siberian tigers at all ages, which makes it the largest natural reserve for Siberian tigers in the world. In addition, visitors can also see other breeds of tigers, lions, lynx, leopards, and black pumas. Nowadays the park has become an ideal place for leisure and relaxation and a highlight attraction for a Harbin tour.
Facts
- In Chinese: 东北虎林园
- Address: No.88 Songbei Street, Songbei District, Harbin
- Opening hours: 09:00 - 16:00
- Best time to visit: June to August, December to the next February
- Ticket price: RMB110 (including the ordinary sightseeing bus trip); RMB130 (including the exciting sightseeing bus trip)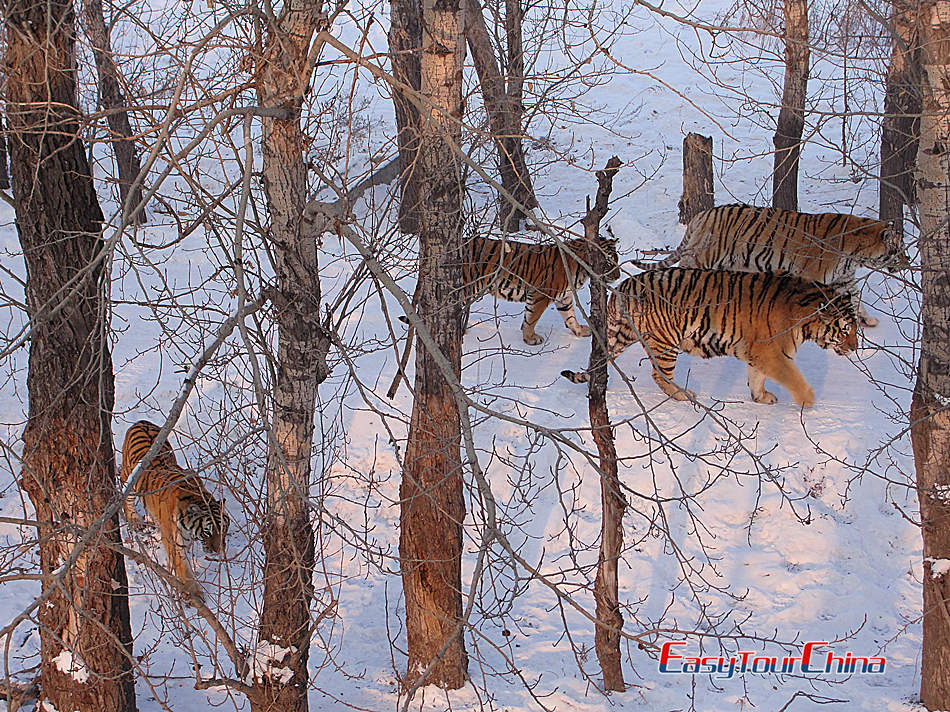 Introduction
It is the world's largest feeding and breeding base for Siberian tigers, the park consists of ten divisions for different purposes. Visitors can see more than 100 Siberian tigers here, plus many other carnivorous animals. Visitors can also take a bus encircled by wire mesh to all the other scenic spots while the tigers roam freely in the fields.
In the 360,000 square meters of Adult Tiger Area, scatter with 30 7 or 8-year-old wild tigers. They are in the prime of life, their movement is agile abnormal, vigorous and smart. And they usually run the prey in a group; the prey can be torn to pieces in an instant. The scene is exciting and thrilling. Visitors must take a special tour bus roaming among the tigers.
The Cubs Area is feeding tigers about two years old, and they are experts at hunting in the water. Every summer, the breeder casts live ducks into the deep pool for them to train hunting every day.
There is an Exhibition Gallery of Siberian tigers which is worth of visiting. It's free to show visitors all info about Siberian tigers in detail. It displays in the form of specimens, pictures and words.
Another interesting area is Walking Area. There are new-born tigers and cub tigers under 2 years old. Cubs are active and tireless, group together to play and have fun, their lovely behave makes people happy and pleased.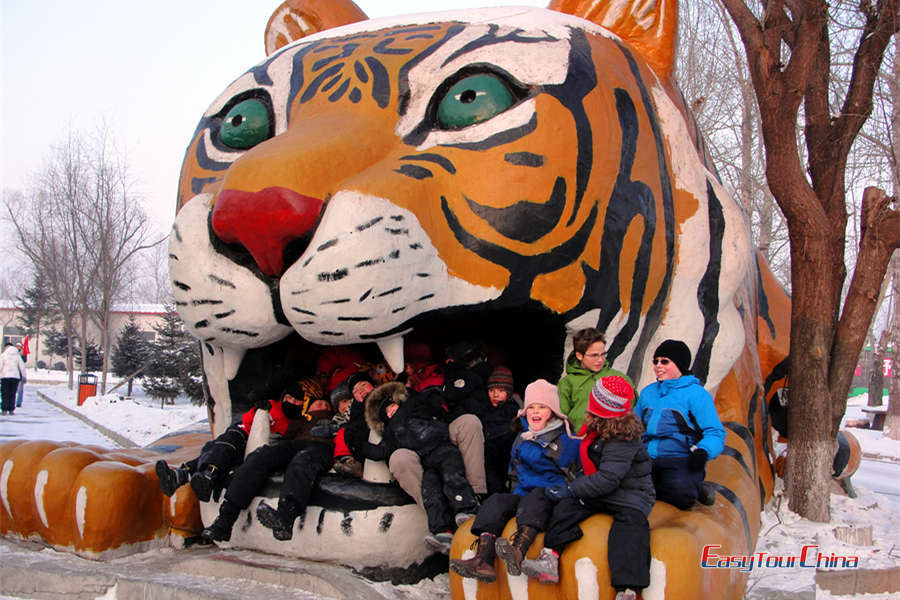 Activities - What To Do?
Since Siberian Tiger Park was opened, it attracts tourists at home and abroad with its strong wild interest and rare species. It takes about 2 hours to visit the entire park. Besides taking pictures of them, visitors can buy live chicken to feed tigers, and then you can see the exciting scene of hunting.
You can also watch a great circus performance in Siberian Tiger Park.
How To Get There?
It's convenient to take Bus 35, 122 or 123 to reach the park, you just need to get off at Hulinyuan Station.
If you take No. 2 sightseeing bus, you can get off at Siberian Tiger Park Station.
More Attractions in Habin
Recommended China Tours Including Siberian Tiger Park Harbin