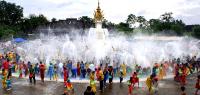 Covering an area of 115,400 square meters, Manting Park is located in the southeast of Jinghong City. With the radiant and enchanting scenery, dense forest and a great variety of fruit trees, it is an ideal tourist attraction for people to go sightseeing. Manting Park is the oldest park in Jinghong with a history of over 1,300 years.
Manting Park used to be the Dai Imperial Garden and the place for the emperor to please the eyes in the ancient times. It is also called "Chunhuan Park" which means the place where people can have their soul relax and keep all the earthly cares out of minds. As a former royal park, its natural beauty is fascinating with the hard work of the gardeners.
Manting Park boasts not only the unique natural scenery, but also artificial rare flowers and architecture. The park is composed of Ethical Culture Square, Tropical Peacock garden, Buddhism Culture Zone, Plant Memorial Zone, Dai Culture Tea Zone and other scenic spots. Some historically meaningful attractions can also been seen in the park. In the center of Ethical Culture Square, there stands a bronze statue of Premier Zhou in memory of his taking part in Water-Sprinkling Festival of the Dai national minority in 1961.
Manting Park is a place where visitors not only enjoy the scenes of a park and a temple but also the traditional culture of the Dai. You can watch ancient natural scenery, but also has strong ethnic characteristics appreciation of the human landscape. In the back of the park, there is a temple called Jiebajie in Dai language. It is the most important place for Buddhists in Xishuangbanna to worship Buddhas.
More Attractions in Xishuangbanna
Recommended China Tours Including Manting Park Xishuangbanna