Known as "the Orient Hollywood", China West Film Studio is situated in the northwest empty wilderness of Yinchuan. China West Film Studio is built based on two ancient castles, which are the cultural relic's protection units in Yinchuan famous for the ancient city of the country Zhenbeipu.
The site of two castles was built in the Ming dynasty to defense invasions in the Helan Mountains at that time. In 1961, a famous Chinese writer Zhang Xianliang found it. China West Film Studio at Zhenbeipu was set up by Zhang Xianliang in 1992. Now the film studio serves also as a scenic spot attracting lots of tourists from home and abroad.
Reputed as the springboard for the Chinese films to enter the international market, China West Film Studio at Zhenbeipu enables you to enter the fantastic worlds on the screen with more than 140 important scenes in different kinds of films. Now China West Film Studio at Zhenbeipu gets further improvement and becomes an epitome of the ancient northern small towns, where accumulates a great many Chinese traditional materials culture and intangible cultures and reproduces the life style, production and entertainment mode of our ancestors. China West Film Studio are full of intelligent light of the film gallery, ancient furniture showrooms, art photo gallery, cinema, restaurants cafes, pottery workshops, souvenir shops, costume photography camera, riding and shooting, Britain sedan and many other entertainment facilities. With its powerful, simple raw, rough and desolate style, China West Film Studio at Zhenbeipu has become the scenic landscape of Helan Mountain.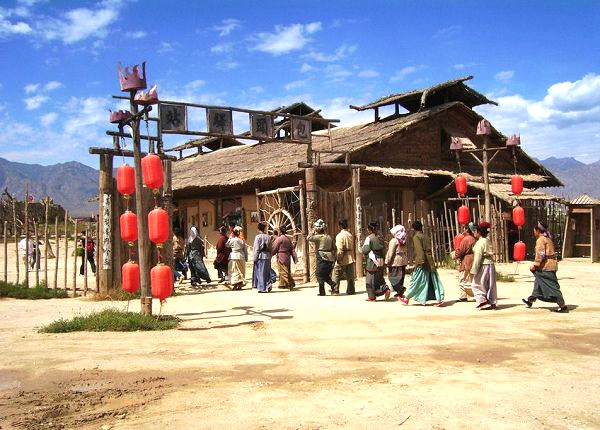 More Attractions in Yinchuan
Recommended China Tours Including China West Film Studio at Zhenbeipu Yinchuan