Being the heartland of Xiamen's commercial area, Zhongshan Road Pedestrian Street covers a total area of one million square meters and takes up nearly one third of the total business area of Xiamen. This is a beautiful and prosperous commercial corridor where you can find the serried ranks rows of stores with a dense crowd.
The Zhongshan Road Pedestrian Street was founded in 1925. The name of the street was changed to "Da han Road" during the Puppet Governed by Japan. The Zhongshan Pedestrian Street was changed into "DongfanghongRoad" in 1966 and back to Xiamen Zhongshan Road in October of year 1979. Zhongshan Road Pedestrian Street became a prosperous Commercial Street since 1959. In 2004, the west section of Zhongshan Road was designated as the pedestrian area where motor vehicles were banned. Since then, the pedestrian flow has greatly increased. In 2005, the number of passing-by people in Zhongshan Road was up to 1.1 billion a year.
The Zhongshan Road Pedestrian Street is 1198 meters long and 15 meters wide. Most of the buildings along the street were constructed by the returned overseas Chinese in 1920s. Influenced by the architecture style of Western Sea area, most of the buildings have the type of British except a few with France and German flavor. When you are walking around the street, you can not only feel the intense competition of the market economy, but also can taste the fresh aroma of the socialistic civilization. The Qilou Street of Zhongshan Road is the representative of architecture culture of Xiamen City. "Qilou Street" means the street is under buildings. This kind of architecture which takes pink and ivory-white as the main hue has a strong exotic flavor of South Seas area.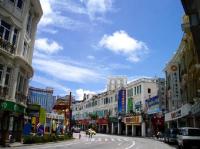 Strolling in Zhongshan Road, you can feel the vitality and the vigor which were exploded by competitions and all merchants are trying their best to fit the intense competition. All the merchants around the street have promoted a series of service projects aiming for keeping business rules, good mannered and offering the conveniences and advantages to citizens. Many shops and stores are awarded as good-mannered units or trusted enterprises at the district, municipal or provincial levels. The activities of being a "Good Street" and "Non Fakes Shop" promote a good environment for trading and business to the Zhongshan Road Pedestrian Street.
More Attractions in Xiamen
Recommended China Tours Including Zhongshan Road Pedestrian Street Xiamen