Terra Cotta Warriors and Horses Museum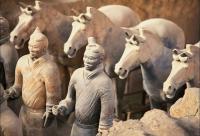 Discovered in 1974, Xian Terra Cotta Warriors and Horses Site is one of the most important archaeological finds in the 20 th century. First chamber was discovered accidentally when 9 local farmers drilled a well for water.
The excavations kept going since then. The first pit was finished in 1974, which is built with earth and timber, measuring 210 meters long, 60 meters wide and 4.6 to 6.5 meters high, larger than a football field, containing more than 6,000 pottery figures. The life-sized warriors were dressed and appeared ready for battle with their spears and various other weapons. Each warrior with a height of 1.8 meters wears an army uniform, which distinguishes the soldier's ranks. Three rows of seventy warriors each make up the vanguard. They are followed the main body of the army, 38 rows of troops. The terracotta figures of warriors and horses are well modeled and proportioned. The heads and hands were modeled separately and then attached. Each warrior has different features and facial expression. No two are the same. Uniformly strong and firm in appearance, they vary in individual aspects according to age, experience and social status. Some warriors have brows knitted and mouths set like veteran fighters with rich experience and wisdom. Others have eyebrows arched and show the fiery boldness and impetuosity of young warriors. They are also those with sternly fixed jaws and determined eyes. Curled moustaches and a cavalier air distinguish the others.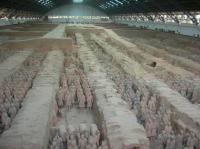 Pit 2 was found in 1976, and excavation began in 1994. This pit contains 1,400 warriors. The second pit differs greatly from the first one, primarily because of its square battle formation. This pit also contains 64 cavalrymen and even commanders to guide the troops. This display of soldiers gives insight into the work that went into the ancient Chinese army.
Pit 3 was discovered in 1980. Though small, the pit is thought to be the garrison headquarter of the Qin army. It has only one chariot, six warriors and a small amount of weapons.
Chinese scientists have finally solved a lengthy riddle of where the 8,000 terracotta warriors were made that were unearthed in the 1970s from the tomb of Qin Shihuang, the first emperor who unified China. After 3-year joint research project, scientists reached the conclusion that the world-renowned terracotta warriors were created close to where they were excavated. The purpose of making these warriors and horses was to sustain and protect the spirit of their ruler for all the time.
In 1987 Xian Terra Cotta Warriors and Horses Museum was listed in the World Heritages sites.
More Attractions in Xian
Recommended China Tours Including Terra Cotta Warriors and Horses Museum Xian
This tour is a good combination of new and old China: Shanghai is the largest and most prosperous city in China while ...

This 16 Days Scenic Tour will show you the most fantastic scenery of China, from the beautiful mountains to the limpid ...

This 14-day China Hiking & Biking Tour Combo from Beijing to Hong Kong will give you a great experience of outdoor ...
Google Search
Find something useful to you at Easy Tour China website.