Located to the northwest of the Big Wild Goose Pagoda in Xi'an, Shaanxi History Museum is China's first large modern national museum that marks a new milestone in the development of Chinese museums. The museum concentrates the essence of the history of China, known as the "treasure house of the Chinese nation", is an art palace displaying the ancient Chinese civilization and the history and culture of Shaanxi Province. The collection contains more than 370,000 cultural relics, ranging from simple stone tools of ancient humans to various implements of social life before 1840, with a span of more than one million years.
Facts
- In Chinese: 陕西历史博物馆
- Address: No.91 East Xiaozhai Road, Yanta District, Xian
- Opening time: (closed on Mondays)
09:00 – 17:30 (Nov 15th to the next Mar 14th; last entry at 16:00)
08:30 – 18:00 (Mar 15th to Nov 14th; last entry at 16:30)
- Best time to visit: avoid traffic on weekends and Chinese public holiday
- Ticket price: Free
Importance & Development
Shaanxi, especially Xi'an, is one of the important areas where the Chinese nation lived and multiplied, and where the Chinese civilization was born and developed. The thirteen most brilliant dynasties in Chinese history, including the Zhou dynasty, Qin dynasty, Han dynasty and Tang dynasty, once established their capitals here. The rich cultural heritage and profound cultural accumulation have formed the unique historical and cultural features of Shaanxi Province. The Shaanxi History Museum, known as "the pearl of the ancient capital and the treasure house of the Chinese people", is an art palace displaying the history and culture of Shaanxi Province and the ancient Chinese civilization.
It was built from 1983, and was finished on June 20th, 1991 and open to the public. The museum has an area of 65,000 square meters, building place 55,600 square meters, cultural relics storerooms of 8,000 square meters, exhibition halls of 11,000 square meters with a collection of 370000 pieces of relics. Among them, bronze wares of Shang and Zhou dynasties are exquisite, ancient terracotta warriors in various shapes and forms, gold and silver wares of Han and Tang dynasties are distinguished in the country, Tang tomb murals are unparalleled. It is the best place for you to experience Chinese culture in the ancient capital of a thousand years.
The museum is an architecture of Tang style, "Hall in center, storied buildings in corners", elegant and dignified, magnificent scale, combination of traditional architecture and modern science, which completely embodied folk tradition, local feature, and epoch spirit. It is one of the most important museums in China, the best representative of the region.
Shaanxi History Museum is a comprehensive history museum. The exhibition system of basic exhibition, special exhibition, digital exhibition and temporary exhibition complement each other and reflect each other, revealing the rich cultural connotation of historical relics to the audience from multiple perspectives and sides, and displaying the extensive and profound achievements of Chinese civilization.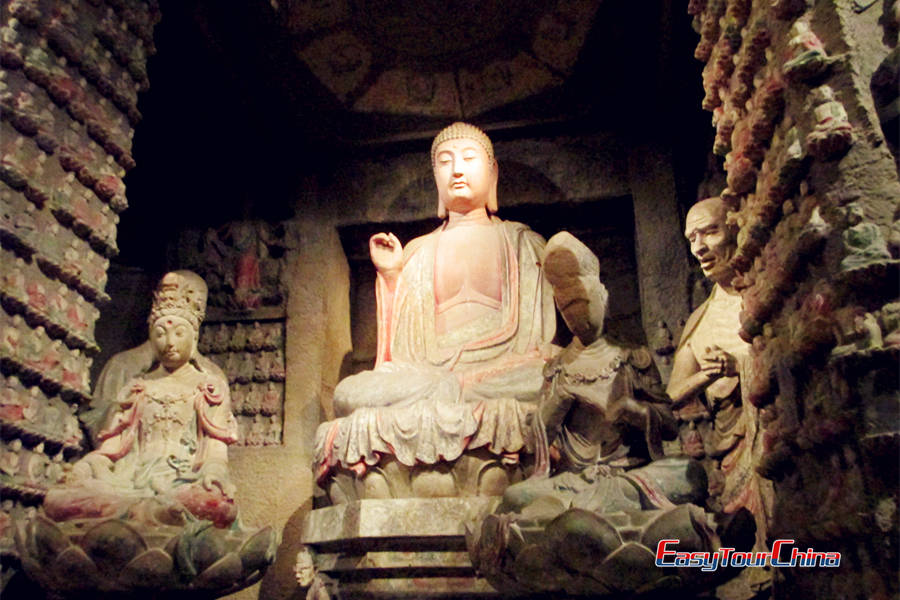 The basic exhibition is the display of Shaanxi ancient history. Based on the sequence of times, it divides the ancient history of Shaanxi into seven parts: prehistory, Zhou, Qin, Han, Wei, southern and northern dynasties of Jin, Sui, Tang, Song, Yuan, Ming and Qing dynasties, systematically showing the development process of Shaanxi from the Lantian people in the early paleolithic period to the Opium War for more than one million years.
Special exhibition is an irregular display which is academic and professional and is organized around a certain theme. Tang tomb murals are a unique and precious collection of this museum, with a total of nearly 600 pieces of murals from more than 20 tombs of Tang dynasty, up to more than 1,000 square meters. Among them, 18 pieces of the 5 groups were rated as national treasures by the state, while 82 of the 69 groups were rated as first-class products. Tang tomb murals depict the etiquette patterns, living custom, clothing, entertainment and architectural style by buildings with unique style, simple and vivid characters, the distinctive landscape of implements, concise and lively and vivid animal and plant. So it's the important image information of the study of social life in tang dynasty especially aristocratic life and spiritual pursuit.
How to Get There?
Take Bus 21, 105 or 259 to Cuihua Road Station.
Hop in Metro Line 2 or 3 to Xiaozhai Station, and get off at Exit D, you will reach the destination after 800-meter walking along East Xiaozhai Road.
More Attractions in Xi'an
Recommended China Tours Including Shaanxi History Museum Xian