Many people accredit the stele-carvings as the "Cradle of Chinese Calligraphy" and "Birthplace of Stele Engravings", and Xi'an Stele Forest, also called Beilin Museum, is a palace of calligraphy. Established in 1090 during the Northern Song Dynasty, the Stele Forest in Xian is known worldwide for a fine collection of more than 1,000 inscribed stone monuments engraved during the period from the Han to the Qing dynasties for more than 2,000 years.
The museum, which used to be a holy temple of Confucius, is now a tranquil place in typical Chinese style. The Forest of Stone Stele Museum, whose collections range from 4000 years ago to the 20th century, and the stone tablets were collected over the past 900 years from all over China. For archaeologists, steles are reliable storytellers, and it's a holy land for those who take an interest in Chinese calligraphy and history. If you prefer, we can arrange you an activity of stele-rubbing to experience the traditional printing skill in ancient China.
Recommended China Tour within Tablet Printing:
11-day China Educational Travel of Cultural Immersion & Panda Fun
Facts
- In Chinese: 碑林博物馆
- Address: No.15 Sanxue Street, Wenchang Gate of the Old City Wall, Beilin District, Xi'an
- Opening time:
08:00 – 18:30 (Mar 1st to Jun 30th, Sept 1st to Nov 30th; ticket selling stops at 17:45);
08:00 – 19:00 (Jul 1st to Aug 31st; ticket selling stops at 18:15);
08:00 – 17:15 (the rest of the year; ticket selling stops at 17:15)
- Best time to visit: afternoon
- Entrance fee: RMB65 (for busy season); RMB50 (for low season)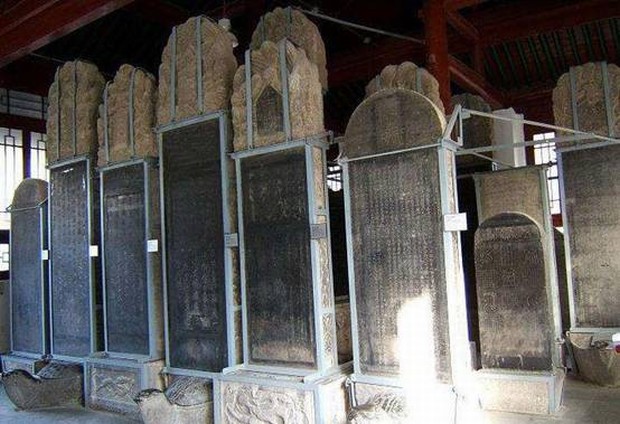 What to See?
With nearly 10,000 pieces in the collection, the museum is like an encyclopedia of ancient China. The Stele Forest in Xian is not only a treasure house of ancient Chinese calligraphy, but also a rich collection of China's historical documents and records and stone carving patterns. These steles record a part of the great achievements of the Chinese culture and a testimony to the cultural exchanges between China and other parts of the world.
The scenic area consists of Confucius Temple, Steles Forest and Stone-carving Art Display, covering an area of 31,900 square meters. The most famous steles are the inscriptions of famous ancient calligraphers such as Yan Zhenqing, Liu Gongquan and Huai Su, distributed in 11 exhibition rooms. There are not only stone tablets, but also stone carvings and other cultural relics on display all over 11000 pieces.
No.1 Exhibition Hall. It houses 12 classic literatures on stones, which were a must-read for intellectuals in feudal society. At that time, in order to avoid mistakes and permanent preservation of the classics, scholars engraved the classics on stone tablets as a model and set them up in the imperial academy in Chang'an city, the capital of Tang dynasty, for proofreading.
No.2 Exhibition Hall. Calligraphy stele tablets from the Tang dynasty are the major exhibits here. They're valuable materials to study the development of fonts in Tang dynasty and the cultural exchange between China and foreign countries.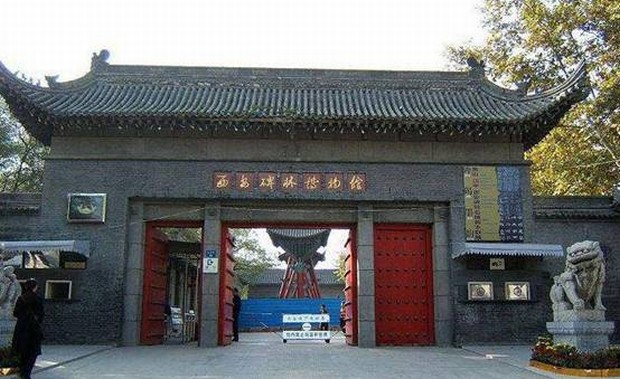 No.3 Exhibition Hall. The exhibits are composed of various calligraphy tablets from the Han to the Song dynasty. You can see different styles of calligraphy here, including Zhang Xu's cursive.
No.4 Exhibition Hall. Display poems rubbings and precious historical data of calligrapher like Su Shi, Huang Tingjian, etc. from the Song dynasty to Qing dynasty. There are also some picture-carving from Song to Qing dynasty, which are valuable for studying ancient architecture and tourist attractions.
No.5 Exhibition Hall. It keeps folks materials from Song to Qing dynasty. Many of the stone tablets describe the contents of temple repair, meritorious recording, land removal, canal repair, etc. They are materials for studying the social and local history at that time, and have certain value in calligraphy.
How to Get to Forest of Stele Museum?
It is 2km away from the Bell Tower of the city center and 6.7km away from Xi'an Railway Station. It is 1.2 km away from the nearest subway station, Yongning Station, which is not easy to find the right way for first-time visitors, so we do not recommend taking the subway.
You can take Bus 14, 23, 40, 118, 208, 214, 221, 223, 232, 706, 402, 512, 619, 704, 800 or 258 to WenChang Gate (Wen Chang Men) Station and around, walk for 5 minutes to reach Forest of Stele Museum.
Recommended China Tours Including Forest of Stone Stele Museum Xian