Xian Mosque was first built in Tang dynasty with a history of over 1200 years and is the oldest and largest Islamic architecture of Hui minority in earlier times. It is well-preserved example of cultural merging, having been renovated several times and preserved by the Chinese government, thus it's still listed as top 4 Chinese mosques accepting worship from numerous Chinese Muslims.
The highlights of the Great Mosque of Xian is its architectural features, which reflect the organic combination of Islamic and Chinese traditional architectural art, and it is one of the most distinctive, well-preserved and typical mosques with Chinese architectural style. Therefore, it is listed as one of the Islamic relics in the world by UNESCO.
Facts
- In Chinese: 大清真寺
- Address: No.30 Huajue Lane, northwest to Drum Tower, Lianhu District, Xi'an
- Opening time: 08:00 – 19:00
- Best time to visit: morning
- Entrance fee: RMB25 (in busy season); RMB15 (in low season)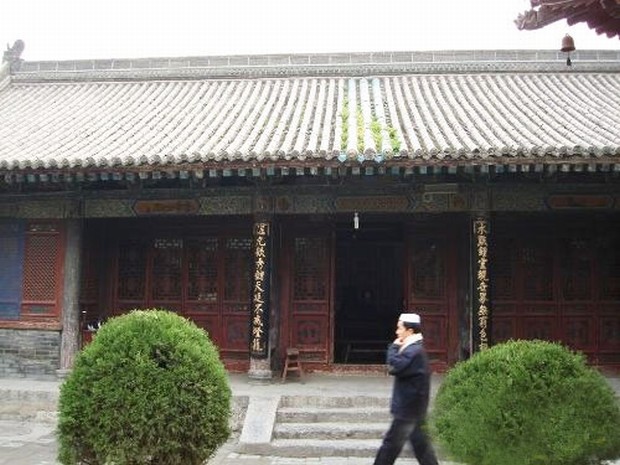 History of Xian Mosque
There is no exact record of its history, but scholars have inferred from the history of the mosque's cultural relics when it was built. The oldest stone stele found in the mosque temple is the monument to the founding of the mosque, dated 742 AD, so it is generally believed to have been built during the Tang dynasty. Meanwhile, during the prosperous Tang Dynasty, large number of Moslems traveled the world famous Silk Road to Chang'an (former Xian, the capital of Tang dynasty) bringing Islam to China. Therefore, this conclusion is more plausible.
In addition, scholars found writing on other stone carvings in the Great Mosque of Xian, recording that in the Yuan, Ming and Qing dynasties, there were many times to rebuild and expand. In 1984, the Chinese government made a complete restoration of it again and listed it as a provincial key cultural relic protection unit. Now, encompassing approximately 4,000 square meters, it is still an active Moslem temple.
Construction
The Mosque exhibits the signification of overseas architecture. From the carvings and furniture inside to the exterior of pagoda, Chinese influence is apparent. Different from most mosques in Middle Eastern or Arab countries, Xian Mosque is almost in Chinese style in its construction except for inscriptions and inside decorations in Arabic. It has neither domes nor traditional-style minarets; the library includes many books in the Arabic style, which were actually written in China.
The entire mosque is in a rectangular shape including 4 courtyards landscaped with gardens like Chinese temples. The whole building forms a magnificent and elaborate classical architecture group. With its perfect composition, orderly layout, left and right reflection zones and prominent center as features, it has become an outstanding representative of Chinese mosque classical architecture.
Enter the first courtyard; you can see a nine-meter-high great wooden archway set with glazed tiles. 5 exquisite buildings lay behind the archway. Go on and head into the second courtyard, a stone tablet stands in the middle of the yard with other two stone steles on both sides, whose inscriptions written by 2 celebrities in Ming and Qing dynasties. There are a lot of tablets and steles in the mosque, which are the epitaphs of moral education and calligraphy.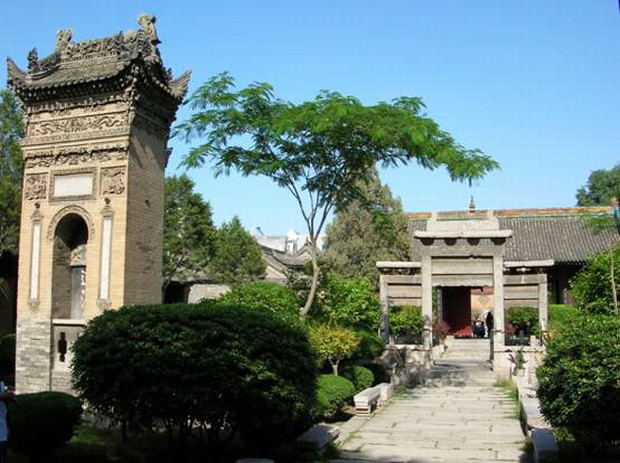 The gate of the third courtyard is Chixiu Palace, main gate of the Great Mosque built in the Ming dynasty. Some literatures and historical materials in Arabic are collected here.
The fourth courtyard is the core venue of this Moslem temple. It's a worship palace which can house thousands of people at a time. There are more than 600 paintings on the ceiling, all of them geometric patterns in Arabic. The walls of the palace are covered with carvings and paintings, as well as carved Koranic texts, which are colorful and resplendent.
How to Get to Xian Great Mosque?
Take Metro Line 2 and get off at Bell Tower Station, you can reach the destination after walking for 7 minutes.
It's in the city center, so convenient to get there by bus. Bus 4, 6, 7, 8, 11, 12, 15, 26, 29, 32, 35, 36, 43, 46, 47, 201, 205, 208, 215, 221, 222, 229, 235, 251, 252, 286, 300, 600 or 604 drives to Bell Tower Stop. Get off and walk along Huajue Lane to get to the Xian Mosque.
More Attractions in Xi'an
Recommended China Tours Including The Great Mosque of Xian Xian