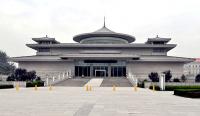 Xian Museum is situated two kilometers way from the City Wall (southwest section) in the Beilin District of Xian City. The museum centered on the Small Wild Goose Pagoda and the Jianfu Temple, combining the grand museum, ancient pagoda and the tranquil park as a whole. Now it has become a historical and cultural site for travelers and the local residents to learn the history of Xian and to enjoy a peaceful and relaxed time.
Covering an area of 16.3 hectares (40.4 acres), Xian Museum mainly consists of the museum, the ancient Jianfu Temple built in the year 684 A.D during the Tang Dynasty (618-907) and the famous Small Wild Goose Pagoda. The museum has three major exhibition sections: the Basic Exhibition Hall, mainly displays the development of ancient Xian and people's social life during the 13 dynasties when Xian was China's capital; the Thematic Exhibition Hall, covers over 120 exhibits of Buddhist statue arts, over 100 works of calligraphy and paintings, about 120 pieces of refined jade articles and more than 200 seals; the Temporary Exhibition Hall, displaying more than 20,000 cultural and historical relics coming from districts and counties of Xian.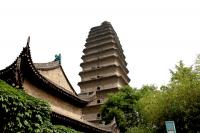 The Small Wild Goose Pagoda is a multi-eave and square brick structure built in the year 707 A.D during the Tang Dynasty (618-907). It is thirteen stories tall, reaching 43.38 meters (142 feet). The construction of the pagoda is a wonder as it has remained standing after over seventy earthquakes. The pagoda base is made from packed earth in the shape of a hemisphere, thus the pressure can be evenly divided. Images of arhats and designs of grasses, with excellent workmanship reflecting the artistic style of the early Tang Dynasty were carved on the lintel.
More Attractions in Xian
Recommended China Tours Including Xian Museum & Small Goose Pagoda Xian