Anyone who visits Xi'an shall never miss this famous Muslim Street, where a variety of local flavor snacks will surely dazzle one's eyes. As long as one can think of, he or she can find the mouthwatering food in the cuisine paradise. The title "A Street for Gourmet" is fully deserved.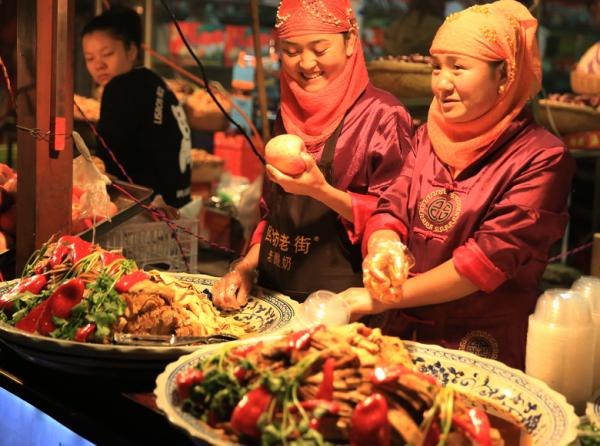 Moslem Street (Huimin Jie) is located at the heart of ancient city of Xian, next to the Drum Tower. It is the hub of the Moslem community in Xian City, with a length of about 500 meters (about 547 yards) from south to north.
Brief History of Moslem Street
As long as 1000 years ago in Han Dynasty, the Moslem Street was the starting point of The Silk Road. Foreign diplomatic envoys and overseas students, merchants from Persia and Arab lived here, then they married and had children, gradually the population increased. Now the Moslem Street is home to 60,000 Islamic followers, most of who are the descendants of these old immigrants.

What to See & Eat
With a long history, this historical streets area has ten mosques of different architectural styles and varied in scale, a series of cultural relics including the famous Xian City's God Temple, Xicheng Gateway built in Ming Dynasty, Hanguang Gate in Tang Dynasty. And the most popular one - Gao Family Compound (高家大院) are also situated in this area, where you can enjoy the traditional puppet shows and shadow plays.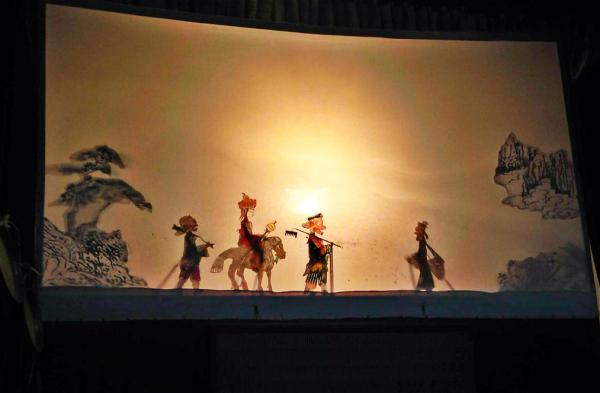 Paved with green stones and semi-embraced by trees, the Moslem Street is full of restaurants and stores erected on both sides in the styles of the Ming (1368-1644) and the Qing Dynasties (1644-1911).

Most popular authentic Islamic specialties in the street are Rou Jia Mo / Chinese Hamburger (肉夹馍), meat stuffed in wheat buns; Mutton / Beef and Pita Bread in Soup (羊/牛肉泡馍), by tearing the tough "bread" into pieces and then put them in the soup with mutton and vermicelli, the famous stall is Lao Sun Jia; the famous Xian snack brand Jia San Steamed bun stuffed with juicy beef or mutton (Jia San Guan Tang Bao 贾三灌汤包), which is praised by many Chinese celebrities; Porridge with Eight Treasures (八宝粥), the eight treasures refers to coarse food grains like maize, sorghum, millet, ormosia and so on; all kinds of northwestern style noodles and dumplings; Roast meats and the fried rice with pickled Chinese cabbage and little capsicum; Liangpi / cold noodles (凉皮), Sweet-sour Pulm Juice (酸梅汤), etc.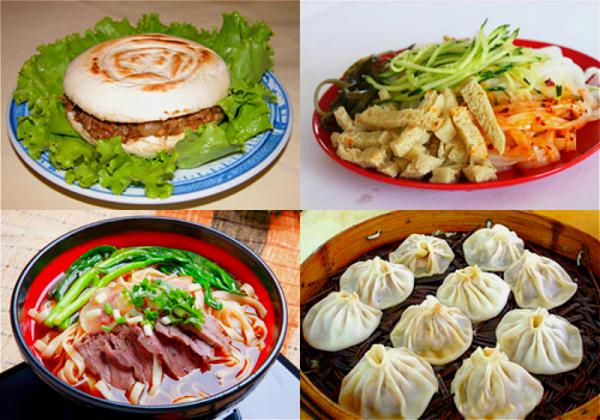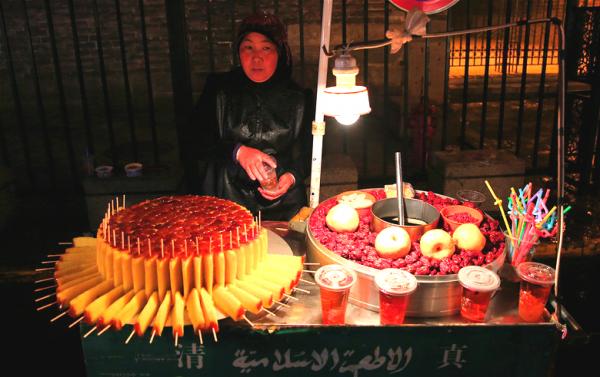 Opening Hours
All day for free
How to Get Here
By Bus
Take bus 4, 7, 15, 32, 43, 45, 201, 205, 206, 215, 218, 221, 222, 251, 300, 604, 611, 612 or K630, and get off at the Bell Tower Station.
By Subway
Take subway line 2, get off at the Bell Tower Subway Station, and then you can walk for five minutes to get there.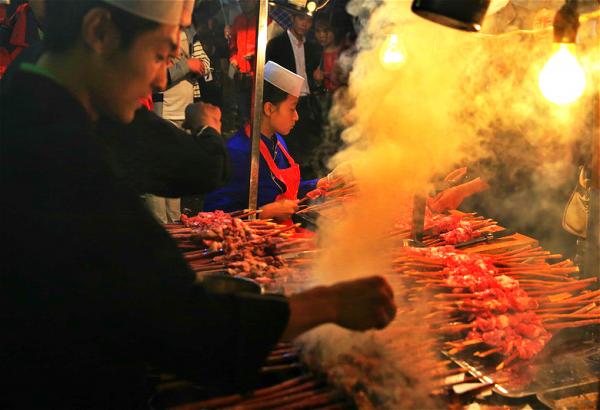 Travel Tips
1. The Moslem Street can be quiet busy during weekends and holidays, especially the evening, so you'd better prepare to twist your way through the crowd.
2. If you would like to bargain for some souvenirs, I suggest you choose the shops that located inside small alleys, the souvenirs there are usually cheaper than the shops in main streets.
3. If you want to have a close contact with local families and learn how to cook Chinese food, then visit an authentic local courtyard in Moslem Street is a great choice.
More Attractions in Xi'an
Recommended China Tours Including Xian Muslim Quarter Xian